GrowLife (OTCPK:PHOT) emerged in 2013 as one of the early leaders among the cannabis-related stocks, posting an industry-leading 310% return. Its recent performance has been nothing short of spectacular: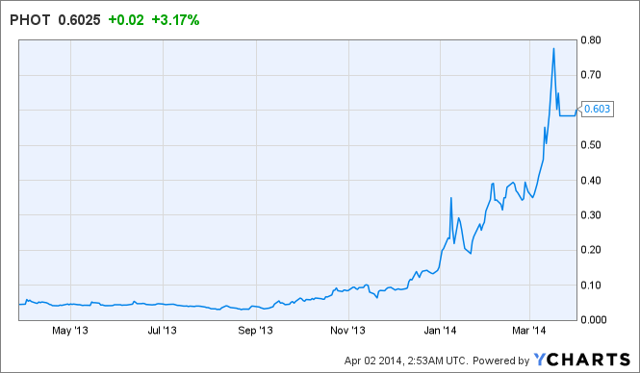 Fueling another quadrupling of the price since year-end has been not only a greater appreciation for its "picks and shovels" model as a supplier of goods and services to cannabis growers, but also the growing interest among investors in the sector in general. One interesting way to capture the interest in PHOT in particular is to measure the Seeking Alpha "followers" of the stock. In late August, just after Sanjay Gupta's capitulation regarding the potential benefits of medical marijuana and just before the Department of Justice (DOJ) clarified the path for the implementation of legal cannabis in Colorado and Washington, PHOT had 1296 followers. Today, that group numbers 15,000 people who want to receive alerts on the company, making it the most popular in the sector by this measure.
While better appreciation for the role PHOT can play in the transformation of the industry and a larger universe of investors interested in the "Green Rush" theme have played a role, perhaps the larger driver of investor interest has been confidence in the integrity and capability of the management team. CEO Sterling Scott (58), a lawyer with deep industry knowledge and a great appreciation for the regulatory landscape, has positioned the company, an SEC reporter, as highly transparent. Scott was quick to realize the importance of the DOJ's change in official stance last year, and penned a timely response just days later that illustrated his deep understanding of the importance of regulatory change. Scott stands out as one of the strongest CEOs in the industry, a perception that was clear in this interview he conducted in September (subscription required). When asked to differentiate PHOT from his peers, he responded:
But we feel that GrowLife is a different play for a variety of reasons. Our fully-reporting status, our longevity in the industry, the diversity of our revenue lines, and I think most of all, our ability to quickly scale our business to any new and synergistic business opportunity in the cannabis arena indeed sets us apart.
Rob Hunt (41) joined the company last summer, when PHOT acquired his Rocky Mountain Hydroponics stores. Hunt, who also joined the Board, serves as EVP and as president of GrowLife Hydroponics. Hunt, who holds a law degree, brings a rich mix of industry expertise and entrepreneurial success, and is well known for his advocacy. Hunt is widely regarded as an industry leader. Scott and Hunt participated in November on a live internet-radio program and took questions from shareholders for almost two hours, a level of engagement quite rare among any public company.
A big part of the GrowLife story is the CANX USA LLC deal, which created a joint venture called Organic Growth International ("OGI"), not only providing a source of capital, but also improving governance for PHOT, which already stood out relative to its peers for its transparency. The agreement, which was announced in late November, required PHOT to add three CANX appointees to its Board of Directors. The three gentleman who were subsequently appointed include Jeff Giarraputo and Anthony Ciabattoni in late December, and Alan Hammer on January 3rd.
Giarraputo (43) co-founded Factory Design Labs, a global advertising agency, in 1996, and Beatport, a leading music store for DJs, in 2004, and has extensive involvement with private equity companies. Ciabattoni (70), who heads CANX, has been a private investor since 1996, after forming and selling three successful start-up companies earlier in his career. Hammer (67), a partner at law firm Brach Eichler in New Jersey, has extensive real estate experience. The fourth independent director is Eric Shevin (48), a lawyer with extensive practice in medical marijuana business formation, who joined the Board a year ago.
PHOT's strong Board of Directors stands out relative to its peers. The company held a shareholder meeting on February 7th, a rare event for the sector. Unlike many of the other companies in the space, PHOT isn't controlled by insiders, though insider ownership offers substantial alignment, with the recently filed 10-K indicating that insiders own over 18% of the company. Hemp, Inc. (OTCPK:HEMP) is controlled by Bruce Perlowin, apparently with no independent directors. Medbox (MDBX) had no independent directors until a recent addition, and is controlled by Vincent Mehdizadeh. Medical Marijuana, Inc. (OTCPK:MJNA) doesn't appear to be fully controlled by CannaBANK, yet it hasn't held an annual meeting or allowed a shareholder vote. The Board of Directors includes COO Michelle Sides and an independent director added in 2013, Michael Julian.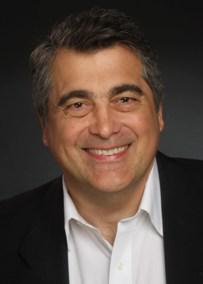 In December, PHOT revealed that it had hired a new president, naming outsider Marco Hegyi (56) to fill the void left by co-founder Kyle Tracey, who was in the process of forming Vape Holdings (OTCQB:VAPE) and had announced his pending departure. Hegyi, who also joined the seven-member Board of Directors, is a software industry veteran who has held strategic roles at Yahoo, Microsoft, Mindshare Media and AdBuySell. He serves as chairman of the Board of Visualant (OTCQB:VSUL), which is focused on light-based identification and measurement technology. His LinkedIn profile details his broad sales and marketing background. Hegyi earned a B.S. in Information and Computer Science from UC, Irvine, with post-graduate education at UCLA, MIT, Stanford and Harvard, and he holds 5 patents.
I spoke with Mr. Hegyi for the first time following the release of the 10-K on Monday. I had already received very positive feedback both internal to PHOT and from the outside while he has been getting up to speed over the past three months, and our conversation reinforced my own view that his hire strengthens the fundamental story for PHOT, adding complementary skills to the leadership team. Hegyi's addition to the team should give investors confidence in the ability of the company to manage growth.
Hegyi rounds out the deep industry experience and legal expertise that Hunt and Scott offer, bringing a sharp focus on operations. As the company transitions further from B2C to B2B, his attention to business processes will help drive success. PHOT will be making acquisitions and strategic investments, and Hegyi will help the company scale. His focus will be crafting the operating strategy, with the goal of creating more recurring revenue.
PHOT is set to benefit from the build-out in Colorado and Washington, both legal markets, as well as in new medical markets, like Canada, which just moved from a monopoly to a competitive market under the MMPR program that began 4/1, and states like Massachusetts, which recently awarded dozens of licenses. The key to GrowLife's success will be to extend its reach further into services and consumable products, and Hegyi will oversee these efforts, while also better defining the channel strategy (stores and e-commerce). The addition of Hegyi to its leadership team clearly positions GrowLife to capitalize on the opportunities ahead.
Many investors find it easy to embrace the "Green Rush", but perhaps more difficult to swallow the valuations and to choose one particular company over another. While I am cautious on valuations in general, and continue to point to a large disparity between private and public valuations, I expect that PHOT will likely use its stock as currency to further extend its early leadership position. At this stage of what is truly the beginning of a new growth industry, investors should focus on the attributes that will likely define the odds of success: Quality of the management team, access to capital and the scalability of the business model. In my view, PHOT is a leader in all regards.
Disclosure: I have no positions in any stocks mentioned, and no plans to initiate any positions within the next 72 hours. I wrote this article myself, and it expresses my own opinions. I am not receiving compensation for it (other than from Seeking Alpha). I have no business relationship with any company whose stock is mentioned in this article.
Additional disclosure: 420 Investor offers subscribers a trade-alert service, and currently includes a long recommendation in PHOT.
Editor's Note: This article covers one or more stocks trading at less than $1 per share and/or with less than a $100 million market cap. Please be aware of the risks associated with these stocks.