The New Zealand dollar (NZD) was one of the best performing currencies last year. As illustrated in the chart below, the currency gained 20.48% and 13.60%, respectively, against the Japanese yen (JPY) and the Australian dollar ((NYSEARCA:AUD)).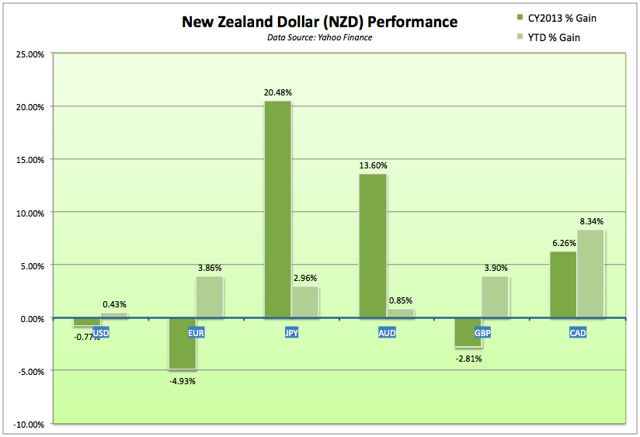 Click to enlarge
Needless to say, gaining against the US dollar was as unpopular thought last year as it is this year, considering the Federal Reserve's stimulus taper and imminent interest rate hike. So, barring the greenback, below are a few reasons that support a bullish case for the kiwi dollar.
Faster growth
There's no denying that New Zealand's economy was nothing short of impressive last year. The economy held out against the worst drought in decades, fiscal consolidation, a contamination scare, a strong currency and, to top it all, a slowdown in its two most important trade partners: Australia and China. Although each of these factors posed a significant risk to growth, the resilient economy overcame these challenges and is growing at its fastest pace since 2009.
The Reserve Bank of New Zealand (RBNZ) sees gross domestic product expanding by 3.3% in the fiscal year that ended March 31, faster than its December-projection of 2.7%. The economy is then expected to expand 3.2% in the year through March 2015.
The RBNZ also raised its forecasts for inflation, expecting consumer prices to rise 1.9% by the end of this year, up from earlier estimate of 1.5%. Inflation rate estimates for 2015 and 2016 are both at 2.1%, which is near the midpoint of its 1%-3% target range.
The growth has been primarily driven by recovery in various important industries of New Zealand. The farm production surged on drought recovery, while the nation also benefited from major building and infrastructure projects following the 2011 Christchurch earthquake. Apart from drought recovery and rebuilding efforts, RBNZ Governor, Graeme Wheeler, also cited the rising commodity and housing prices, and strong domestic demand as reasons for the policymakers to turn their attention to economic growth and inflation.
Interest rate hikes
In March, the RBNZ raised its key interest rate for the first time in three years. As a result, New Zealand was tagged as the first developed nation to exit record-low borrowing costs this year. Citing inflationary concerns, the central bank now plans to remove stimulus earlier than previously expected.
The RBNZ increased the official cash rate (OCR) by 25 basis points to 2.75%. Although the widely expected move was mostly prized in, the New Zealand dollar gained after Wheeler said OCR may rise by a total of 125 basis points this year. Moreover, the narrative was in line with the Bank's earlier comments during the December monetary policy meeting last year, in which the central bank said that it expected to raise rates to 4.75% (or 225 basis points) by March 2016. Nevertheless, the governor succinctly stated that the pace and extent of cash rate increase will depend on economic data, particularly the inflation data.
House prices climbed 8.3% in February from a year earlier. In an attempt to cool of the housing market, Wheeler tightened loan-to-value restrictions in October last year, slowing down the pace from then-9.9%. But prices remained high despite the move. In February, prices in Auckland, home to approximation one-third of New Zealand's population, increased 16.9% year-over-year. While the central banker believes mortgage-lending restrictions are starting to ease pressure, interest rate hikes will have a further moderating influence.
Soft commodities demand
The aussie and the kiwi are commonly referred to as "commodity currencies," primarily because both share significant positive correlation with commodity prices. Be that as it may, it hasn't kept analysts from forecasting contrasting 2014 outlooks for the two currencies. While the aussie is expected to have a sluggish year, the kiwi is likely to be amongst the strongest currencies this year.
The upbeat New Zealand outlook versus gloomy Australian outlook is largely due to the kind of commodities the two nations export and their respective demands. Simply put, it is the demand for soft versus hard commodities.
New Zealand mainly exports soft commodities, such as milk, meat, etc., the demand for which is expected to grow this year. Whereas, Australia heavily relies on its hard commodities exports, such as metals, coal, etc. These commodities are faced by a declining demand, mainly because of the development slowdown in China, the world's second biggest economy, and also Australia's biggest trade partner.
However, the same China has trumped Australia to become New Zealand's biggest trading partner last year, accounting for nearly 22% of New Zealand's exports now. China buys nearly 90% of its milk powder from New Zealand. With the Chinese government relaxing its one child policy, the demand for milk and food products is expected to surge in the world's most populated country. Besides, New Zealand will also benefit from the rising demand for its products and growing middle class in other emerging economies such as India. The nation recently reported a better-than-expected trade balance with a surplus of NZ$ 818 million, suggesting a strong overseas demand for its products.
Final thoughts
New Zealand's economy has been growing at a faster-than-expected rate. Domestic demand has been stable and a constantly increasing consumer confidence points to a healthy spending trend. The upgraded growth and inflation forecasts along with tightening of monetary policy, and increasing trade surplus are significant positives that will further NZD's gains over other currencies. Of course, let's not forget the positive interest rate differential offered by buying the New Zealand dollar against lower-yielding currencies, which will only get better with RBNZ's planned rate hikes over the next two years. Lastly, as New Zealand derives one-third of its total exports from dairy and milk, and Australia derives about the same proportion of its total exports from iron ore and coal, the impact of changing commodities' demands will be most pronounced in the AUD/NZD pair.
Disclosure: I have no positions in any stocks mentioned, and no plans to initiate any positions within the next 72 hours. I wrote this article myself, and it expresses my own opinions. I am not receiving compensation for it (other than from Seeking Alpha). I have no business relationship with any company whose stock is mentioned in this article.