Cypress Semiconductor (NASDAQ:CY) is a stock I have in my income portfolio. The company is one of the few in the Technology sector that pays better than a four percent yield. More importantly, business fundamentals are slowly starting to improve at this beaten down semiconductor play. This should improve sentiment and add some decent capital appreciation potential on top of its generous dividend.
Company Overview:
Cypress Semiconductor designs and manufactures high-performance, mixed-signal and programmable solutions. Its chips are deployed primarily in memory and data communication applications. The stock has a market capitalization of ~$1.7B.
Improved Guidance:
The company came out today and stated Q1 revenue should be in the range of $169M-$171M, above prior guidance of $161M-$168M and a ~$165M consensus. When the company last reported earnings in late January, it slightly beat on the top and bottom line consensus.
This marked the fifth straight quarter Cypress beat bottom line expectations. Improved guidance should mean it should beat current expectations by 1-2 cents a share when it reports earnings again in two weeks according to a Credit Suisse report that came out after the company's renewed guidance.
Earnings Trajectory & Dividend:
At the current levels, the stock yields 4.4%; one of highest levels in the technology space. Earnings are also going in the right direction. Cypress made just under 40 cents a share in FY2013. Current consensus calls for it to make just over 50 cents a share in profit in FY2014 and over 65 cents in FY2015. The company has a solid balance sheet with little net debt.
Technicals:
The stock is selling for a 25% discount to its highs in summer. CY also has strong long term technical support at around $9 a share (See Chart).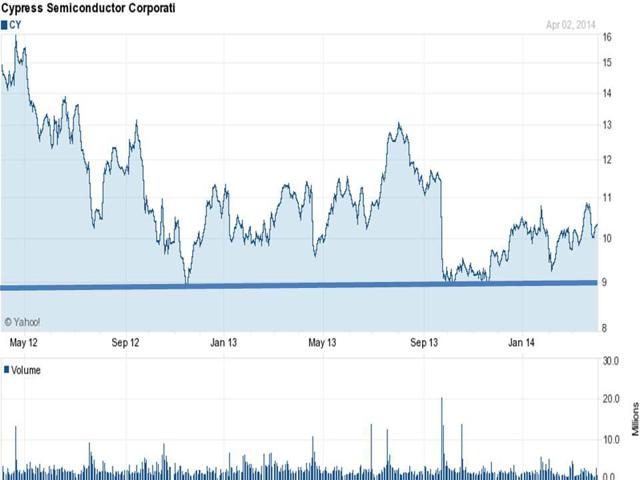 Summary:
It appears business fundamentals are slowly improving for Cypress. The company pays a robust dividend yield and earnings are projected to increase at a nice clip over the coming two years. The stock is significantly below its 52 week highs and has technical support a bit below current levels. Cypress seems like a good bet to provide solid overall returns in a market that is likely to return much less than it did in 2013. ACCUMULATE
Disclosure: I am long CY. I wrote this article myself, and it expresses my own opinions. I am not receiving compensation for it (other than from Seeking Alpha). I have no business relationship with any company whose stock is mentioned in this article.