As most of you know by now, I look at the mREIT sector in very simple and straightforward ways. In keeping with my "regular investor" style, let me try to explain as simply as I can, why I believe Annaly Capital (NYSE:NLY) will increase its dividend next quarter.
I have no fancy formulas to try to impress the mREIT experts, just a plain vanilla look at a complex business that often confuses even savvy investors.
NLY Has Already Gone Ex-Dividend This Quarter
For those of you that might not be aware, NLY had announced no cut in its dividend for this quarter, and has already gone ex-dividend, which is why the share price has dropped below $11.00 once again.
I believe that it is a good entry price to open a position here, or add to an existing one due to the discount to book value.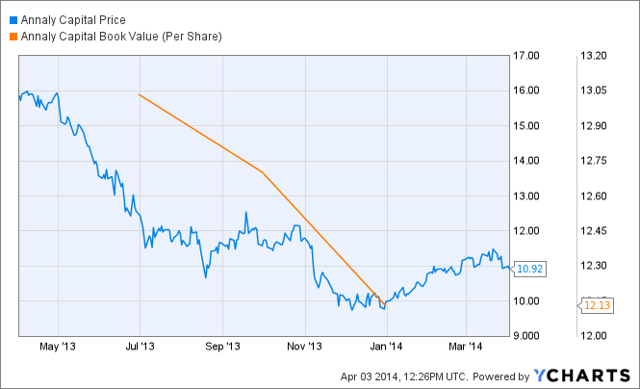 As you can see, current book value is $12.13 and the current share price is $10.92. A discount of nearly 11% is compelling at this point because based on the interest rate environment, the profits of NLY could be increasing as we move ahead.
The Longer Term Interest Rate Environment Has Been Very Stable
The fears of a rapid rise in the longer term interest rates (10 year and longer) have been overplayed. The rates actually have risen at a measured pace. This is very positive for Annaly in that with the reduced leverage the company employs, and the ability to move "inventory" of lower rate products to higher rate products, I anticipate higher earnings in future quarters.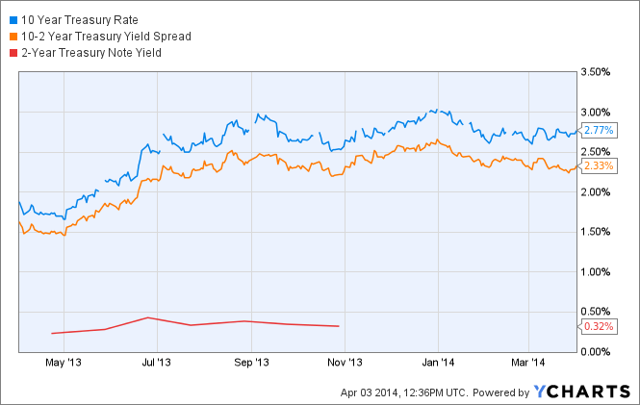 As you can see, the zero interest rate policy, or ZIRP has, and will remain in place for the unforeseeable future according to the Fed, and an accommodative policy for the short term rates means that the spread between the short or 2 year Treasury and the 10 year Treasury is currently 233 basis points right now, roughly 140 basis points higher than just one year ago.
With a stable environment, and no rapid or sharp increase in rates, combined with ZIRP, this should enable Annaly to increase earnings, and in turn, increase dividends, as soon as next quarter in my opinion.
What Can We Expect In The Way Of A Dividend Increase Next Quarter?
If my thesis is accurate, I firmly believe that a significant increase in the dividends paid to shareholders could be in the 12% or greater range.
A $.05 to $.10 per share increase is not unrealistic at this point, and keep in mind that to maintain REIT status, NLY must pay at least 90% of net earnings as dividends to shareholders.
The Bottom Line
The combination of the discount to book value right now, a more stable and still accommodative Fed, and a widening spread seems to me a compelling reason to purchase Annaly, specifically for the dividend opportunity ahead, as well as some capital appreciation.
Keep in mind that as we move closer to the time NLY actually announces earnings as well as its next dividend, that discount to book could narrow, and the upside will be less, so for a risk position in this sector, NLY does offer a compelling reason to take a risk allocated position in your dividend income portfolio.
My own guideline has been between 2-4% for an allocation, however I am contemplating adding another 2% to my own position at these prices.
Disclaimer: The opinions of the author are not recommendations to either buy or sell any security. The author is not an expert in the mREIT business, so please do your own research prior to making any investment decisions.
Disclosure: I am long NLY. I wrote this article myself, and it expresses my own opinions. I am not receiving compensation for it (other than from Seeking Alpha). I have no business relationship with any company whose stock is mentioned in this article. I might be adding more to my position in NLY as of today.