Shareholders of PepsiCo (NYSE:PEP) are in a sugary-carbonated happy place. PepsiCo is expected to return $8.7 billion to shareholders in 2014 through $5 billion in share repurchases and $3.7 billion in dividends. This represents 6.9% of PepsiCo's market cap.
In addition, PepsiCo is expecting 4% organic growth for the year. Together, shareholders of PepsiCo can expect a 10% to 11% return this year with no change in valuation ratios.
Business Overview
PepsiCo does much more than sell sodas. PepsiCo has 22 brands that do over $1 billion in sales per year.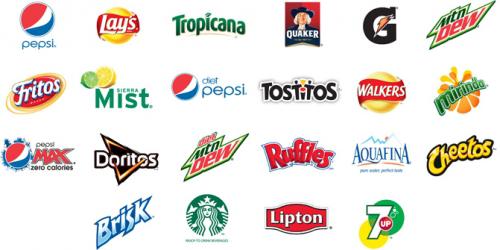 Source: Industry Week Top 25 Supply Chains of 2013
PepsiCo divides its business into 6 operating divisions. The chart below shows the amount of operating profits by division per year so you can get an idea of the size and growth of the 6 divisions.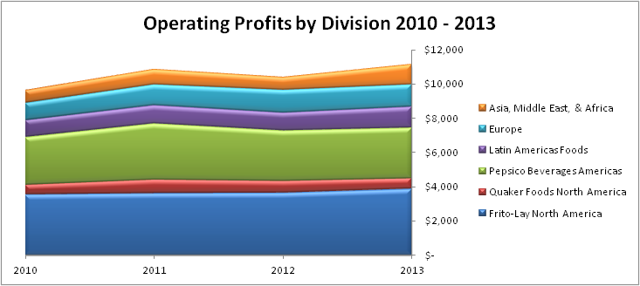 Source: PepsiCo Annual Reports, 2010-2013
Last year, PepsiCo grew organic revenues by 4%. The Latin America Foods and Asia, Middle East, & Africa divisions were responsible for the bulk of PepsiCo's growth in 2013. The same trend should continue as PepsiCo gains a stronger foothold in developing markets.

Source: Pepsico 2013 Annual Report, Page 55
PepsiCo is expecting 4% organic growth rate for 2014. This is identical to their organic growth in 2013. It is very likely that PepsiCo will achieve their target 4% growth rate.
Shareholder Return
PepsiCo plans to repurchase $5 billion worth of shares in 2014. At current prices, this represents 3.9% of outstanding shares.
PepsiCo will also increase their dividend from $2.27 per year to $2.62 per year. This 15% increase is effective in June of 2014. The $2.62 per year dividend is a yield of 3.16% at current prices.
The management at PepsiCo has proven to be very shareholder-friendly with their increasing dividends and share repurchases. PepsiCo is expecting over $10 billion in operating cash flow, and they are paying out $8.7 billion. The majority of available cash goes to shareholders. This is a good sign from a mature company that doesn't have the growth investment opportunities that a younger company has.
Valuation
PepsiCo appears to be fairly valued at this point. It trades at a P/E multiple of 19.07. Its industry peers trade at the following multiples:
Coca-Cola (NYSE:KO): 20.33
Dr. Pepper / Snapple (NYSE:DPS): 17.24
Nestle (OTCPK:NSRGY): 21.00
General Mills (NYSE:GIS): 18.71
Over the last 10 years, PepsiCo has traded at an average P/E multiple of 18.40, which is very close to its current P/E multiple of 19.07. I believe PepsiCo is fairly valued at this point because it is closely in line with its peer and historical average valuations.
Catalyst
PepsiCo does not need a catalyst to perform in the 10% CAGR area for shareholders. PepsiCo's return will come from share repurchases, dividends, and slow organic growth rather than a valuation multiple increase.
Nelson Peltz of Trian Fund Management has proposed PepsiCo sell its North American beverage unit and focus on its strong snack business. PepsiCo has firmly rejected this proposal. It is possible that there will be an additional push for PepsiCo to split off its businesses.
Conclusion
PepsiCo is a solid low-risk business that rewards shareholders. PepsiCo's slow growth is offset by their dividend yield and share repurchases. Forward dividend yield (3%) + organic growth (4%) + share repurchases (3.90%) should result in a compound growth rate over 10% per year for shareholders. This level of growth comes with a very low-risk business that is not in any immediate danger.
Disclosure: I am long PEP. I wrote this article myself, and it expresses my own opinions. I am not receiving compensation for it. I have no business relationship with any company whose stock is mentioned in this article.