Like many rural telecoms, Frontier Communications (NYSE:FTR) has historically been an underperformer. Over the past few years, the stock has greatly lagged the broader market, even when reinvesting dividends. However, this situation seems to have reversed in 2014, with Frontier posting a 20% gain, easily beating both its peers and the indices.
However, these gains may be stretching Frontier's valuation, with the stock now more expensive than its peers in terms of FCF and dividend yield.
Q4 2013 Overview
Before I get into my bearish take, credit must be given to Frontier's management for seemingly turning things around in 2013. The company posted total revenue of $1.18 billion for Q4 2013, a 5% decline from last year, but only a 0.4% decline sequentially. In addition, the company was able to stem the tide of residential customer losses to 2.9% Y/Y, from a ghastly 7.0% last year. Finally, Frontier was able to increase the pace of Broadband net adds, up 27,800 in Q4 2013, compared to 23,400 for all of 2012.
However, while Frontier is showing some signs of life, the company is still set to see some of its key metrics decline. In particular, Frontier's guidance for 2014 calls for FCF to range between $725 million and $775 million. Using the midpoint of $750 million, this would mark a 13% decline from 2013's FCF of $862 million.
Indeed, while Frontier likes to tout its dividend payout ratio at under 50% of FCF, this is simply no longer going to be the case. Assuming $400 million in dividend payments, Frontier's payout ratio would increase to about 53% in 2014, up from 2013's 46%.
Is Frontier overvalued compared to its peers?
Furthermore, let us look at Frontier's price action compared to its rural telecoms peers Windstream (NASDAQ:WIN) and CenturyLink (NYSE:CTL). While I am hardly a fan of either stock, Frontier's outperformance really stands out, up over 40%, compared to a 9% gain for Windstream and a 5% decline for CenturyLink. This begs the question: Why has Frontier surged while its peers remain stagnant? Typically, you would want to see competitors joining in on a rally as conformation.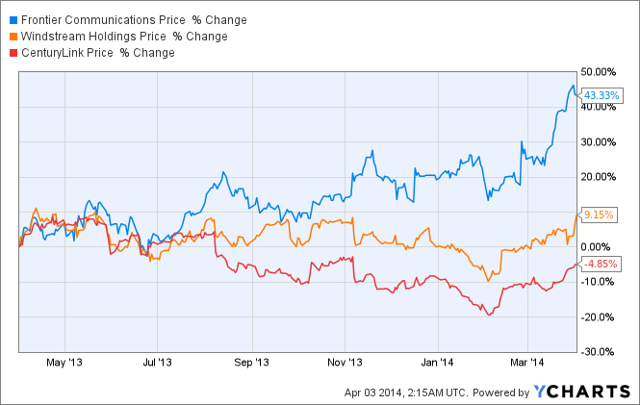 Digging deeper, we can see Frontier's dividend yield falling to the low 7% range, slightly above CenturyLink and 400 basis points lower than Windstream. This discrepancy in yield seems highly suspect, especially since these stocks are all basically in the same declining wireline sector.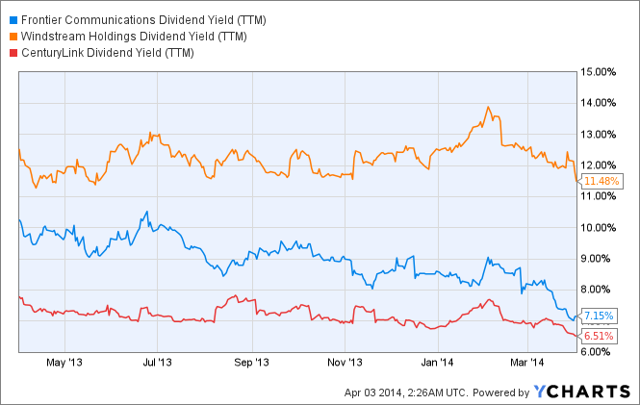 FTR Dividend Yield (TTM) data by YCharts
Finally, let us look at Frontier's EV/EBITDA, or enterprise multiple. At about 6.40x, Frontier's multiple is inline with CenturyLink and above Windstream's 5.90x. Last summer, Frontier's enterprise multiple was in the low 5.0x range.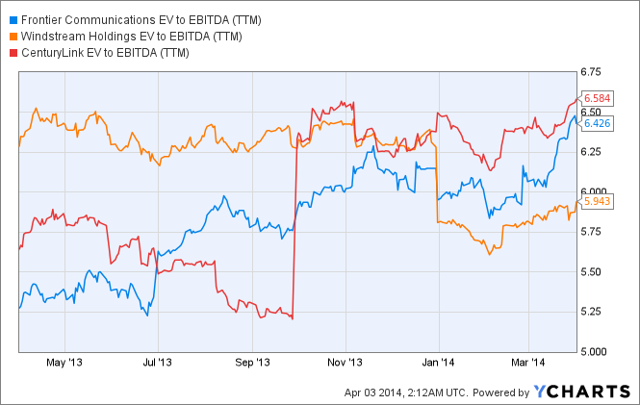 FTR EV to EBITDA (TTM) data by YCharts
These charts tell me several things:
Frontier is clearly seeing a multiple expansion without a corresponding increase in EBITDA.
Frontier is now commanding a premium to its peer Windstream and is trading more inline with CenturyLink.
Frontier seems to no longer trade based on its dividend yield.
Conclusion
Given Frontier's large run up YTD, I believe the stock is due for a sizeable correction. I believe part of the reason the stock has soared has more to do with its very high short interest (over 200 million shares, or 20% of the float), than anything related to its fundamentals.
To be honest, I am surprised to see the stock trade above the $5.00 per share mark. This is where Frontier would yield 8%. Given the sector where it operates, this seems like the minimum yield required given the risks involved with owning the equity.
Disclaimer: The opinions in this article are for informational purposes only and should not be construed as a recommendation to buy or sell the stocks mentioned. Please do your own due diligence before making any investment decision.
Disclosure: I am short FTR. I wrote this article myself, and it expresses my own opinions. I am not receiving compensation for it (other than from Seeking Alpha). I have no business relationship with any company whose stock is mentioned in this article.
Additional disclosure: I may buy FTR puts over the next 72 hours.