I arrived late to the huge dip in China Mobile's (NYSE:CHL) stock following the company's FY13 release, but after doing some research, I think shares are cheap enough for me to pick up a little even at this price, and if CHL hits $42-$43 again, I'll load up. There are reasons why the stock is cheap, but the company also has a lot of growth opportunities ahead, and I don't think current troubles justify the extent of the mispricing relative to other large telecom companies and the market at large.
Business Overview
China Mobile is a provider of cellular telecom services in China and Hong Kong. It is the dominant telecom provider in China with 62% market share and has 776M customers overall. It has the largest mobile network and mobile customer base in the world. It is 74% owned by the Chinese government.
Health of the Business
China Mobile has performed fairly consistently over the last few years, but did indeed have a rough 2013 by most metrics.

While revenue has consistently grown 6%-10% annually, every other financial metric I feel is important has trended poorly in the last 3 years, and came in particularly bad in 2013. The decline is worst seen in FCF (which I calculated using Cash from Operations less Depreciation so as not to account for growth CapEx) where the 2013 value is actually 18% lower than 3 years earlier in 2010.
The company continues to grow its customer base by a decent amount consistently, even in the first few months of 2014, but the growth has also steadily deteriorated over the last few years. Even the sequential increases in the last 6 months show deterioration.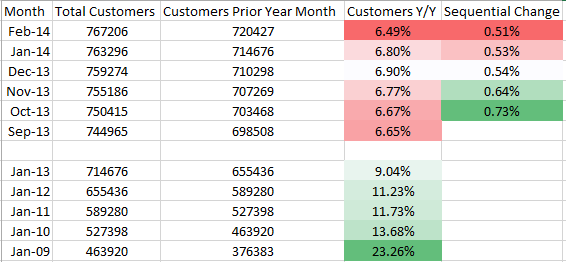 What does this mean?
It means forward expectations must be tempered. I am only expecting 5% annual sales growth in the next five years from CHL and further margin declines.
While the business has clearly trended poorly and more is probably in store, I would still be comfortable investing at the right price because CHL is such a large and consistent company that I find serious damage (large sales declines compounded by margin declines) highly unlikely.
Opportunities and Challenges
Challenges:
Market penetration in China increased from 74% to 91% in the last 2 years and is now close to 100%, such that China Mobile and the rest of the Chinese telecom industry will be forced to rely less on industry-wide growth and instead look to take market share from each other. This means lower sales growth and lower margins.
To further the previous point, China Mobile's market share has declined by 450bp in the last 2 years. I suspect it will be difficult for the company to reverse this trend with the Chinese government encouraging competition from the private sector.
Voice and SMS revenue is declining as data-driven messaging services become the preferred method of communication. China Mobile has been late in embracing data and is just building out its 4G network now. It will have to move quickly to ensure data revenue growth outpaces declines in other areas.
Opportunities:
I believe there is opportunity in the 4G buildout, which along with increasing smartphone penetration in China, should greatly increase data sales and provide China Mobile with strong returns on its capital investment.
The company inked a deal with Apple (NASDAQ:AAPL) in January to begin offering the iPhone to its customers. Over 1M customers have already bought the iPhone and there should be much more to come in 2014. iPhone sales, along with device sales in general, which have been a growth area that CHL recently consolidated into revenue from operations, should be another sales growth driver.
One bright spot recently has been corporate/enterprise sales, and there is no reason this trend can't continue.
I believe the company can also leverage its dominant market position for reasonable price increases. This should be done sooner rather than later before the market gets fully penetrated and competition heats up.
Valuation
You may be reading this article and be interested to begin with because you noticed CHL currently trades at low multiples on its face, but the company also has $67.78B in net cash, making it look dramatically cheaper relative to enterprise value: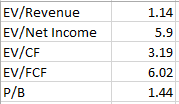 The company also looks extremely cheap relative to its immediate competitors and other large telecom companies:

Note that I calculated FCF as Cash from Operations less Depreciation so as not to capture Growth CapEx which tends to be significant in the telecom industry.
The closest comparable to China Mobile seems to be T-Mobile (NASDAQ:TMUS), but that's only based on the company's operating cash flow, because it is currently breakeven in terms of FCF. The next cheapest comparable is Verizon (NYSE:VZ) at more than double the multiple of China Mobile. The most important comparison is to the closest competitors, China Unicom (NYSE:CHU) and China Telecom (NYSE:CHA), and they are the most expensive of the bunch and 3-5x as expensive as China Mobile.
I know China Mobile has not performed well, but much of that is related to being in a tough industry nearing saturation. Industry pains should also be reflected, at least to some extent, in CHU and CHA, but clearly aren't (I have not done research on CHU and CHA, but this may suggest a pair trade would be fitting).
The company's dividend yield is also now the highest it's been in the last 5 years.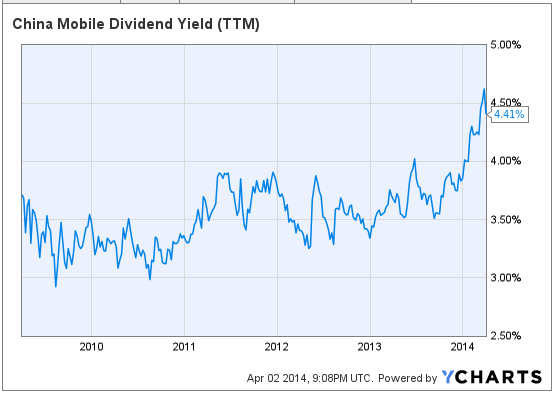 This is further evidence that the stock is cheap and should also provide 'yield support' to prevent shares from dropping much further if the tough times continue.
Conclusion
Based on the above, it is hard to argue that China Mobile isn't extremely cheap. The more difficult question is whether the company deserves to be so deeply discounted to its closest peers. Obviously the business has performed badly, and I expect very little from the company in the years ahead, but when you buy a stock for 6x free cash flow, not much needs to go right for you to make money. I believe the company has various opportunities for success and will capitalize on at least some of them, leading to a higher share price. Right now, even after the recent bounce off the bottom, China Mobile stock is still suffering from the headline stigma of "First Annual Profit Drop in 14 Years." That won't last forever though, and I believe shares will recover nicely inside of 18 months. I am comfortable enough now to take a small position now and will add to it substantially in the $42-$43 range.
Disclosure: I have no positions in any stocks mentioned, but may initiate a long position in CHL over the next 72 hours. I wrote this article myself, and it expresses my own opinions. I am not receiving compensation for it (other than from Seeking Alpha). I have no business relationship with any company whose stock is mentioned in this article.