Legendary short seller Jim Chanos was on CNBC this morning giving the investing public a peek into his investment thesis. One investment his firm has been short for quite a while and no doubt quite painfully is Hewlett-Packard (NYSE:HPQ) which has had a Phoenix like return from the ashes in the past year or so, more than doubling in stock price since late 2012.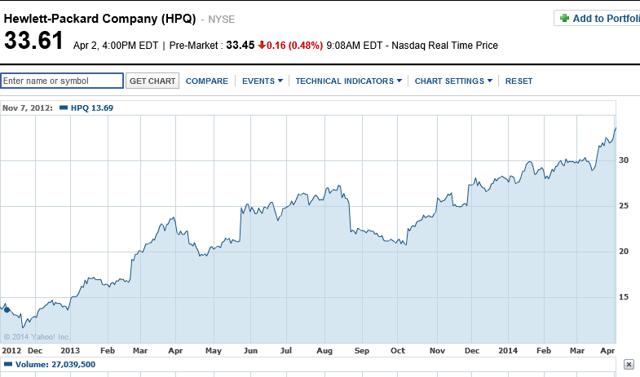 Source: Yahoo.com Finance
Chanos spent a few minutes on the subject of Hewlett-Packard's cash flows and reported that Hewlett-Packard factors its receivables with the effect of overstating its cash flow from operations, while basing management compensation to a certain on extent on the cash flow metric, at least that is what I got out of Chanos' comments.
A quick review of the facts suggests Chanos was perhaps overstating his case.
Hewlett-Packard does factor some of its receivables according to its annual report, partially on a non-recourse basis and partially where the buyer has some recourse if the receivable is not paid. The notes to Hewlett-Packard's financial statements read: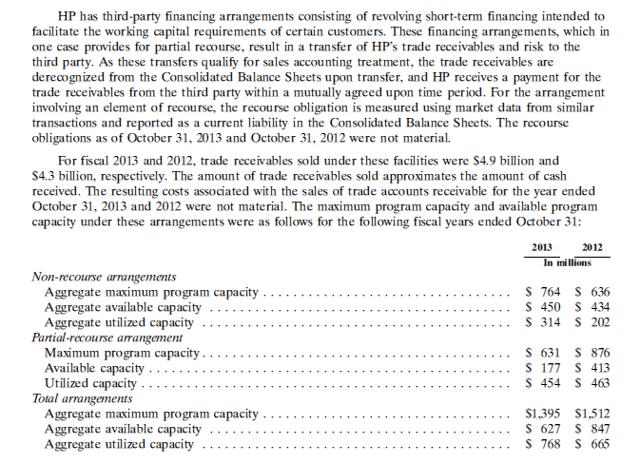 Source: Hewlett-Packard 2013 Annual Report
The first thing I would like to point out is the very small nature of the factoring with aggregate utilized capacity of the program amounting to $768 million in 2013. For a $100 billion plus company this is a nominal amount. More importantly, it is the change and not the absolute amount of receivables factored that impacts the cash flow statement. In 2013 aggregate utilized capacity of the factoring program rose by $103 million.
$103 million is a rounding error in HPQ's cash flow statement. Hewlett-Packard's cash flow from operations in 2013 was $11.6 billion.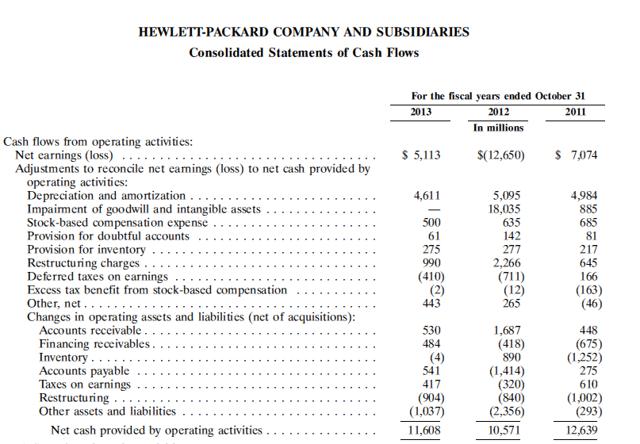 Non-recourse factoring is prudent where the effective interest rate on the factoring agreement is lower than the marginal return Hewlett-Packard earns on the cash received. It is likewise a good treasury strategy with even full recourse where the same holds true since the risk of non-payment was HPQ's to begin with and the relevant economics relate to the cost of the factoring discount and the margin returns on the funds. In the full recourse case, the risk of non-payment is presumably captured in the allowance for doubtful accounts and fully recognized in the cash flow statement.
Meg Whitman is doing a terrific job turning around this big ship. Hewlett-Packard has enormous strengths and a respected worldwide brand. Jim Chanos is entitled to his views and CNBC gave him a platform to air them. But to take advantage of national exposure to make an issue of HPQ's factoring program was self-serving in my view and not his strongest point.
I believe we will see steady improvements in Hewlett-Packard's sales and net income over the coming quarters as the strong leadership of Meg Whitman energizes the company's massive capabilities. Analysts have been ratcheting up their estimates for HPQ in recent months and the outlook for the company is positive. At less than ten times earnings, the stock is cheap in my opinion and likely to reward patient money.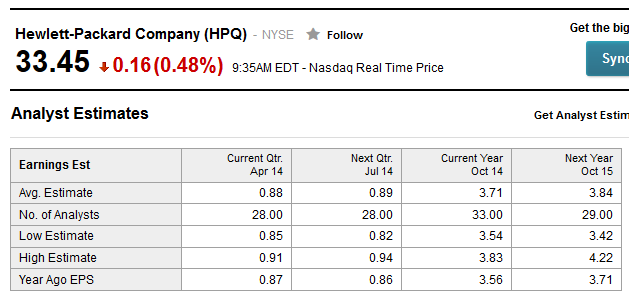 I am bullish on HPQ although at this point I do not have a holding in the name.
Disclosure: I have no positions in any stocks mentioned, but may initiate a long position in HPQ over the next 72 hours. I wrote this article myself, and it expresses my own opinions. I am not receiving compensation for it (other than from Seeking Alpha). I have no business relationship with any company whose stock is mentioned in this article.