When dividend growth companies shed assets, the proceeds can be used for further dividend expansion. We like this quite a bit.
General Electric (NYSE:GE), a holding in both Valuentum's Best Ideas Newsletter portfolio and its Dividend Growth Newsletter portfolio, continues to streamline and optimize its portfolio of businesses. We've long held the belief that General Electric needs to simplify its business focus, a view that has been supported by its dividend cut in 2009. Global economic conditions and the credit crunch threatened GE Capital (NASDAQ:GECC) at the time, and management's moves since then have been to diversify away from its financial subsidiary. The industrial and finance conglomerate is far healthier than it was at the depths of the Great Recession in 2009, and the recently-announced spin-off of Synchrony (NYSE:SYF) has brought about increased optimism with shares. GE furthered plans to reduce its earnings mix to 30% from the financial sector with news that it is exploring the sale of its GE Money Bank unit in the Nordic region. Continued progression away from riskier financial assets and an increased focus on bolstering free cash flow in its industrial operations represent vital keys to unlocking shareholder value. GE's shares are worth north of $30 each, and its dividend is iron clad. Please see its dividend analysis below: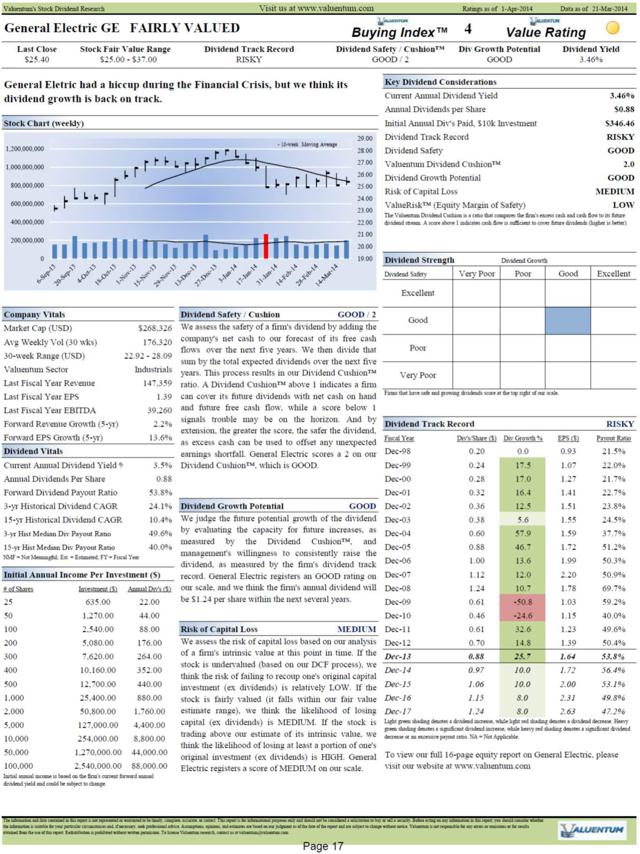 Image Source: Valuentum
Another one of Valuentum's Dividend Growth portfolio holdings has also been busy optimizing its business mix. Reuters had reported that the Carlyle Group (NASDAQ:CG) was the winning bidder for Johnson & Johnson's (NYSE:JNJ) Ortho-Clinical Diagnostic [OCD] business late last year, but it wasn't until recently that Johnson & Johnson finally announced it had accepted the offer to acquire the division for approximately $4 billion. The transaction is expected to close in mid-2014. The deal is a good one for Johnson & Johnson, as the unit's technology and profit levels reportedly are less desirable compared to other areas of focus at the firm. At 2 times sales, Johnson & Johnson could have received a better offer, but we have no qualms with the purchase price given the slowing sales, heightened competition, and the low margins of the division. We estimate OCD exchanged hands at roughly 8-9 times EBITDA. The transaction is value-neutral to our estimate of Johnson & Johnson's intrinsic value, and shares of the firm are trading hands at fair levels. Please see Johnson & Johnson's dividend analysis below: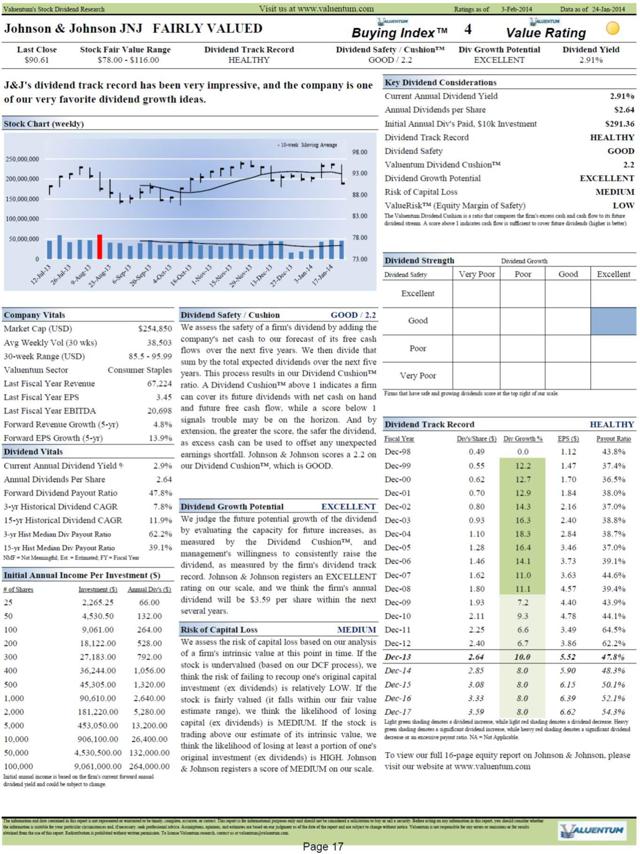 Image Source: Valuentum
General Electric and Johnson & Johnson are two of our favorite dividend growth ideas. As each sells off less-desirable businesses, their respective cash hoards grow, offering greater potential for even faster dividend growth and better Dividend Cushion scores. General Electric yields 3.4%, and Johnson & Johnson yields 2.7% at present. We like these dividend growth ideas quite a bit.
Disclosure: I have no positions in any stocks mentioned, and no plans to initiate any positions within the next 72 hours. I wrote this article myself, and it expresses my own opinions. I am not receiving compensation for it (other than from Seeking Alpha). I have no business relationship with any company whose stock is mentioned in this article.
Additional disclosure: GE and JNJ are included in Valuentum's actively-managed portfolios, which are housed in the firm's newsletters.