Air Travel has to Grow
Air travel does not have a substitute if we have to travel fast and to cover long distances. High speed trains can be a substitute but it has a very limited network and reach compared to airplanes. Air travel will continue to be an important mode of transportation in the future. With the growth in the economies and incomes, air travel demand is growing. There is still a large part of the world that has to develop and with this development there will be an increase in demand for air travel. Asia Pacific, South America, and Africa will see a rapid growth in air travel in the coming decades.
This increase in demand for air travel is expected to increase demand for the expansion of fleets and replacement of old aircraft and related services by airline operators around the world. Economists at Boeing (NYSE:BA) have forecasted the demand of airplanes to be over 35,000 airplanes in different categories between 2013 and 2032. The value of these airplanes is estimated to be $4.84 trillion. Boeing is the largest company in this industry and with its superior research and development it is expected to capitalize on this growth in the demand for aircraft.
Following the downturn of the world economies in the past few years the air travel industry's growth has returned to the long-term growth rate of 5%. In 2012, passenger traffic rose by 5.3% compared to 2011.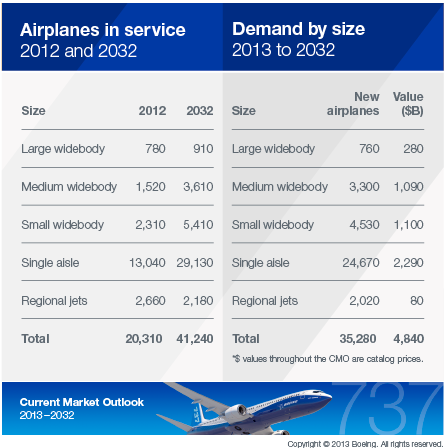 The Asia Pacific region is rapidly growing and according to BA about half of the growth in air travel will come from this region. China and India have huge population densities and their rapidly growing middle classes are expected to lead the growth in air travel in the regions. Around 16% of the total demand of airplanes comes from China. BA expects long haul international air travel in China to grow by 7.2% and there would be demand for 1,440 new fuel efficient wide-bodied airplanes such as the 787 Dreamliner and 747-8 Intercontinental.
Total traffic in the Asia Pacific region is expected to grow by 6.3% per annum in the next 20 years and domestic and international travel within the region is expected to grow by 6.5%. Air cargo is also expected to grow by 5.8% in the next two decades. According to BA, in order to cater to this growth in air travel airliners operating in the Asia Pacific region are expected to demand nearly 12,820 aircraft worth $1.9 trillion in the next two decades.
Demand for More-efficient Aircraft
Fuel costs make up around half of the operating cost of an airline. Moreover there is increased activism and regulation for greener and quieter airplanes. This means there is an increased need for more fuel efficient aircraft and aircraft manufacturers are heavily competing to come up with more efficient airplanes. Boeing has a history of introducing new and fuel efficient aircraft through its extensive R&D. Its latest 787-10 Dreamliner is perhaps the most fuel efficient aircraft it has manufactured so far. It is claimed to be 25% more efficient than previously introduced planes by aircraft manufacturers. Boeing's strong R&D and innovation is well placed to cater to the need for more fuel efficient and greener airplanes.
Rising Competition
Boeing faces intense completion from its European rival Airbus (OTCPK:EADSY). Competition is expected to increase from new aircraft manufacturers. Seven year old Russian United Aircraft Corporation is publicizing its MC-21, a medium range aircraft, and it is expected to be operational by 2017. The company claims that its MC-21 aircraft will be 15% more efficient than comparable aircraft today.
Another new aircraft manufacturer, Commercial Aircraft Corporation of China, is planning to produce China's first single aisle passenger airliner the C919. Canadian aircraft manufacturer Bombardier and Brazilian manufacturer Embraer are also introducing medium-range planes. All of these companies will increase the competition for Boeing and the company will be pushed to do more to capture the growing demand of aircraft.
Rewarding Shareholders
Boeing is a decent value investment that has always shared its success with its shareholders in the form of dividends and share repurchases. Boeing is producing strong cash flows to reward its shareholders and the cash flows are expected to remain strong in the coming years. In the fourth quarter of 2013, Boeing paid its shareholders in the form of 7.6 million shares worth $1 billion and $0.4 billion worth of dividends. In the expectation of strong cash flows, Boeing's board of directors has authorized a $10 billion share repurchase program and a 50% increase in dividends.

Source: Reuters
Boeing has consistently paid out dividends in the last decade and this dividend has steadily increased from $0.77 in 2004 to $1.94 in 2013 at a CAGR of 10.8%. Boeing's dividend yield is 2.37% compared to the 1.81% dividend yield of the industry. Boeing's five year dividend yield is also above the industry average. We can reasonably expect that Boeing has the financial strength to continue rewarding its shareholders. Value investors should seriously consider investing in Boeing. Now we will compare the returns made by BA over the last five years to the S&P 500, General Dynamics (NYSE:GD), and United Technologies (NYSE:UTX) that operate in some common segments. Here we see that Boeing produced a 230% return over the last five years and the other two companies produced much inferior returns of around 150%. S&P 500 produced a return that was lower than 150%. With the positive future outlook, BA is expected to continue its positive performance in the future.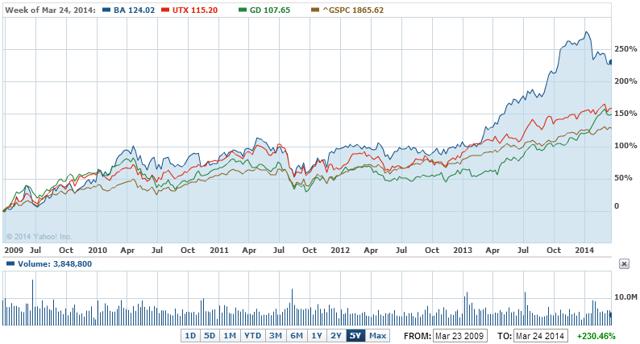 Conclusion
With the growth in expected demand of airplane for the next two decades, as one of the largest producers of aircraft, Boeing is well positioned to capitalize on this growth trend. Competition is increasing but Boeing has all types of capabilities to keep its dominant position in the airline industry. Therefore Boeing is a good long-term investment.
Disclosure: I have no positions in any stocks mentioned, and no plans to initiate any positions within the next 72 hours. I wrote this article myself, and it expresses my own opinions. I am not receiving compensation for it (other than from Seeking Alpha). I have no business relationship with any company whose stock is mentioned in this article.