As the economy around the world is recovering, Delta Air Lines (NYSE:DAL) has now achieved stability in operating profits. Operating profits have consistently grown since 2011 through 2013. It is rapidly achieving many milestones as it is taking off. Delta was recognized by FORTUNE'S World's Most Admired Companies 2014 as the most admired airline for the third time in four years. DAL also made its place in the top 50 of FORTUNE magazine's World's Most Admired Companies 2014 list at number 48.
DAL outperformed its competitors in the airline industry, and has produced a higher pre-tax income. DAL produced a pre-tax income of around $2.7 billion, reflecting an increase of 71% on a year-on-year basis, and its pre-tax margins expanded by 2.8%. DAL's stock price grew by more than 130% during 2013, and it was the 4th-best performing stock in the S&P 500 index. This growth is expected to continue, as suggested by the trends in air travel that will be discussed below.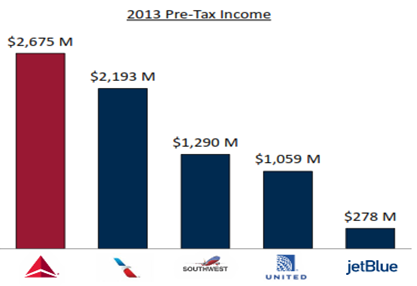 Air Travel has to Grow
Economists are forecasting robust growth in the emerging economies of Asia, Latin America, and Africa. Global companies are positioning themselves to capture the growth potential that these economies present. Boeing (NYSE:BA) has published its outlook of the air travel industry for many decades, and this forecast acts as guidance for all of its allied companies. Boeing's 2013 industry outlook made a forecast for the next two decades until the year 2032. According to this forecast, top growth regions, including South Asia and China, will see a robust average annual growth rate of 6.6% and 6.4%. Southeast Asia, Africa, and Latin America will experience a good average annual growth between 4.7% and 4%. The graph below shows the expected growth in various regions of the world, as forecasted by Boeing.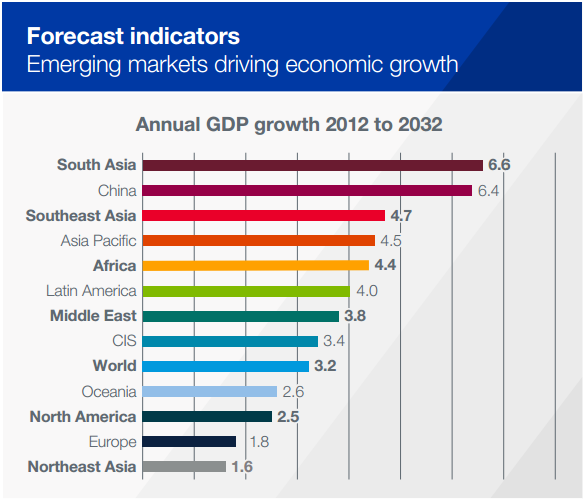 It is forecasted that this high growth will result in higher trade and higher income levels. This, in turn, will result in strong growth in the air travel industry in the next two decades. As given in the graph below, Boeing's forecast suggests that the Middle East and the Asia-Pacific region will be the top growth regions for the airline industry, where annual traffic is expected to grow by 7.3% for the next two decades. Air traffic within Latin America and China is also expected to grow by an impressive 6.9%, and air traffic within the Asia-Pacific region, including China, will grow at a healthy 6.5%. Air traffic in other regions is given in the following exhibit: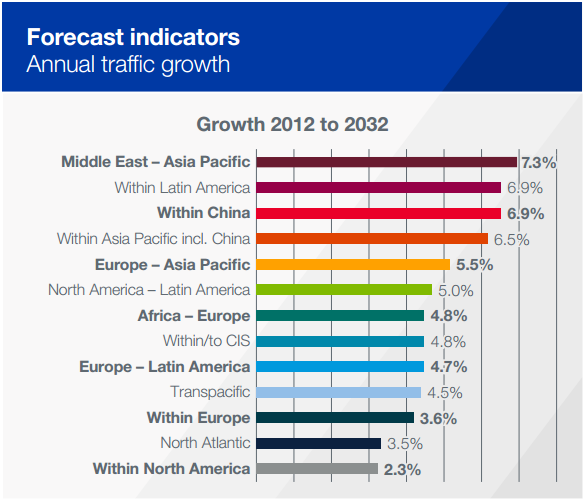 Growth in demand for air travel will invite new entrants that will intensify the competition for existing companies in the industry. Efficient airlines, such as DAL, that have already strengthened their position in the airline industry, are likely to grab their share in the growth in the airline industry.
Strengthening the Balance Sheet
Since the world economy is recovering and emerging economies are flourishing, DAL is preparing itself for a long and profitable journey. As a cyclical company, there is a big impact of economic downturn on DAL's top line, bottom line, and cash flows. This called for a strategy to strengthen its financial position by reducing leverage to an optimum level. DAL is working on a plan to reduce its debt, and that will be very important for the long-term sustainability of its profits.
The lower level of debt in DAL's capital structure is reducing the fixed charge of interest to a low level, and the company is less likely to be hurt materially during the economic downturn.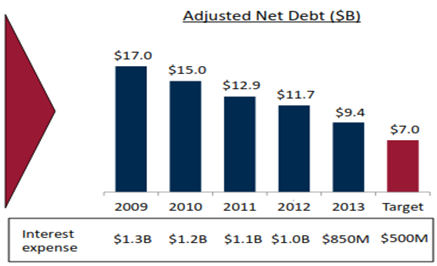 Source: Company Presentation
In 2009, DAL had an adjusted debt level of $17 billion and incurred a $1.3 billion interest. That is a huge payment that can materially affect the company's bottom line. DAL has constantly reduced debt each year, and by 2013, DAL's adjusted net debt was at $9.4 billion. This reduction in debt has reduced the level of interest charge to $850 million, reflecting a 35% decrease from the 2009 level. DAL is now close to its target debt level of $7 billion, and that would reduce its interest payment to $500 million; DAL expects to achieve this in the current year.
This strengthening of the balance sheet resulted in a reduction in the financial risk and improvement in performance metrics. This, in turn, will reduce the cost of capital of DAL, and DAL will have consistent access to the capital market to finance its expansion projects.
Rewarding Shareholders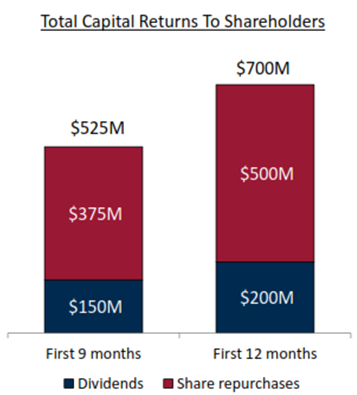 Source: Company Presentation
DAL is making higher profits, so it is returning profits to shareholders after necessary investments. DAL is expected to announce its next repurchase plan and dividend policy by its annual general meeting in June. In the current year's plan, DAL paid $525 million in the first nine months in the form of $375 million worth of share repurchases and $150 million worth of dividends. DAL expects to pay out another $175 million, and this would make a total payout of $700 million for 12 months.
Conclusion

Demand for air travel is expected to show healthy growth in the next two decades, and DAL is well-prepared to capitalize on this growth trend. With a price/earnings multiple of 13.08, compared to the industry average of 33.24 (given in the table above), DAL presents an attractive price. The company's PEG ratio incorporates the future expected growth, and also suggests that DAL is not overpriced at its current level. Investors should consider investing in DAL at its current price level.
Disclosure: I have no positions in any stocks mentioned, and no plans to initiate any positions within the next 72 hours. I wrote this article myself, and it expresses my own opinions. I am not receiving compensation for it (other than from Seeking Alpha). I have no business relationship with any company whose stock is mentioned in this article.