Irrational fear is one of the leading drivers of opportunities to exploit mispricings in securities. The eurozone crisis that afflicted several European countries beginning in early 2009 resulted in banks losing billions in default loans and depressed revenues. The sentiment around these banks turned gloomy, and many traded at historically low levels. The malaise surrounding these companies has remained, and value can be found in this group.
The economic climate in the eurozone is improving, as evidenced by the best average rise in the Eurozone PMI index since the second quarter of 2011. Consumer confidence has been substantially rising in the European Union as well. Banco Santander (NYSE:SAN) is the largest eurozone bank and has positioned itself to prosper in the coming years. The risk that has been priced into the stock has been unfounded, as evidenced by the fact that Santander is the only bank in the world to be rated higher than its home country's sovereign debt by the 4 major agencies (S&P, Fitch, Moody's and DRBS), and in early March, it received a boost in its debt rating by Moody's from Baa2 to Baa1.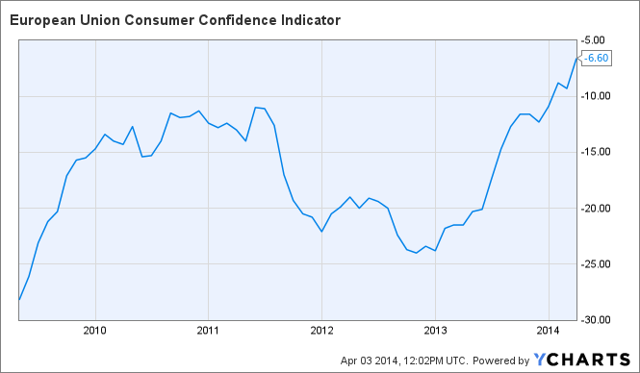 Key divestitures, acquisitions, and asset growth has led to increased profitability and future opportunities for Banco Santander. In 2013, net income was $1.79 per share/ADR, which is up 13.8% from 2012. 4Q operating income increased 16% Q/Q, which was the highest in 2 years. Total loans increased 3% Q/Q, which was driven by consumer loan growth of 5.4% Q/Q. Total deposits grew 2.3% Q/Q, and net interest income increased 2.2% Q/Q.
Improving loans
Net provision for loan losses decreased 8.7% Q/Q and 2.6% Y/Y in Q4 of 2013. The improvement was primarily due to a drop in net provisions in consumer loans, which declined 19.8% Q/Q and a staggering 37.5% Y/Y. The total non-performing loans ratio decreased to 2.9% in Q4 of 2013 from 3.2% in Q4 of 2012. Cost of credit, which represents 12 months loan loss provision/average lending, decreased to 1.7% in Q4 of 2013 from 1.9% in Q4 of 2012. The company cited several factors that led to this decline: a focus on loan growth in the higher end of the consumer market, tightening of admissions policies, revamping of the collections proves and focus on growing pre-approved loans. It is evident that the quality of loans is drastically improving and the implemented changes are working.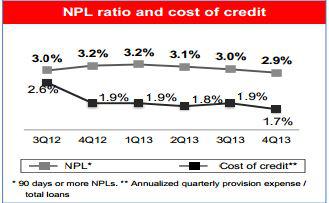 Source: Annual Report
Reduced Expenses
Further, operating expenses decreased 2.1% Q/Q. The main catalysts for these savings are synergies that are beginning to take effect after new acquisitions. The company expects to save 1.5 billion euro by 2016 with these unities. The result of this has been an improvement of the efficiency ratio, which fell to 38.2% in Q4 of 2013 from 39.8% in Q3 of 2013.
Deposit Growth
As the central bank continues to cut interest rates, a focus on client deposits will improve net interest margins. Client deposits are cheaper than institutional deposits and have shorter durations. This shift will allow for quicker repricings on interest bearing liabilities than interest earning assets. Total deposits grew 2.3% Q/Q and 8.6% Y/Y, while critical client deposits grew an astounding 3.2% Q/Q and 19.8% Y/Y.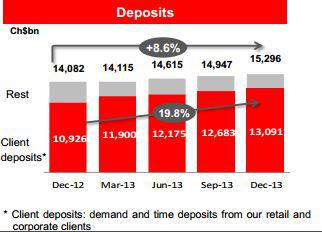 Source: Annual Report
Expansion
Chairman Emilio Botin recently said that Banco Santander is ready to seize any chance it gets to further expand. His declaration was verified by its recent acquisitions in China, the U.S., and Spain. The company recently took an 8% stake in Bank of Shanghai and a 51% stake of Spain's largest consumer finance business.
Another acquisition was BNP Paribas SA's Miami private banking unit in order to win more business from wealthy Latin clients. Santander's global private banking business had $153.1 billion euro under management in 2013 and BNP's Miami unit has about $3 billion euro. These purchases will further diversify their revenue streams. Currently 23% of profits are from Brazil, 26% are from Continental Europe, 17% from UK, 10% from Mexico, 10% from the U.S. and 7% are from Spain.
Caution: An investor should not invest in this stock if they are seeking a dividend from the hefty 8.29% yield. If Banco Santander investors took the cash dividend, they would have to pay a 21% withholding tax. For that reason, 80% of investors take shares instead to circumvent the tax. Therefore, the dividend does not provide much value, as the equity stake becomes diluted with each dividend.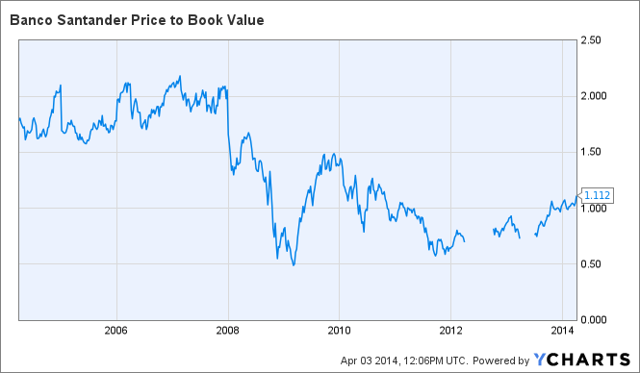 Conclusion
Banco Santander has altered its operations in a number of ways to position itself for success. Key acquisitions that will diversify its revenue streams, a change in focus of assets, and reduced costs will combine to provide extraordinary profitability in the future. The fear associated with Eurozone banks has inanely led to an undervaluation in Banco Santander. The improvements that the bank has taken to ensure a profitable future are not represented in the stock price. The price to book ratio for Santander is just 1.06 compared to the industry average of 1.68. The sentiment in this name is beginning to turn positive as an analyst at Deutsche Bank recently raised Santander from a Sell to Hold. Investors have already experienced a 9.8% YTD gain and 59% yearly gain, but there is still much upside from these levels. Although this deceptive dividend is a negative for investors, the capital appreciation that will ensue shortly will provide a commendable return.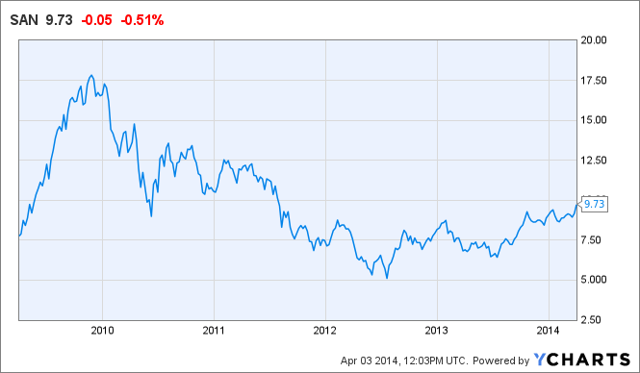 Disclosure: I have no positions in any stocks mentioned, but may initiate a long position in SAN over the next 72 hours. I wrote this article myself, and it expresses my own opinions. I am not receiving compensation for it (other than from Seeking Alpha). I have no business relationship with any company whose stock is mentioned in this article.