As April starts, we're getting the first numbers for how Tesla (NASDAQ:TSLA) did in March, as well as during Q1.
As of February, Tesla was tracking well below its 6,400 deliveries guidance for Q1. But we have reason to believe that due to massive deliveries in Norway, this changed in March. Let's see what happened.
Some numbers for March
The main numbers we have for March are relative to deliveries in Norway, which stood at 1,493 vehicles. This brought Norway's YTD numbers to 2,056. It also meant that Tesla delivered nearly 3 times more cars in Norway in March than during January plus February put together. This single fact was what made it possible for Tesla to close the gap to its overall guidance (Source: EV Sales).
Another important market, the Netherlands, delivered 190 cars in March. This brought the YTD numbers to 207. It also cemented Norway's importance as the largest European market by far. All the other European markets put together (except for the Netherlands) account for a little more than a couple hundred units per month at this point.
Tesla's main market, though, remains the U.S. What we have here is simply an estimate, putting the U.S. deliveries in March at 1,600 units (Source: InsideEVs). Those 1,600 units would bring the U.S. YTD numbers to around 3,850 units, and 3,850 units is still consistent with peaked deliveries in the U.S., in spite of widespread anecdotal evidence of shorter delivery times.
A prediction for Q1
So how does Q1 2014 look, when we sum it all up? It looks like this: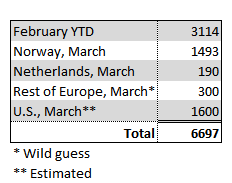 Thus, our best guess is that Tesla has reached around 6,700 deliveries in March, against the 6,400 delivery guidance. Tesla has achieved this on the back of:
Massive March deliveries in Norway;
A shortening of delivery times, both in Norway and elsewhere (including the U.S.).
This also assumes no deliveries in China for Q1. Any deliveries there would add to this number.
Those 6,700 deliveries, while exceeding guidance, are still short of the 6,900 deliveries in Q4 2013. Furthermore, 3,850 deliveries in the U.S., even with shorter delivery times, is still consistent with peaked deliveries in the U.S.
Implications for Q2
With deliveries in Q1 having been reached by eating away some backlog in Norway and using shorter delivery times, this means that Q2 will have to rely more on ongoing demand. While China might be a wildcard, relying more on ongoing demand makes Q2 growth harder to come by.
Excluding China deliveries - which the company might, or might not, break out - I thus believe that Q2 deliveries guidance might turn out to be flat-to-lower with Q1 actual deliveries (around 6,700), in spite of much larger production capacity. This, again, is worrisome for a stock priced on massive growth.
Why do the cars sell so well in Norway?
Norway appears to be Tesla's savior. How can a country with just 5 million inhabitants sell so many Tesla Model S models? There are a few reasons, most of which are hard to replicate elsewhere. It all starts with Norway having a $100k per capita GDP. People are basically rich, on account of its oil industry. Then, there are massive incentives for EVs, including (Source: The Guardian):
No purchase tax or VAT (Value Added Tax) when buying the car. This makes the EVs cheaper in absolute terms, when compared to ICE cars. It makes a Nissan Leaf cheaper than a VW Golf. It makes the Tesla Model S as expensive as a basic Audi A6 2.0T, which is a $45,000 car in the U.S;
No road tax;
Free parking;
Free charging;
Free toll roads;
Usage of the bus lane;
Gasoline is twice more expensive in Norway than in the U.S.
One doesn't even need to go into the supposed environmental benefits. The benefits for EV users are already massive, estimated at nearly $5,000 per year when one puts it all together.
While these benefits will allow the Tesla Model S to continue selling in good numbers, it should be noticed that:
Other makers have seen the effect of the benefits, and are readying EV cars to compete in Norway;
Some of the benefits are to be withdrawn or reconsidered come 2018 or, much earlier, when 50,000

EVs

are sold, cumulatively. With 3,000 EVs sold in March and 21,000 already sold up to January 2014, this will happen quickly;
Some of the benefits are destroying themselves, like clogged charging stations or bus lanes filled with EVs.
Either way, Norway seems like an exception, but an exception which represented 41% of Tesla's March 2014 deliveries.
Conclusion
There are a few conclusions which we can draw from the presented facts:
Norway saved Tesla's Q1, allowing it to meet or slightly beat its deliveries guidance;
Indeed, it seems Tesla will report around 6,700 deliveries in Q1 versus its 6,400 guidance;
Still, the delivery numbers continue to be consistent with peaked U.S. deliveries, estimated at 3,850 in the quarter. And Norway seems like a special case;
The delivery guidance seems to have been met partially due to shorter delivery times. This calls into question Q2 guidance. Shorter delivery times is a card which can only be played once, so Q2 might well represent flat-to-lower deliveries guidance from Q1.
Disclosure: I have no positions in any stocks mentioned, but may initiate a short position in TSLA over the next 72 hours. I wrote this article myself, and it expresses my own opinions. I am not receiving compensation for it (other than from Seeking Alpha). I have no business relationship with any company whose stock is mentioned in this article.