I recently ran a fundamentals screen through Finviz.com, trying to find consistently profitable companies, with reasonable prospects for growth, trading at a reasonable price. The screen I used:

Source: Finviz
Screen criteria:
TTM P/E < 20
Forward P/E < 15
PEG < 2
Current year EPS growth > 0
Next year EPS growth > 0
Past 5 years EPS growth > 0
Next 5 years EPS growth > 0
Past 5 years sales growth > 0
ROE > 0
ROI > 0
Current ratio > 2
Quick Ratio > 2
Gross margin > 0
Operating Margin > 0
Payout ratio < 20%
My rationale was simple: Market volatility and the economy being what they are, a consistently profitable company with favorable earnings and sales growth will probably outperform. Running that screen yields about 30 companies or so, the broad majority of which are small cap. When we limit the screen to companies with market cap > $2 billion:

Source: Finviz
Of these, I was intrigued by Valmont Industries (NYSE:VMI), as it's lagged the broader market over the past year--only about 12-13% above its 52 week low). Moreover, it's in a relatively staid industry, and with hyped-up industries like social media already overvalued, I think that more "boring" industries are overdue for their time in the spotlight.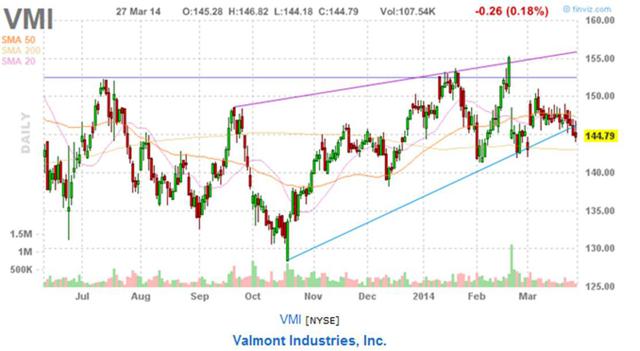 Source: Finviz
I'm not a technical trader, but it appears to me that the stock is in a moderate uptrending wedge, and looks to have been range-bound over the past year. Finviz quotes a target price of about $166, implying about a 15% discount currently. Considering that many think the broader market is getting overheated, a 15% discount on a consistently profitable company looks like a pretty good deal. So I decided to dive in further.
What does Valmont Industries do?
Valmont Industries produces fabricated metal products and mechanized irrigation systems. The company is a leading producer of galvanized metal products, irrigation equipment, and pole structures, the latter of which are ubiquitous as lampposts in your local neighborhood and wireless communication towers. The company is divided into 4 primary segments: Irrigation, Engineered Infrastructure Products, Utility Support Structures, and Coatings and Tubing.

Source: Valmont
Irrigation: The Irrigation segment produces precision irrigation equipment, such as center pivots and linears, for large-scale agricultural use. Linear machines (like the one pictured above) travel across square or rectangular fields; center pivot machines rotate around a central pivot and provide irrigation over a circular area. The Irrigation segment also offers products related to water supply, including variable rate irrigation hardware and software, wastewater treatment services, and pump stations for reservoir creation, amongst other things. Irrigation accounted for 33% of operating income in 2013.

Source: Valmont
Engineered Infrastructure Products: The EIP segment produces steel poles for roadway and parking lot lighting, as well as infrastructure for traffic signals and highways. The segment also produces wireless communication poles and towers. Obviously, these products play a crucial role in supporting community lighting, traffic, and wireless communication, the latter of which continues to expand here in North America with the 4G network build-out. EIP accounted for 16% of 2013 OI.

Source: Valmont
Utility Support Structures: This segment produces spun concrete, tubular steel, and hybrid poles that are utilized in the construction of power transmission towers and substations, accounting for 31% of 2013 OI.
Coatings and Tubing: This segment produces zinc anodized coatings for corrosion protection as well as rolled, galvanized, and stainless steel tubing for use in building, bridge, and stadium construction, sign support, and custom fabrication projects. This segment accounted for 14% of 2013 OI.
Investment Thesis:
Valmont looks like a compelling investment based upon its diversified product line, earnings stability, dominant market position, and opportunities for growth. Valmont and its chief competitor, Lindsay (NYSE:LNN) together command more than 70% of the mechanized irrigation business, and market penetration in international markets-where Valmont has established an early advantage over Lindsay, by some experts-still offers the opportunity for even more growth. Valmont should continue to benefit from long-term secular trends, including world-wide economic growth and development, increasing vehicle ownership, and increased electricity and wireless usage, all of which will require increased infrastructure buildout and demand for Valmont's products. Population growth and increased urbanization will lead to an increased demand for more and better food, and this in turn will likely drive demand for more area-efficient irrigation methods. And a steadily improving global economy will likely drive increased volumes for corrosion-protected metal products.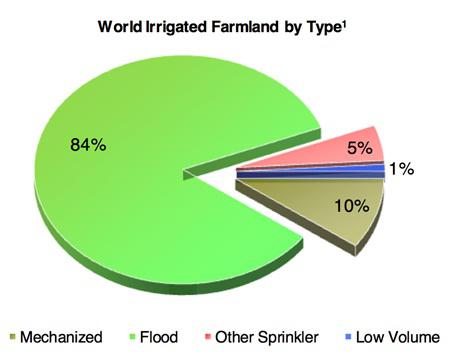 Source: Valmont Investor Relations Presentation (OECD)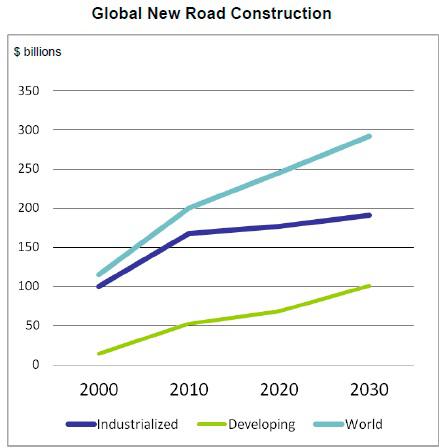 Source: Valmont Investor Relations Presentation (OECD)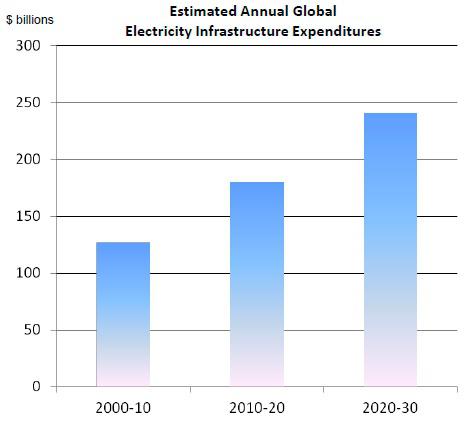 Source: Valmont Investor Relations Presentation (OECD)
Suitability
Like most value investors, I'm indebted to Ben Graham for what little I do know about stock selection. Before delving into valuation, let's take a quick look at VMI's suitability. Ben Graham outlines seven criteria for Defensive Investors and Enterprising Investors.
Defensive Investor:
Adequate size of enterprise (>$500 m in sales, >$250 m in assets): PASS
Sufficiently strong financial condition (Current ratio > 2): PASS
Earnings stability (no net loss over past 10 years): PASS
Dividend Record (Dividends paid over past 20 years): PASS
Earnings Growth (Net income increases by >1/3 on per-share basis over 10 years): PASS
Moderate P/E Ratio (Price < 15x average earnings over trailing 3 years): FAIL
Moderate Ratio of Price to Assets (Multiplier of P/B x P/E < 22.5): FAIL
Based upon these criteria, VMI does not quite meet Ben Graham's criteria for Defensive Investors. Its trailing 3-y P/E ratio of 15.63 is borderline; it would satisfy this criterion at $138.50.
Enterprising Investor:
Adequate size: PASS
Strong Financial Condition: PASS
Earnings Stability: PASS
Dividend Track Record: PASS
Earnings Growth > 3%: PASS
P/E in lower 10% of similar stocks: PASS
P/B < 1.2: FAIL
Based upon these criteria, VMI meets Graham's criteria for Enterprising Investors, failing only on the P/B criterion. I would also note that VMI meets ModernGraham's updated version of these criteria (which are still fairly strict).
Performance:
I believe one of Valmont's more remarkable qualities is the reliability of its revenue, margins, and EPS over the past decade, despite the rather cyclical nature of its industry and the economic downturn.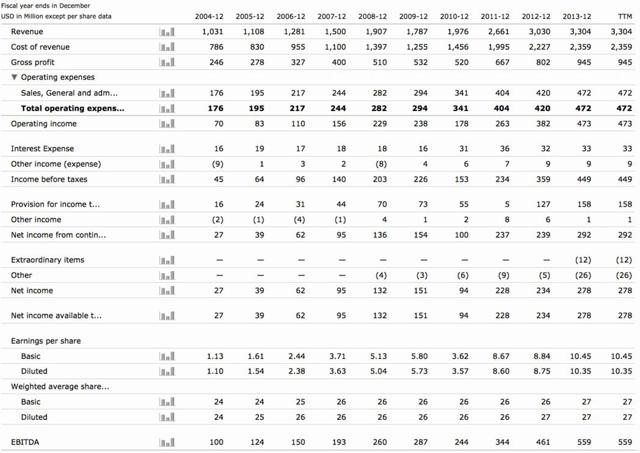 Source: Morningstar
Top-line revenue growth has stayed positive, averaging about a 12% CAGR over the period. EPS growth has similarly been robust, showing about a 18% CAGR over the period. Net margins have steadily increased over the past 10 years as well, increasing from 2-4% in 2004-2006 to 7-8% over the past 3 years. Margin improvement looks to have been attributable to a slower growth in operating costs. BVPS has shown a similar reliability in growth, growing at about a 15-16% CAGR over the past 10 years. Operating costs have held pace with revenue growth at about 15% per year, but the company's ROIC is a robust 15%.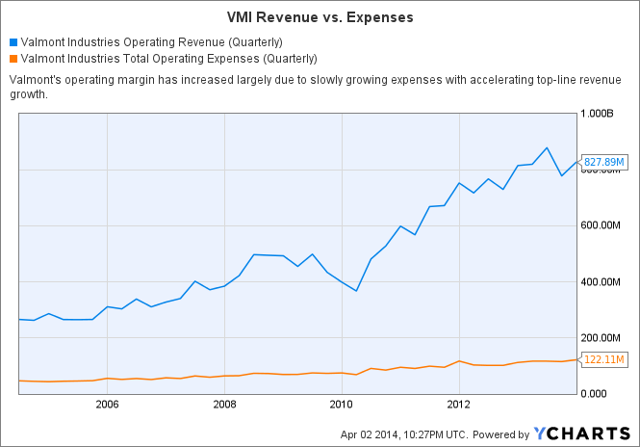 VMI Operating Revenue (Quarterly) data by YCharts


Source: Valmont 10-K
Of the 4 segments, the past 3 years have been kindest to the Structures segment, which has shown an increase in total operating income of nearly 150%. This appears to be largely attributable to a significant increase in profits while maintaining SG&A expenses relatively in line year-over-year. EIP and Irrigation have also shown significant improvements in operating income, with the coatings segment being the relative laggard over this time period.


Source: Valmont 10-K
On the most recent conference call, company leadership noted that weakened international sales of late were slightly offset by improved domestic sales, mostly in the Structures and EIP segments. Management also offered significantly unfavorable guidance for Q1 2014 compared to 2013 based upon lower commodity prices, with some growth in international Irrigation markets that would not be enough to offset this decline. They also cautioned that overall EPS would slightly decline from the company's recent record-setting pace.
Risks:
As the company's 10-K makes clear, Valmont's business is not without risk. is highly leveraged to prevailing commodities prices, and the company's profit margins-which are positively leveraged when markets strengthen-will tend to decline during market downswings. Though management looks to have guided the company reliably through market lulls, EPS and revenue growth can be lumpy. Input costs have a direct impact on profit margins as well, especially in the EIP and Structures segments, and rising steel costs quickly show up on the company's bottom line. The company's customers operate in highly cyclical environments as well, and infrastructure spending-which is subject to political whims-directly affects the performance of the infrastructure segments. Though the company benefits from economies of scale and to some degree from switching costs, there are low barriers to entry, and Valmont faces stiff competition in each segment, including from its main largest competitor, Lindsay .
Valuation:
As a base assumption for DCF analysis, I assume that revenue growth will decline moderately relative to the past decade to 8%. Valmont has been able to maintain relatively stable operating costs, and it seems fair to assume that these will grow at a measured pace relative to revenues. Assuming no further change in the rate of growth in net margin and steady operating, tax, and investment costs, a discounted cash flow model yields a projected fair value of about $180, with a TTM P/E of 17.4. I use a weighted average cost of capital of 14%. Under a bear case scenario, projecting 6% revenue growth over 10 years and margin decline of 0.5% per year, the model yields a fair value of $152. Finally, under a more optimistic scenario, with revenue growth and margin growth hewing to recent history, the model yields a FV of $196. Averaging the three gives $176, about a 22% premium to today's closing price of $144.
Using a revised Graham's valuation method, and projecting that EPS growth will match a more staid rate of BVPS growth of about 10%, one arrives at a fair value of $9.23 x (8.5 + 2 x 10) x 4.4 / 4.45 = $260. This seems a bit optimistic. Nevertheless, it's worth pointing out that VMI's share price has largely tracked its increase in book value per share since 1995.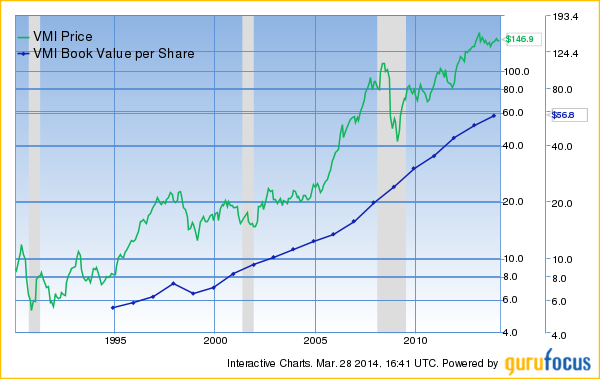 Source: Gurufocus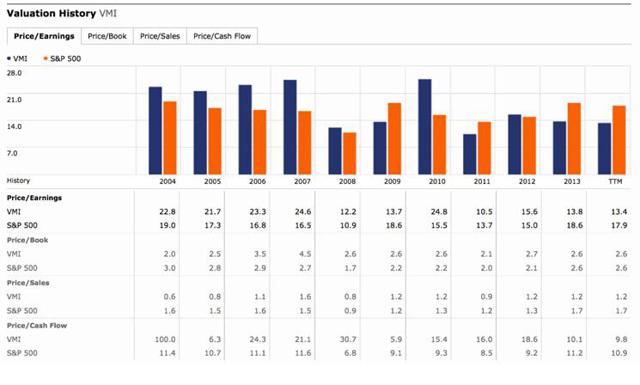 Source: Morningstar
As mentioned above, despite its stellar earnings history and revenue reliability, VMI is by nature a cyclical company. Judging by its historical valuations, the company appears to be trading at a relatively low PE, which fits given its recent record-setting revenue and earnings growth. The argument could be made that the company is set for a near-term decline in EPS and revenue, taking the stock price with it, and this sentiment would certainly comport with management's recent guidance.
Conclusion
VMI is a well-diversified, highly competitive company that appears to be well suited for enterprising value investors, and appears to be trading at material discount to fair value. Its leverage to commodities prices and infrastructure projects makes it a relatively cyclical play, though I would argue its diversification and cost control measures provide it some insulation. Management appears to be doing a good job as stewards of shareholder capital, generating comfortable ROIC even in downturns. Despite management's recent guidance, secular trends favor VMI's continued growth, and given the state of the market, I would consider accumulating shares, and recently initiated a small position.
Disclosure: I am long VMI. I wrote this article myself, and it expresses my own opinions. I am not receiving compensation for it. I have no business relationship with any company whose stock is mentioned in this article.