With soldiers at ease temporarily along the Ukraine border with Russia, stocks are now data-dependent, especially heading into Friday morning's big jobs number. But what is driving the SPDR S&P 500 (NYSEARCA:SPY) today, and where are we heading anyway?
The 8:00 AM ET monetary policy announcement by the ECB reversed the course of S&P 500 futures this morning, bringing them back to breakeven. But by 8:30, new information on international trade and jobs supported the outlook. Two critical service sector data points added needed support to the SPDR S&P 500 when reported at 10:00 AM ET. Heading into the close, investors will grow anxious about the Employment Situation Report for March. Though, according to economists, there's a decent likelihood that we'll get a satisfactory number tomorrow.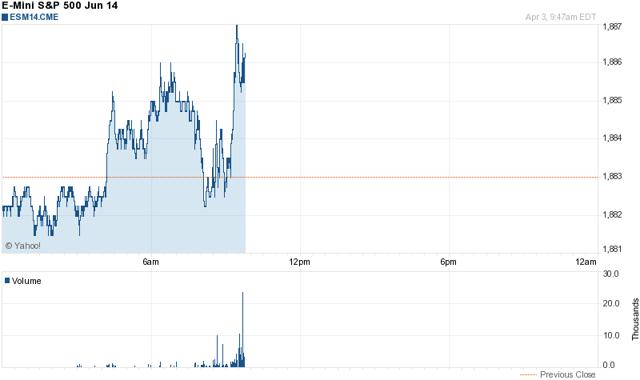 S&P Futures Chart at Yahoo Finance
The ECB took no action today, which was definitely a downer for the Europeans and for U.S. investors as well. You can see the impact in the futures chart here in the dip near 8:00 AM ET. However, just a half-hour later, we received International Trade data showing a wider-than-expected trade deficit, which would normally reflect well for us. That's how the market took it, but there's a fly in that ointment. CNBC's Steve Liesman just explained for us why the deficit expanded, despite a significant narrowing in the trade deficit with China and hardly any other apparent trade change. You see, this is a part of a four-year phenomenon known as the Olympics, or I suppose 2-year, as Liesman forgot the fact that the Olympics have been broken in two so that we don't have to wait long for an Olympics of some sort, summer or winter. Anyway, some $1 billion dollars were unaccounted for in economists' consensus expectations, explaining the variance in the result and better-than-expected data. In truth, the steep narrowing in China trade is troublesome, and the market seems to be catching wind of that currently.
We expected the market to focus on service sector data today. The service sector drives 90% of the American economy. Both ISM and Markit Economics reported on non-manufacturing PMI today, and here's what happened.
Service Sector Check

Economic Data Point

Prior

Expected

Actual

51.6

53.3

53.1

53.3

53.9

55.3
We can see here that ISM's data showed a result that was slightly under expectations, but normalized from January's disappointing and drastic dive. This was quite reassuring to markets, and reinforces faith in the weather factor now fading away. Markit Economics' data offered even better news, with an increase shown for the month that was far above expectations. If the service sector is humming again, then America is humming, and so we have good reason for the SPDR S&P 500 to gain ground.
At this hour, roughly 10:50 AM ET as I scribble, the SPY is again in the red. Within the flood of data today, investors are also noting an uptick in jobless claims, though it was relatively meaningless (+16K) to 326K. Challenger Job-Cuts data showed a decrease in announced layoffs last month, and that's at least as important a forerunner to tomorrow's Employment Situation Report for March. Regarding the jobs report, economists expect unemployment to dip a tenth of a point to 6.6%, and for nonfarm payrolls to rise faster than in February, or by 206K in March. I expect that would be good enough to keep stocks trending higher; yesterday, the Dow Jones Industrial Average (NYSEARCA:DIA) joined the S&P 500 into record territory.
Money flow out of gold has been supporting the latest surge in stocks and bodes well for the SPY, though I've noted that I believe that is unfounded due to an ongoing threat and clear and present danger presented by Russia to global stability. I've also noted Janet Yellen's recent supportive statements for gold and stocks in my article Putin and Yellen Support the SPDR Gold Trust (NYSEARCA:GLD). The same concerns regarding Russia led me to pen a market analysis recently asking S&P Longs if they feel lucky. Despite my concern, a recent NATO voice in the mess has served stability. It appears to me that the latest strength presented by NATO with regard to member nation support for Ukraine and also a decision to reinforce Eastern Europe has raised concern in Moscow. Ironically, standing strong against the aggression appears to be adding some stability to the situation currently, but these events can change on a moment's notice and deserve SPY holders' daily attention.
In Conclusion
It seems Liesman's clarification on the trade data and the fact that the deficit with China narrowed has been digested by the market, and is getting its appropriate weighting. It is likely why the SPY is underwater today, and so should reinforce anxiety heading into the close. Looking past the jobs report due tomorrow morning would be a mistake, and we'll take our lead moving forward from that data. SPY holders should pay close attention to it as well.
Disclosure: I have no positions in any stocks mentioned, and no plans to initiate any positions within the next 72 hours. I wrote this article myself, and it expresses my own opinions. I am not receiving compensation for it (other than from Seeking Alpha). I have no business relationship with any company whose stock is mentioned in this article.