The markets have put together a small winning streak over the past few sessions and although the overall gains have been relatively small, it is momentum and does give investors confidence. While the general market does appear to be healthy for the most part, we are becoming a bit concerned with certain "trouble" stocks which seem to be a lightning rod for negative news as of late. Some of these companies are facing issues beyond their control, however there are a fair number that are suffering from self-inflicted wounds and have no one to blame but their management teams.
For much of this bull market it has been a generally accommodative rise, meaning investors could benefit simply by being long the index funds via ETFs. We still think that is the best play for individual investors without much capital as it diversifies their portfolios and insulates them from negative events, however we think that those with decent sized portfolios might want to start looking at stock picking in the financial sector.
Chart of the Day:
the past two years have been great for those investing in the financials, and with rates set to rise in the future the good times appear set to continue. We would point out that buying individual names might be beneficial to those with large enough portfolios to spread their capital around and diversify as we think that certain names will benefit more than others due to superior management teams.
Source: Yahoo Finance
We have economic news today, and it is as follows:
Challenger Job Cuts (7:30 a.m. EST): Est: N/A Act: -30.2%
Initial Claims (8:30 a.m. EST): Est: 320k Act: 326k
Continuing Claims (8:30 a.m. EST): Est: 2850k Act: 2836k
Trade Balance (8:30 a.m. EST): Est: -$39.3 B Act: -$42.3 B
ISM Services (10:00 a.m. EST): Est: 53.5 Act: 53.1
Natural Gas Inventories (10:30 a.m. EST): Est: N/A Act: -74 bcf
Asian markets finished mixed today:
All Ordinaries -- up 0.12%
Shanghai Composite -- down 0.74%
Nikkei 225 -- up 0.84%
NZSE 50 -- up 0.12%
Seoul Composite -- down 0.18%
In Europe, markets are trading higher this morning:
CAC 40 -- up 0.66%
DAX -- up 0.47%
FTSE 100 -- up 0.19%
OSE -- down 0.30%
Picking Financials Is Key
The further we get into this recovery for financials the more evident it becomes that picking your spots when dealing with individual companies is becoming more and more important. Simply buying a big diversified financial name like Citigroup (NYSE:C) does not get the job done and investors might be better off buying a well run bank, such as US Bancorp (NYSE:USB) and pairing it with pure-play brokerage such as TD Ameritrade (NASDAQ:AMTD). If one has the capital to get diversification by buying various financial names we like this thinking, but for the majority of investors buying the low cost financial sector ETFs is probably the best way to go.
Until recently Citigroup had outperformed both US Bancorp and TD Ameritrade, but with the recent news that has come out the financial giant has underperformed. There is more risk buying individual names, but we think buying solid names now could very well outperform the general financial sector with big names like Citigroup dragging down results.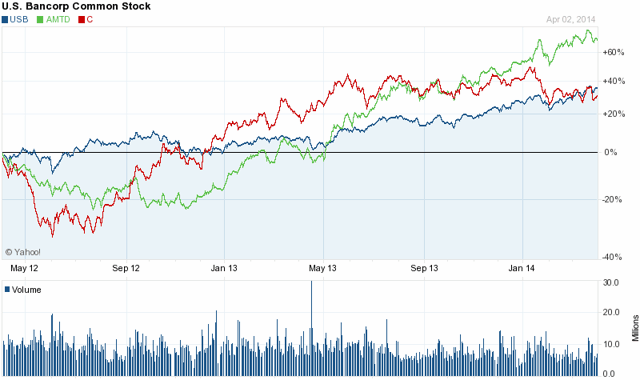 Source: Yahoo Finance
We are stressing the need to pick well run names this morning after the FBI and US Attorney's office in Manhattan opened an investigation into Citigroup's $400 million loss in Mexico through their Banamex unit. This just adds to the issues shareholders are now facing with the initial loss, plus regulators putting on hold the company's capital plans due to the lax oversight and now this investigation. This just goes to show that even small instances of fraud and losses can cause outsized problems for shareholders these days and adds to the importance of owning names with operations that run smoothly.
Malone Deals A Blow
John Malone strikes again, this time having his Liberty Media (NASDAQ:LMCA) sell nearly its entire stake in Barnes & Noble (NYSE:BKS). When Mr. Malone initially made the investment markets cheered, thinking that there was a possibility that Liberty had plans for Barnes & Noble or its Nook that would lead to significant upside. Now it is apparent that the Nook really does not have a market outside the niche they have already built and partners are walking away as the iPad, Kindle and numerous other devices dominate the market.
John Malone and Liberty Media are both pretty good at timing deals, and by essentially walking away from Barnes & Noble at this time it makes one wonder what their next deal will be. There has been a lot of news flow surrounding Liberty Media and companies it holds stakes in, so we think this move is in anticipation of something larger that will be announced later down the road. With Malone it is never a matter of if, but rather when.
Disclosure: I have no positions in any stocks mentioned, and no plans to initiate any positions within the next 72 hours. I wrote this article myself, and it expresses my own opinions. I am not receiving compensation for it (other than from Seeking Alpha). I have no business relationship with any company whose stock is mentioned in this article.