Many experts contend that the return calculation of the common stock of Fannie Mae (OTCQB:FNMA) and Freddie Mac (OTCQB:FMCC) is purely a binary type investment outcome dependent on two things, politics and the court system. They contend that there is no doubt that these companies are highly profitable. The question is whether shareholders will participate in the profitability.
Treasury Collects $202.9 Billion Cash Dividends
As of March 31st, the government sponsored entities (GSEs), Fannie Mae and Freddie Mac have paid $202.9 Billion in cash dividends to the U.S. Treasury. This is on a principal balance of $187.5 Billion in funds lent to these entities. It's important to note that the GSEs did not record cash losses on these borrowings anywhere close to the total principal amount lent by Treasury.
The last significant quarterly draw of $4.6 Billion was taken by Fannie Mae on March 30, 2012. Freddie Mac's last draw came for a much smaller amount three months later.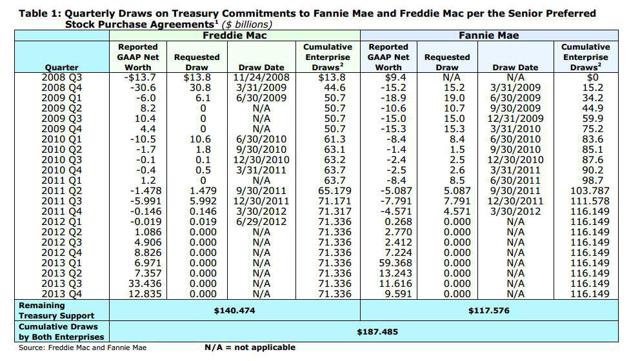 Click to enlarge
Due to the 3rd Amendment of the Preferred Stock Purchase Agreements, the company began sweeping nearly 100% of their net worth in August 2012, which significantly accelerated the payment of dividends to the Treasury. Prior to the Net Worth Sweep, the entities were paying 10% interest dividends on their borrowings.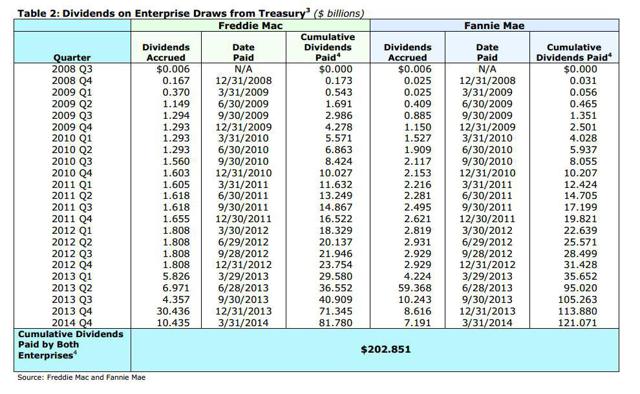 Click to enlarge
Does FHFA have the power to hold up a dividend payment?
The duties of the Conservator are to preserve and conserve the companies' assets. Paying a dividend to a stockholder that effectively liquidates the companies may not fall into the category of "conserving" anything. It is uncertain whether this net worth sweep will continue and that may be decided by the courts, although it should be noted that Mr. Watt should have a good grasp of the law, based on his experience as a lawyer. Because the 3rd Amendment violates the principal stated purpose of Conservatorship, it is up to Mr. Watt, or the courts, to determine if the dividend payments are lawful.
Shareholder Rights Movement Gaining Bi-Partisan Legs
They say politics makes strange bedfellows. Mr. Ralph Nader and the conservative Koch brothers appear to have something in common. They both think the government is giving Fannie and Freddie investors a raw deal. Monday, attack ads began running in several areas of the country funded by the Koch's, going after Republicans and Democrats.
Inside Mortgage Finance reports that "60 Plus is targeting three Democrat and four Republican Senators: Joe Manchin, D-WV; Mark Warner, D-VA; Kay Hagan, D-NC; Mike Crapo, R-ID; Dean Heller, R-NV; Mark Kirk, R-IL; and Jerry Moran, R-KS."
Click here to see an example of these ads. One might start to wondering, if the Kochs and Nader see this the same way, who is in agreement with Congress?
Paul Ryan Releases House GOP Budget
It's not surprising to hear more wind-down rhetoric coming from the House GOP. Here's the latest note from the conservative Heritage Foundation:
Fannie and Freddie. The budget proposal "envisions the eventual elimination of Fannie Mae and Freddie Mac, winding down their government guarantee and ending taxpayer subsidies." Eliminating Fannie and Freddie is a long overdue step toward getting the government out of the housing market, but the details of how this goal is accomplished will be critical. The proposal mentions possibly following the approach in H.R. 2767, the Protecting American Taxpayers and Homeowners Act of 2013."
When taxpayers finally realize that this also means elimination of the 30-year mortgage, crumbling housing prices, and a new recession, it is possible that these bills will stop being presented and shareholders' futures will brighten.
Federal Reserve Bank of Atlanta Questions Payback
Meanwhile, Larry Wall, at the Atlanta Fed says that he doesn't believe that Fannie and Freddie have actually paid back taxpayers. He contends such a claim is based on "an accounting calculation that does not withstand economic analysis." In other words, he is saying that without the government, the companies would not have survived and you cannot measure how much gratitude shareholders should have to Treasury.
This is essentially the same claim proposed by the lawyers defending the government in the recent lawsuits. The plaintiffs had this to say,
Treasury asserts repeatedly that its decision in 2008 to provide the Companies with funding somehow justifies its 2012 decision to sweep the Companies' net worth every quarter until the last syllable of recorded time. Treasury Br. 3, 15. Treasury provides no support for this proposition, and it is entirely erroneous. The financial support Treasury provided-no matter how substantial-does not authorize Treasury to violate the strict limits Congress imposed on Treasury's investment authority in HERA. And the factual premise on which the argument is based-that private investors would have received nothing if the Companies had been liquidated in 2008-even if true (and it is quite doubtful) is undone by the fact that the government did not put the Companies into receivership, but instead chose the path of conservatorship, investing funds into the Companies to restore them to a sound and solvent condition and preserve and conserve their assets. (footnoted 18)"

Footnote 18: "In this sense, the conservatorship closely resembles a reorganization under the bankruptcy code, 11 U.S.C. § 101 et seq. Similarly, Treasury resembles a lender to a reorganizing bankruptcy debtor. Such lenders may receive priority over other creditors, but the overall terms of the financing must be fair and reasonable, benefitting the debtor and its stakeholders. See In re Ames Dep't Stores, Inc., 115 B.R. 34, 39 (Bankr. S.D.N.Y. 1990) ("[A] proposed
financing will not be approved where it is apparent that the purpose of the financing is to benefit a creditor rather
than the estate."); In re Tenney Village Co., 104 B.R. 562, 568 (Bankr. D.N.H. 1989) (refusing to approve debtor
financing because constraints of financing, including requirement that all proceeds from asset sales be remitted to lender, "pervert[ed] the reorganization process"); see also 11 U.S.C. § 364."
It remains to be seen whether economists or lawyers win these legal battles.
Handle Forming for Cup and Handle Chart
The recent price jump back over $4 appears to be the next portion of the cup and handle chart that is forming.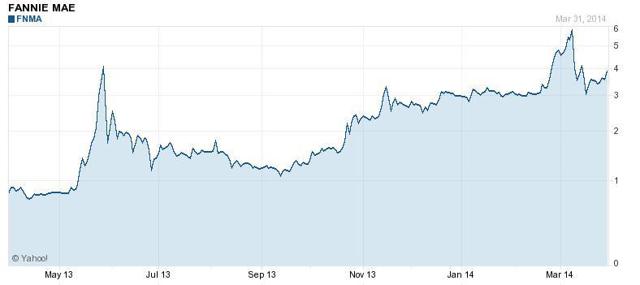 Click to enlarge
The catalyst for the recent upsurge was the announcement that Ackman's Pershing Square had found a way to buy more than 10% of the float of the common stock without triggering impairment of the Deferred Tax Assets. Analysts are saying that Ackman's confidence in the stock is reflective of his belief that these companies will continue operating and shareholders will again own them in the future.
Disclosure: I am long FNMA, FMCC. I wrote this article myself, and it expresses my own opinions. I am not receiving compensation for it (other than from Seeking Alpha). I have no business relationship with any company whose stock is mentioned in this article.