The best way for me to describe Staples (NASDAQ:SPLS) is a well-built ship with a skilled crew that is being continually attacked by a hurricane that is intent on forcing the boat in the wrong direction. The crew's ability may prevent the ship from sinking, but the boat is still going to end up limping into the harbor in tatters. The management of Staples is doing all the right things by investing in the more robust online and contract businesses, expanding product selection, closing stores, and returning cash to shareholders. However, none of these things are going to stop the declining revenues (and earnings per share), mainly because over 50% of Staples' revenue is reliant on print. Additionally, problems in Staples have been somewhat masked in recent years through the Corporate Express acquisition, new store growth (up until 2012), and through segment shifting by the management.
Core performance is declining
On all metrics, Staples has been a declining business. Free cash flow is clearly declining primarily due to declining revenues, as shown below, and the cash distributed to shareholders is declining as well.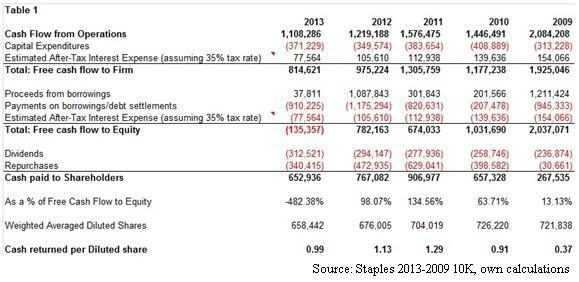 Sales, profit margins and net income have also declined for 2 years in a row since 2011, both on a gross and per-share basis, as shown in Table 2.

The worst performing segments are the international segment, which had a 10% decrease in revenues and an operating loss in 2013, and in Retail, which had same-store sales decline every year since 2006, which is the first year that I retrieved data (shown below). In my view, this is because customers are realizing that Staples retail stores offer very little advantage over Wal-Mart (NYSE:WMT) and other big-box stores. Virtually everything that can be bought at Staples can be bought at a similar price somewhere else. The management has quietly hid the declining same-store sale in 2011 by merging the faster growing Staples.com with its Retail segment, and no longer disclosed Retail sales separately.

The online segment, which is often touted as the saviour of Staples, is also not growing, despite a strong 4th quarter. Sales on Staples.com fell around 8% in 2013, which is more than the decline for Staples Retail Stores, despite a strong 4th quarter. Management believes that expanding the product selection will reverse this trend, and are planning to replace many unprofitable SKU's both from the stores and on Staples.com. Only time will tell whether retail consumers (for whom Staples.com is geared towards) can be convinced that Staples sells everything that they need.
The last segment is North American Commercial, which primarily contains the contract business called Staples Advantage (formerly known as Corporate Express), and Quill.com. This is the area that Staples should be focusing on, because its strong customer relationships and dedicated corporate sales team will make it significantly easier to expand into other product categories. This is exactly what Staples is doing, as most of the growth in facilities and breakroom are from Commercial customers, even though the growth was unable to completely offset declines in paper and ink.
Staples' revenues primarily come from sales of paper, ink and toner
2013 is the first year that Staples discloses its ink and paper sales separately, most likely due to its new executive bonus program that rewards growth in alternative categories. For fiscal year 2013, 29% of Staples revenue came directly from selling paper and ink. This proportion has been extremely stable for the last 3 years, and has actually increased slightly from 28.5% in 2011. Adding the fact that most core office supplies are related to paper and ink (such as pens, paper clips, folders, staples etc), Staples easily has over 50% of its sales tied to the future of paper and ink.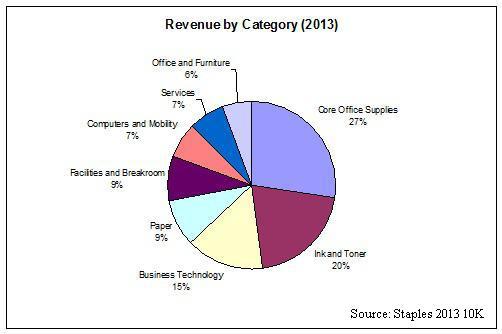 There is plenty of evidence that printing, and by extension, demand for paper and ink, is a structurally declining industry, as companies that previously used paper for databases and legal documents continue to switch to a paper-less environment. Figure 2 shows large declining revenues for both paper and ink producers.

Domtar (NYSE:UFS), which sells 10% of its products to Staples, lists the decline in paper as its primary risk factor in its 2013 10K:

This should be enough evidence that contrary to popular belief, it is not Amazon (NASDAQ:AMZN) that is killing Staples, but rather companies like Oracle (NASDAQ:ORCL), Salesforce.com (NYSE:CRM), or even IBM (NYSE:IBM), that offer computing solutions to replace print. Simply put, Staples will no longer be as essential to businesses as it once was, as Staples can no longer offer "everything your business needs
In response to its heavy exposure to print, bulls argue that the company is diversifying away from print, and has dramatically increased its product selection especially with regards to breakroom and janitorial products. Given Staples' strong customer relationships with businesses, Staples can use their distribution network and value proposition (free next-day delivery & 5% reward program) to increase sales of these alternate categories. Apart from the fact that free next-day shipping is an industry standard offered by most of their primary competitors for business orders, there are reasons why this is unlikely to reverse Staples' fortunes.
Many of the new product categories are non-core business items. Ink and paper were essential office supplies that virtually all businesses continually needed, which became an extremely persistent revenue stream. Items such as breakroom items and office gift shop are less important to the functioning of a business, and it is likely that companies historically spend less on these items. Additionally, many of the new categories are one-time purchase items, rather than recurring revenue streams, such as mops, safety supplies and coffee makers.
For the new categories that are recurring in nature, distribution channels are extremely competitive. Items like K-Cups and janitorial supplies like toilet paper already have extremely competitive distribution networks from companies that have long-established relationships with suppliers and customers. For janitorial services, many companies contract out their cleaning and maintenance to contractors who are unlikely to buy their soap from Staples. In particular, Cintas (NASDAQ:CTAS) provides many of the services that Staples is hoping to enter, and it would be naïve to expect the competition to allow Staples to take their market share easily.
Price matching and reasons 1 + 2 will lower profit margins. Staples has historically enjoyed industry leading operating margins due to the sale of higher margin Staples brand office products and cost advantages over Office Max and Office Depot (NYSE:ODP). By entering new product categories, increase competitors and lower margins from 3rd party products will lower operating margins.
Valuation
I used a simple earnings discount model to simulate 3 scenarios for Staples, which takes into account both the management's expected cost savings and revenue declines. Under reasonable assumptions, I believe that Staples should be worth between $5 to $6 billion, which is slightly below its current value of around $7.4 billion. An absolute best case scenario could yield a value near to $11 billion, but as value investors, the focus should be on the potential downside which is nearly bottomless as its products become more obsolete. Many readers will probably question a best case scenario of flat revenue growth. I believe this to be reasonable for 2 reasons:
Revenues have not meaningfully organically increased since 2009, when revenues were boosted by a full year's worth of revenues from the Corporate Express acquisition. Sales growth has also been driven by in 2009-20011 through opening new stores, even as comparable store sales continued to fall.
There is no evidence that the new product categories can generate enough sales growth to offset declines in ink, paper, and core office supplies. Facilities and breakroom make up only 8.7% of sales in 2013, and sales of other categories such as business technology, office and furniture, and computers has fallen alongside Core Office Supplies.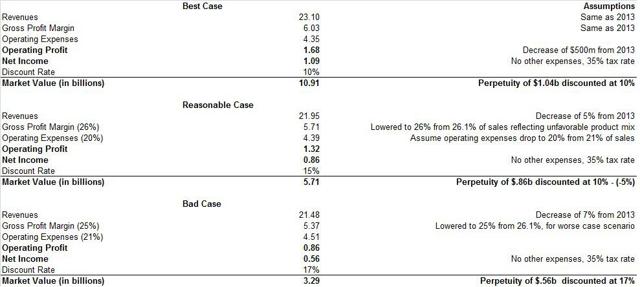 Conclusion
In short, Staples is a low-reward, high risk stock, which is exactly what value investors are looking to avoid. The only source of upside remaining for Staples is that its revenue declines won't be as bad as people hope, and that costs can be shed to preserve its declining free cash flow. The downside is virtually unlimited as the developed world continues to shift to a paperless society. Investors will be wise to look somewhere else.
Disclosure: I have no positions in any stocks mentioned, and no plans to initiate any positions within the next 72 hours. I wrote this article myself, and it expresses my own opinions. I am not receiving compensation for it (other than from Seeking Alpha). I have no business relationship with any company whose stock is mentioned in this article.