In case you missed it, the world's biggest brokerages are now flashing green lights at investors. They're saying that now is the time to buy Chinese stocks. Double digit gains are just around the corner.
It's buying time again!
The latest bullish voice comes from China itself. The highly respected Shenyin & Wanguo Securities Company says Chinese stocks will rise by 17 percent in the second half of the year.

I reported in an earlier posting that a chorus of financial leaders had chimed in to sing the praises of China. The "Buy China" chorus includes BNP Paribas, Morgan Stanley, AMP Capital Investors, BlackRock, UBS and HSBC Bank. Among them a consensus is emerging that China's stocks will rise by about 16 percent before the year is over.
Of course these are average estimates for the market as a whole. And the Chinese broker is looking only at the Shanghai Stock Exchange. The challenge is to pick the stocks that outperform the averages and avoid those that drag the average down.

It goes without saying that my China Stock Digest is a primary source of Chinese stock picks. But some investors like to screen the markets for even more choices. Some are willing to assume a bit more risk for a higher potential reward.

Here's one good way to attack the problem.
Don't Pay Too Much

The usual way to assess the valuation of a stock is to check the P/E ratio. As most investors know, the P/E ratio shows you how many dollars you are paying for a dollar of earnings. If a company has a high P/E multiple it is generally considered an expensive stock. A low P/E is often considered a good value.

I don't have to tell you how often that formula falls short. Any P/E over 35 is considered quite high. But the Chinese search engine company Baidu (NASDAQ:BIDU) now trades at a P/E of almost 100. Some analysts are still touting the stock as a "buy" despite its sky-high valuation.

Personally, I found Baidu a little rich for my blood when its P/E hit seventy. But companies with rapidly increasing cash flows like Baidu are considered a good value by some, even when they sport triple-digit PE multiples. The fact that Google (NASDAQ:GOOG) bowed out of the Chinese Internet search market increased investors' faith that Baidu could continue to grow exponentially and justify its valuation.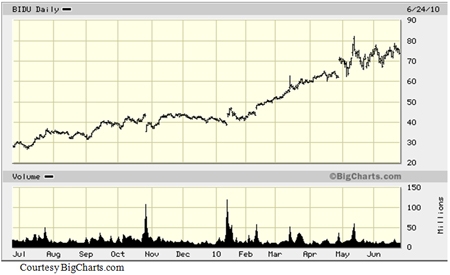 By the same token Aluminum Corporation of China (NYSE:ACH) appears to be a bargain. It is one of the world's largest aluminum makers with a market cap of over $10 billion. It has a virtual monopoly on the aluminum market in the robust Chinese economy. And it has a low valuation with a P/E ratio just over five. But is it really cheap? Aluminum Corporation of China (better known as Chalco) hasn't been a truly cheap stock for some time.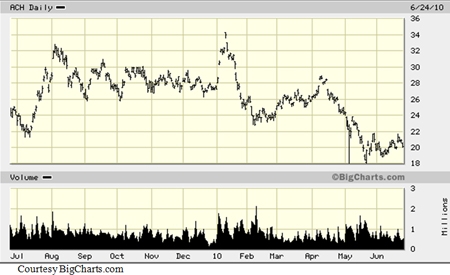 Chalco has struggled with rising commodity prices and capital-devouring expansion for the past year. Profits are increasing now. But Chalco fell into a loss position last year and investors ran for the exits. Even a low PE multiple is no guarantee of good value.

There is a much better indicator of value but it is not used as often as the feeble PE number.
PEG Real Value

I much prefer the PEG ratio as a value indicator. The PEG compares share Price to Earnings Growth. A company's PEG compares its P/E ratio to its annual growth rate in percentage terms.

Obviously a company with rapid earnings growth is far more valuable than one which is growing at a snail's pace. You don't have to do the math. The PEG ratio can be found on a number of websites.

The PEG ratio of a company will be between 0 and 5. The lower the PEG ratio, the better. A PEG ratio of 2 or below is considered excellent. A PEG ratio of 2 to 3 is considered OK. A PEG ratio above 3 usually means that the company's stock is overpriced.

Pretty simple. A company with a PEG ratio of two or less may be undervalued.

In China there are many firms with good earnings growth that are still under the radar of the investment community. Even Baidu doesn't look so expensive when you look at its PEG ratio. The figure now stands at 2.39, a reasonable price for Baidu's stellar earnings growth in many minds.

Personally, I prefer to pay less for growth. You don't need sophisticated software to find the hidden values.
All The PEGs is China

Finviz.com has a host of investor-friendly features including PEG ratios for stocks. It's simple to sift for cheap stocks using Finviz.com tools. Just use the screener to search all the stocks in China. Use the "Fundamentals" tab to highlight the criteria you wish to screen for. I like to dig around among stocks that have a PEG ratio below one. Set the screener to deliver every Chinese stock with a PEG less than one.

We don't want to get stuck with an illiquid microcap. So let's set the screening criteria again to filter out anything with a volume of less than 300,000 shares a day. That leaves us with only 19 stocks to research.
Click to enlarge: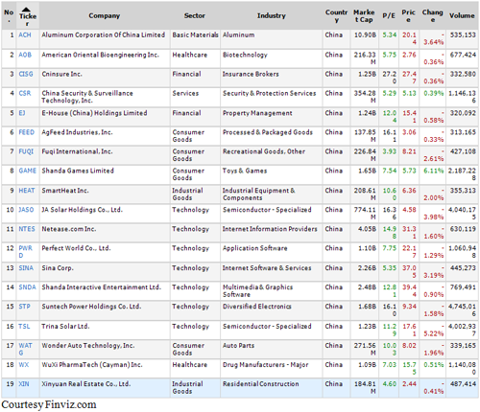 We could select a screen to that shows the PEG ratio. But I'm satisfied for now that the stocks are all relatively cheap and liquid. I don't want to get stuck with micro cap companies so I'll eliminate contenders worth less than $750 million. That eliminates American Oriental Bioengineering Inc. (AOB), China Security & Surveillance Technology, Inc. (NYSE:CSR), AgFeed Industries, Inc. (OTC:FEED), SmartHeat Inc. (NASDAQ:HEAT), Wonder Auto Technology, Inc. (OTCPK:WATG), Xinyuan Real Estate Co., Ltd. (NYSE:XIN) and Fuqi International, Inc.(OTCPK:FUQI)

This method still requires basic research on the companies you filter. Looking more closely at Fuqi for instance you would have found that an accounting scandal rocked the company several months ago. Its earnings figures are still considered suspect by the market.

With this sifting we are down to twelve companies.
Click to enlarge:

We know that Aluminum Corporation of China is growing its earnings relatively quickly but that's only because it is bouncing out of negative earnings.

We still need to research the remaining eleven. But as you can see, they all are extremely cheap as measured by their PEGs. There's no substitute for fundamental research. But it helps a lot to screen your choices for the best values on the market.

Disclosure: No positions