In a recent article on RBN Energy's website, Sandy Fielden reports that Gulf Coast crude oil stocks have risen by 34 million barrels in the 8 weeks since January 24, 2014. Gulf Coast crude stocks now stand at record highs. The article goes on to explain the various reasons for the build-up, including a big drop in Cushing, OK, storage levels: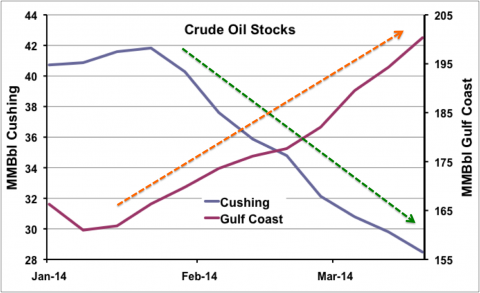 The flows are arriving from pipelines, rail and increasingly even by barge on the Mississippi River. The large inflows of oil combined with the crude oil export ban is putting increasing stress on the Gulf Coast refinery staging infrastructure. Considering stocks are already at record levels, RBN believes it is likely that there could be some serious issues should the region run out of storage capacity. If so, what company is likely to benefit?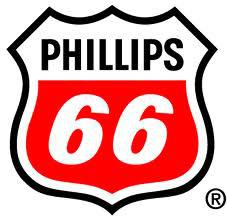 Some obvious beneficiaries are the Gulf Coast refiners. As such, it is not surprising to see Phillips 66 (NYSE:PSX) hitting a new all-time high today ($80.49):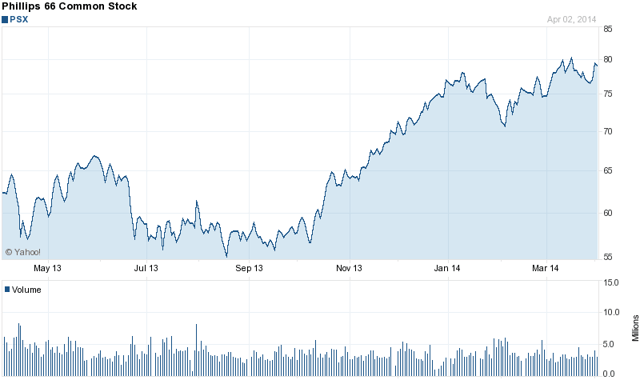 As most of my loyal followers are aware, I suggested last November that Phillips 66 was one of the Best Bets On Shale USA. The stock is up 10 points since that article.
But of course, the Gulf Coast crude oil build-up has additional far reaching consequences. While Cushing, OK, has been significantly drained, one has to wonder if it will be able to absorb the onslaught of domestic production, which is bound to ramp up as winter loosens its grip on the oil patch. At some point, it would appear something has to give: the export ban, storage capacity, or (gulp!) price.
Is The Worm Turning?
And that brings me to natural gas. Today's EIA weekly nat gas storage report saw a net decline of 74 Bcf from the previous week. Stocks are now 878 Bcf less than last year at this time and 992 Bcf below the five-year average of 1,814 Bcf: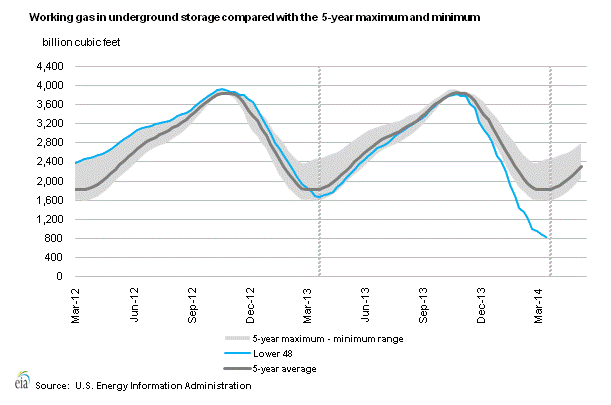 Not to pat myself on the back, but I did somewhat predict this back in early January (That Natural Storage Glut Is Over) as it was quite apparent the country seemed to be placing nearly all its incremental natural gas supply on the Marcellus shale as all other pure-play natural gas fields were experiencing production declines due to their inability to compete economically with the mighty Marcellus.
California supplies ~14% of the nation's hydroelectric output yet that state is still experiencing a severe drought. With natural gas increasingly displacing dirty coal for electricity generation, it seems like all we need is a surge in AC demand to keep cool during a real hot summer and one has to wonder if natural gas storage levels can be restocked by next winter. Top-10 natural gas producers like #1 Exxon Mobil (XOM) and #7 ConocoPhillips (NYSE:COP) are disinclined to allocate cap-ex to dry gas drilling until the price stays above the $5 mark for an extended period of time. Meanwhile, the elephant in the room (LNG exports) is not as far off as it once seemed....
Which makes me wonder: is now the time to consider the impact of lower oil prices, and higher natural gas prices, on your portfolio? I know I am thinking about it. It seems like a lot of folks wrote off the recent Barron's piece Here Comes $75 Oil, yet I found much to contemplate in all these various market signals. Meantime, I am glad to have some natural gas exposure with companies like Canadian based Peyto Exploration (OTCPK:PEYUF) and Enerplus (NYSE:ERF). Both companies pay nice dividends and ERF is nicely positioned: The Blue Flame of Marcellus Gas Is Heating Up The Stock.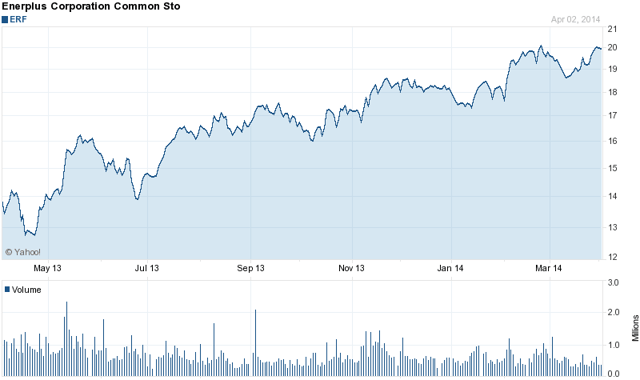 But of course, ERF is exposed to Bakken oil production as well. And that brings me back to my old friend Phillips 66. With its diversified operations across the refining, chemicals and midstream spaces, the company seems ideally positioned to benefit from increasing domestic shale production - no matter if it is natural gas or oil. When you add to that bullish outlook the ability of PSX to drop-down midstream assets to its Phillips 66 Partners (NYSE:PSXP) MLP, you've got a triple play (or is it a home run?). Yet Phillips 66 is hardly expensive here considering its bullish prospects going forward:
| | |
| --- | --- |
| Market Cap: | 47.15B |
| P/E ((ttm)): | 13.33 |
| EPS ((ttm)): | 6.02 |
| Div & Yield: | 1.56 (2.00%) |
Summary And Conclusion
Investors should consider the possibility of lower oil prices and higher natural gas prices as we move through 2014. One stock that is likely to benefit regardless of oil and natural gas price movements is Phillips 66, which I still rate as a STRONG BUY and long-term hold.
Disclosure: I am long COP, ERF, PSX, PEYUF, XOM. I wrote this article myself, and it expresses my own opinions. I am not receiving compensation for it (other than from Seeking Alpha). I have no business relationship with any company whose stock is mentioned in this article.
Additional disclosure: I am an engineer, not a CFA. The information and data presented in this article was obtained from company documents and/or sources believed to be reliable, but has not been independently verified. Therefore, the author cannot guarantee its accuracy. Please do your own research and contact a qualified investment advisor. I am not responsible for investment decisions you make. Thanks for reading and good luck!