Introduction and Background
In general, I believe investors should decide on a set of baseline expectations before beginning to analyze any stock. My personal hurdle requirements include, but are not limited to, the following. The company must:
Possess a good balance sheet
Generate much of its profits in cash
Own a strong franchise
Be well-managed and shareholder-friendly; hallmarks include a demonstrated ability to change, keeping corporate promises, and a clear focus upon creating shareholder value
In my estimation, companies that can say "Yes" to the aforementioned may be considered "best of breed." These select companies combine leadership, experience, and vision. Management gets results. Many of these fine businesses are marked by strong competitive moats.
Having identified such companies, the investor's job is not yet complete. The investor must then determine if the merchandise (the equity shares) offer a good probability for future price appreciation. "Up paying" for a good company is similar to concluding a Lexus is an outstanding automobile, then shelling out 20% above sticker price to buy it. Great car, yes. Great deal, no.
So How Can an Investor Determine Fair Value?
Let's be clear: there is no single way to evaluate stocks. Some equities trend price-to-book or price-to-sales ratios. Others may be best valued by examining multiples of cash flow or EBIT. A few are backstopped by dividend yield. High growth stocks ride a wave of dynamically improving earnings.
In Part 1 of this series, we reviewed a methodology to identify undervalued stocks by comparing current prices with operating earnings and its relationship with historical P/E multiples.
In this installment, we will offer a process to identify stocks currently trading near fair value, but indicating the potential to appreciate due to rapid earnings growth.
Concept: "Fair Value" Stocks Offering Investors Superior EPS Growth Prospects
If one concurs that long-term price-and-earnings relationships exist for stocks, it is thereby possible to determine if a security is above or below fair value as measured by reviewing current EPS and historic P/E multiples. A stock exhibiting comparable past-and-projected growth rates, yet sporting a P/E ratio below its mean, trades below expected fair value. Such an equity should, over time, revert to fair value.
However, what if a good company does not currently trade below fair value, but possesses outstanding earnings growth potential? Instead of concentrating upon modest, rateable growth and P/E expansion (as outlined in Part 1 of this series), an investor may also profit by identifying companies with superior earnings growth potential; even if the P/E ratio remains static.
There are several ways to generate the data required to complete this exercise. The information may be found via historic stock records, SEC filings, management discussion and brokerage / corporate websites. For purposes of streamlining this work, I will utilize F.A.S.T. graphs, courtesy of fellow Seeking Alpha contributor Chuck Carnevale.
Example 1: Halliburton
Halliburton Company (NYSE:HAL) is an oilfield services company. The Company is a provider of services and products to the energy industry related to the exploration, development and production of oil and natural gas. It serves national and independent oil and natural gas companies worldwide.
Here is a 12-year F.A.S.T. graph. The black line is price. The blue line represents the normalized average price-to-earnings ratio over the period. The green shaded area indicates earnings.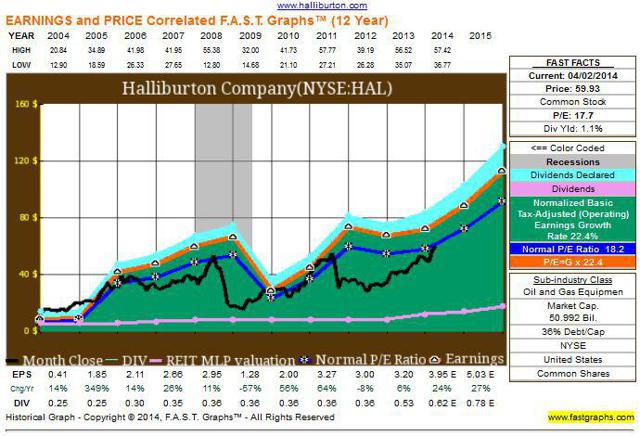 Note that over the past 12-years, Halliburton has demonstrated an operating earnings growth rate of 22.4%. Currently, price and historic P/E ratio are harmonized, indicating the stock trades about fair value. Furthermore, ~25% EPS growth is projected for 2014 and 2015.
Let's detail projected earnings through 2017 via the following F.A.S.T. graph: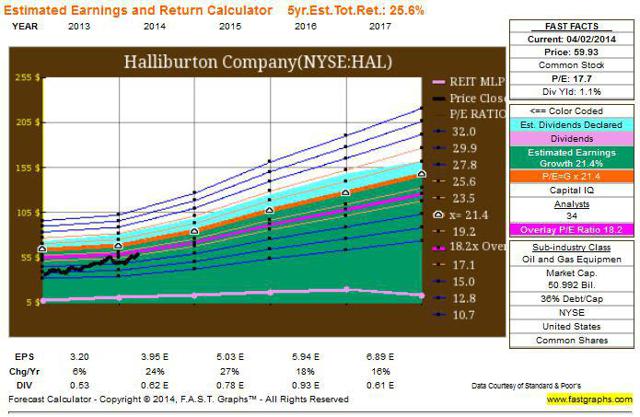 We see that over the next several years, a consensus of 34 analysts believe Halliburton will grow operating earnings by 21.4%. The projected growth rate is comparable to the previous 12-year period. If the analysts are accurate, HAL stock should appreciate by approximately 20 percent a year without any multiple expansion. Operating earnings growth and P/E simply need to maintain its historic trajectory. For reference, I've included a purple highlighted overlay indicating a consistent 18.2x multiple.
Example 2: Express Scripts
Our second example is Express Scripts Holding Inc. (NASDAQ:ESRX). Express Scripts is a pharmacy benefit management (PBM) company operating in North America. The business offers a range of services to its clients, which include health insurers, third-party administrators, employers, union-sponsored benefit plans, workers' compensation plans and government health programs.
First, a current F.A.S.T. graph for ESRX: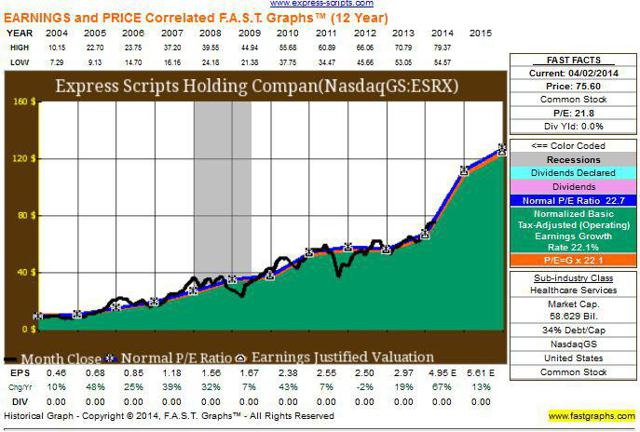 It's easy to see that Express Scripts price and earnings have followed a fairly predictable pattern over the past 12 years. Operating earnings have grown by 22.1% per annum. Currently, the shares appear to be trading at fair value. Price, earnings and P/E are aligned perfectly.
Looking ahead, the future EPS growth rate remains solid, though not quite as robust as previous. The subsequent chart illustrates this: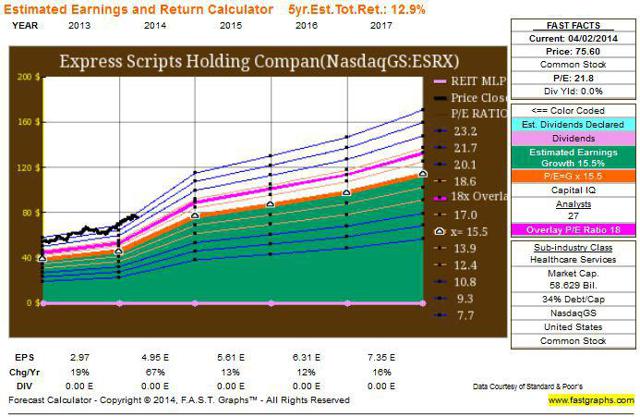 Certainly, earnings growth greater than 15% a year indicates above-average performance. ESRX makes this mark, and a big chunk of it is projected for the current year. Nonetheless, considering multi-year EPS growth may ease, I reduced the projected price/earnings multiple from the historic 22.7x to 18x (the highlighted purple line). This builds in a margin of safety by making provision for modest P/E compression. Nonetheless, an 18x P/E on 2015 operating earnings of $5.61 yields a $101 target price, or a 34% uplift from the recent close. Not bad.
Example 3: Chipotle Mexican Grill
Balancing the process, we will review Chipotle Mexican Grill, Inc. (NYSE:CMG).
Chipotle Mexican Grill, Inc. operates Chipotle Mexican Grill restaurants. Chipotle Mexican Grill restaurants serve a menu of burritos, tacos, burrito bowls (a burrito without the tortilla) and salads.
The benchmarks outlined in this article's outset designate Chipotle a "best of breed" company. However, the stock price-and-earnings relationship appears to have outrun itself.
The 12-year FAST graph indicates the price has got ahead of itself; at least by historic standards. The black price line is considerably above the average P/E. A 50x earnings multiple puts the shares in rarefied air.
In the past, such a disconnect resulted in a "reversion to the mean" whereas the price and earnings re-convene. Significantly lower share prices were the result.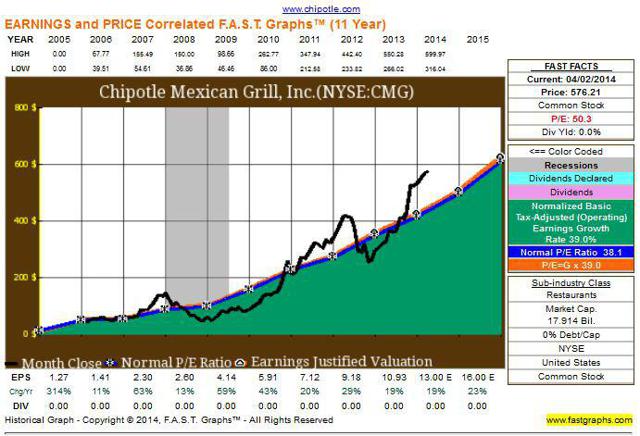 It's important for a good researcher to attempt to validate this interpretation by reviewing forward-looking EPS forecasts / multiples.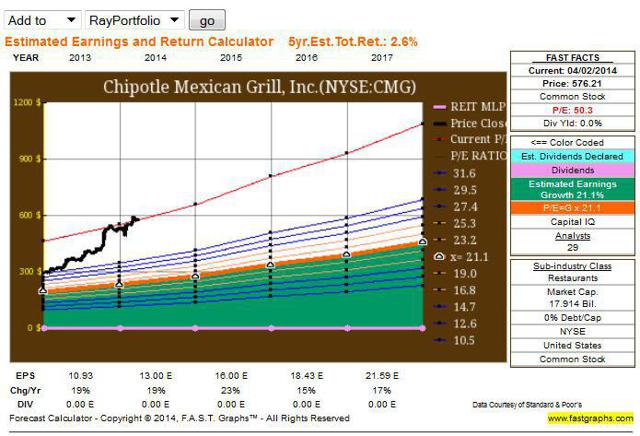 Between 2014 and 2017, we see 29 analysts project a 21.1% forward operating EPS growth rate. While still impressive, it's far below trailing historic earnings growth. If the consensus is accurate, and Chipotle stock were to hold a 50x P/E, a PEG ratio (P/E / Earning Growth Rate) of about 2.4 is obtained. Many investors consider a PEG above 2x, or a P/E above 40x to be red flags: the current earnings multiple appears too high to be supported by projected growth. This may indicate asymmetric investment risk. It does not change the fact that CMG is an outstanding company. The share price is just too high.
Conclusion
This 2-part series has provided a glimpse into valuation methodologies using price, earnings and associated multiples. It is but one of several reasonable approaches. Notably, many stocks may be better analyzed by the same general process, but substituting cash flow for operating earnings. It just depends upon the sector, the industry and often times the specific stock.
These articles have attempted to illustrate a path to identify good stocks that are:
1) Mis-priced based upon current P/E compression versus historic norms; despite consistent earnings growth and future prospects, and
2) Currently at fair value, but promise superior EPS growth prospects; as previously-demonstrated in the past. In these cases, multiple expansion is not required for an investor to enjoy sound investment returns. Indeed, we reviewed an example whereas P/E compression could be experienced and still offer solid stock appreciation.
It is important to note that this beginning research is headed by the supposition that the subject companies are well managed, generate real cash and possess good balance sheets. It also requires more rigorous analysis of the corporation's underlying business premises and future prospects.
Finally, each investor must decide to concur (or not) with consensus analyst forecasts; or adjust them to whatever he/she believes is reasonable. While the consensus of many analysts may be more reliable than any single projection, the Wall Street "herd mentality," and buy-side bias may be factors.
Investing is about weighing probabilities, having conviction, and strong due diligence.
Please do your own careful research before making any investment. This article is not a recommendation to buy or sell any stock. Good luck with all your 2014 investments.
Disclosure: I am long HAL, ESRX. I wrote this article myself, and it expresses my own opinions. I am not receiving compensation for it (other than from Seeking Alpha). I have no business relationship with any company whose stock is mentioned in this article.