Intel (NASDAQ:INTC) Brian Krzanich is putting his mark on the company as he leads it to explore opportunities both within and outside of its traditional businesses in personal computers ("PCs") and data centers. The recent decision to invest in Cloudera, rather than push Intel's own solution for large data is an example.
Cloudera is a young company entirely focused on Hadoop, a leading-edge open source approach to managing the processing of large data across clusters of computers, without exposure to the failure of any particular device in the cluster.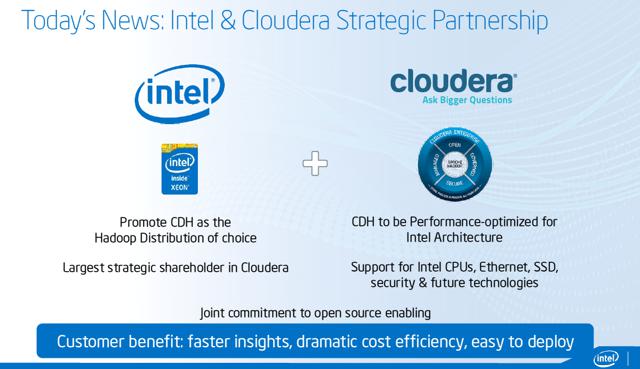 Source: Intel
As the Internet of Things (IoT) develops, literally billions of devices worldwide will collect and transmit data to the Cloud. Massive unstructured data clusters can be harnessed and analyzed through the use of Hadoop technology, and the aim of Cloudera is to make the process of deploying Hadoop a lot easier and more cost-effective. Intel can see the future in this area, and has a vision of where it can add value with Intel processors in the IoT devices; in the gateways that communicate the masses of data; and, in the data centers that process the queries that provide valuable insights for scientists, businesses and governments throughout the world.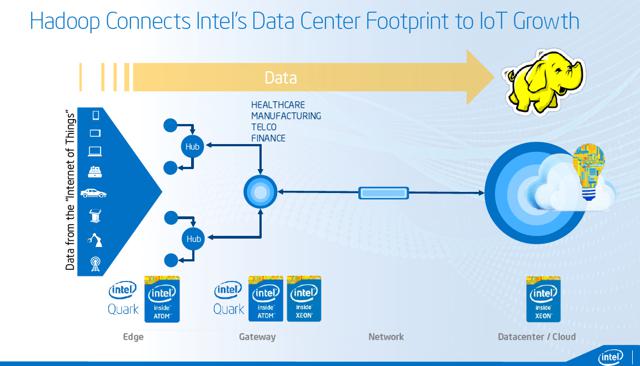 Source: Intel
Imagine being able to find out in real time how many vehicles may have a defective part; where they are; who owns them; how to contact them; and, where the closest dealer to each one is located.
Think of tracking the spread of a bird flu epidemic from its origin, and being able to predict its spread, while getting immediate and up-to-date on who has been infected; where they are; the best vaccines; how much vaccine is available; and, where it is located at any moment.
The data all exist, but are not coordinated in a way that makes them capable of real-time analysis today. That will change.
The fact is that big data is coming, and coming fast. Intel can see a $50 billion opportunity by 2020.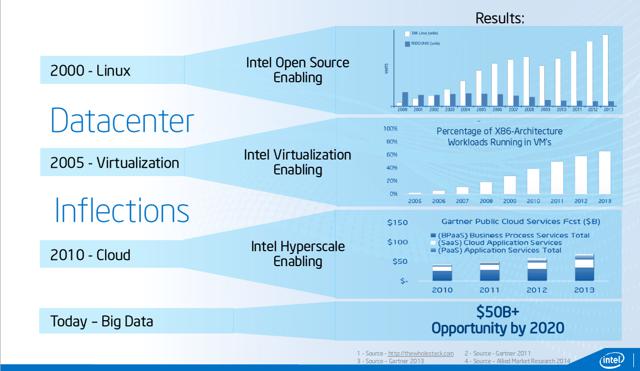 Source: Intel
I think the possibilities are limitless, and the advance of the IoT will be empowering and much larger than anyone imagines today. What is needed to take advantage of the possibilities includes processing power, and lots of it, whether it is in the tiny chips in each device, or in the massive data centers forming the rapidly-growing private and public cloud, or in the mobile devices or desktop PCs in between.
Too many investors think all Intel does is make chips for PCs, and they dream that Intel cannot withstand the competition from the ARM Holdings (NASDAQ:ARMH)-based competitors who have been so successful in the mobile arena. They could not be farther from the truth, as I see it. The demand for processors of all shapes and sizes will keep growing, and the demand for more powerful processors is sure to follow. By and large, that means demand for Intel processors.
So while investors heavily into mobile pontificate about the next iPhone and whether it will have a marginally larger screen or come in different colors, while they spend 86% of their online time playing games; visiting Facebook (NASDAQ:FB) or Twitter (NYSE:TWTR); or, watching content on YouTube or its ilk, there is real work going on in the world. That work will have a lot more bearing on the future of computing than their concerns about the latest smartphone or tablet.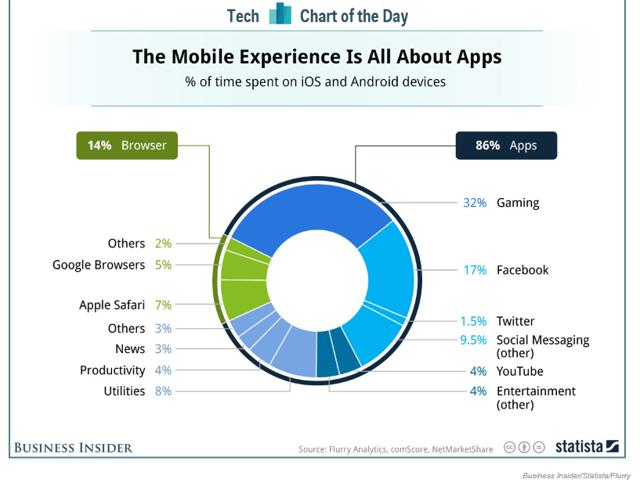 I believe Intel will play a big role in that future. I am long the stock.
Disclosure: I am long INTC. I wrote this article myself, and it expresses my own opinions. I am not receiving compensation for it (other than from Seeking Alpha). I have no business relationship with any company whose stock is mentioned in this article.