Shaw Communications (NYSE:SJR) is set to report earnings before the market opens today, June 30. Here are four factors to consider ahead of their report:
1. The stock has performed OK over the last year: Shaw Communications's stock has gained 13.86% over the last year, generally outperforming the S&P 500 index. The stock is currently trading in the middle of its 52-week range.
click for expanded images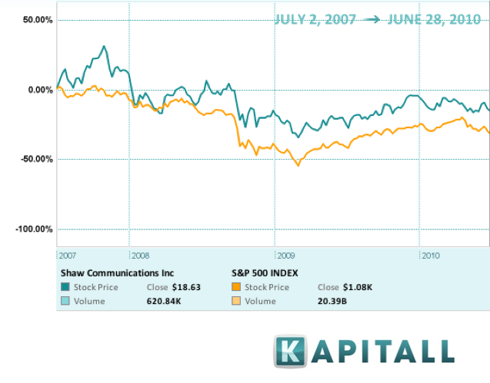 2. Shaw Communications debt levels have increased during the most recent quarter: Here is a chart of their debt/ equity ratio over the last 3 years.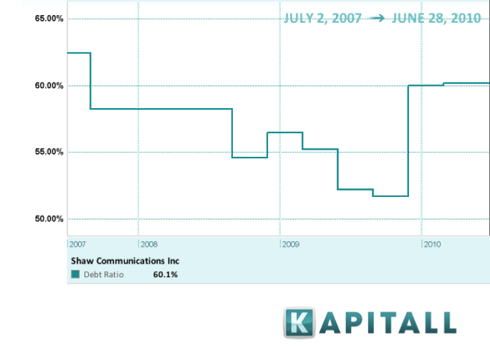 3. DuPont Breakdown of Return on Equity (ROE) - A worrying trend during the most recent quarter, with ROE decreasing and leverage increasing: Shaw Communications Inc's Return on Equity decreased from 6.48% to 5.25% during the most recent quarter. When we break apart ROE by using the DuPont equation, we get the following:
Decreasing Net Income / Sales: 14.99% (mrq) vs. 18.66% y/y
Decreasing Sales / Assets: 0.093 (mrq) vs. 0.099 y/y
Increasing Assets / Equity (i.e. leverage): 3.77 (mrq) vs. 3.51 y/y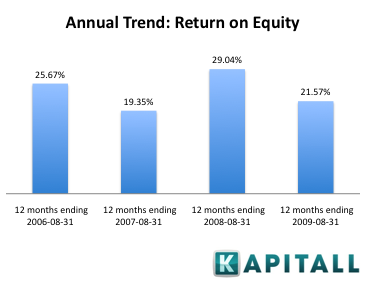 4. Revenues continue to rise as profits dip: In their second quarter earnings statement, the company reported a profit slip of 11% despite growth in revenue ($929.1M compared with $839.1M the prior year). "We continue to grow in the face of intense competition and a slow economy," CEO Jim Shaw said in a statement. "We have built the foundation for growth with our advanced broadband network, strong customer relationships and prudent management approach."
Here is a historic overview of the company's earnings results relative to analyst estimates. Green markers indicate better than expected earnings results, while red markers indicate worse than expected results.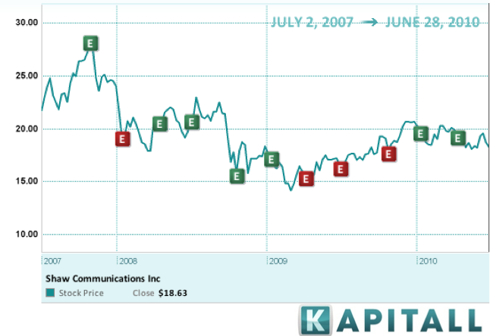 Disclosure: No position