Another results presentation, another collapse in Research In Motion's (RIMM) share price. The last time I wrote upon the subject of Research In Motion was in April, when the stock was over $70; today it is $51. Holders have been Rimmed yet again.

Some will argue that the collapse is overdone and they do have a point. Consumers love Blackberries and so do the phone networks. Unlike the iPhone (NASDAQ:AAPL), Research In Motion's devices are not data hogs. Kids love the cheap messaging and, for an odd reason, some people prefer keyboards to touch sensitive screens. There is no accounting for taste; I once met a man who preferred McDonald's to a filet mignon.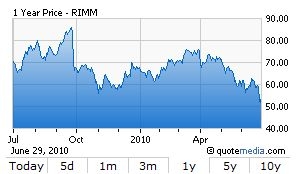 The bulls will say, how can you sell a stock that has just reported a 40% increase in earnings? (See conference call transcript here.) This gets to the heart of the issue. Buying tech shares has little to do with valuation and a lot to do with momentum. On the operating front, Research In Motion's momentum has gone one way over the last year and that is down. Until the company can halt the fall in the average revenue for each device it sells, investors would be crazy to buy the stock. Let me explain why.
Research In Motion sold 11.2m devices in the first quarter, compared to just under 9m sold by Apple in its last quarter. The problem is that, once again, Research In Motion under estimated the fall in the average revenue per device. In the previous quarter Research In Motion was guiding to $305, but it only achieved $300 in the quarter just reported.
At the mid point last year, Research In Motion was selling handsets for about $350. A year before the average selling price was closer to $400. By comparison, Apple still earns $600 for each handset it sells, a figure that has been remarkably constant. The question is, who in their right mind would want to buy a company that can only grow by cutting prices?
This gets to the heart of why any of us go through the misery of owning tech shares. The reason we do is that a blessed handful of them achieve the kind of market share not seen in any other industry. Intel (NASDAQ:INTC) has 90% of the personal computer market, Google (NASDAQ:GOOG) has about 60% of search, Microsoft (NASDAQ:MSFT) has 90% market share for PC software and so on.
What this demonstrates is that tech companies are able to achieve considerable scale and because they are not regulated, their profit margins can increase with rising sales. Eventually, a few can reach a point where customers are locked in and so even if lower priced competition arrives, few users are prepared to leave the mother ship. That is one hell of a combination, rising sales and rising profit margins. The moral is that true tech winners do not have to cut prices.
My personal view is that companies like Research In Motion could be heading into a crisis, which will eventually result in the price of hardware collapsing. The reason I believe this is as follows:
Today, there are just under 2bn internet connections but by 2012 this is likely to rise to 3bn. The number of connected individuals will continue to rise over the course of the decade. In a matter of a few years, most of the planet will be connected to the internet. Ericsson (NASDAQ:ERIC), the Swedish telecom equipment company, estimates that by the end of the decade there will be 20 billion connected devices and a large number of them will be phones.
What Apple is showing, and the Google Android might be about to repeat the trick, is that in a world of connected devices, the hardware specification is less important than what the phone, or device, can consume in the way of content and applications.
Apple spends much less in percentage terms on R&D than Research In Motion, Nokia (NYSE:NOK), Google and Microsoft. One reason for that is that Apple only makes one handset. If customers want variety they can shop around, but an increasing number don't. They get variety through the downloads.
This is more like the phone and cable TV industry - the terminal locks you into a network and ecosystem of content. It is still in the early days and Research In Motion might yet pull out of its death spiral, but I wouldn't count on it. Between the new iPhone and the iPad, which could ship more than 10 million units in its first year, the Blackberry looks like getting crushed. For investors it's deja vu all over again. We saw the same pattern with Nokia. Once Nokia looked like a falling knife; today it is more like a falling chainsaw.
Disclosure: Author is long Apple