Caterpillar (NYSE:CAT) is the world's largest construction and mining equipment maker that saw its revenues decline in 2013 due to shrinking demand from mining customers. It was the first decline in 5 years, and also acted as a wake-up call for the company. Therefore, since then, the company has been actively seeking ways to bolster its top line and improve its performance back to the level it was in 2012. The top-tier management of the company has turned its focus towards some important aspects that could drive the betterment of the performance, such as improved dealership performance, tapping into opportunities in the thriving construction market of China and cost flexibility. The purpose of this article is to assess whether the company is heading in the right direction towards achieving its target of attaining $100 billion in annual revenues by 2020.
Current Performance
Caterpillar experienced an 8% decrease in February dealer sales, adding another month of slow start to machinery retail sales this year. Quarter-to-date sales are suggesting a downfall of 9% for the revenues in the 1st quarter of 2014, while analysts expected flat revenues for this quarter year-over-year. Caterpillar witnessed a decline of 37% y/y in retail machine sales in the resource industry (mainly related to mining equipment). Its "construction" segment and "energy and transportation" segment (previously named the power systems segment, and deals with engines used in energy production and power generation) showed 9% and 2% y/y increases, respectively. Eyeing the company's sales results up to February underscores the need for Caterpillar to manage strong results in March to meet analysts' expectations.

Source: Street Insider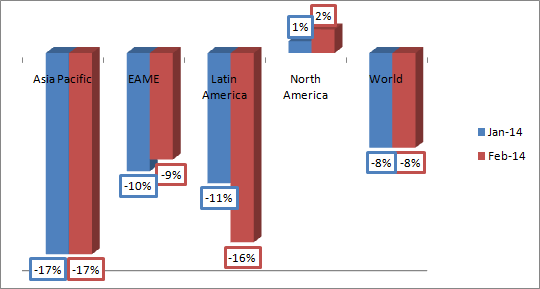 Source: Street Insider
Regional performance is illustrated in the graph above, according to which Asia Pacific and Latin America are the major regions that lowered the performance, with 17% and 16% drops, respectively. However, North America experienced a 2% positive trend, while in the EMEA region, the results were negative, but still improved by 1% since January.
Dealers - What They Mean For CAT and How Can They Contribute
While sales results were not that positive for the company, but its dealer network has been its strength, and will be so in the future, therefore, the company aims to improve its dealership arrangements, enabling them to perform at their full potential. Its dealership setup is comprised 178 independently-owned businesses that distribute the company's products around the globe. Caterpillar has identified certain lapses that led to lost sales on part of the dealers, and wants the dealers to rectify these issues. Caterpillar has provided a deadline to its dealers to generate optimal sales by the end of this year, and a failure to do so will lead to the termination of their dealership agreements. By improving its dealership performance, the company anticipates that $9 billion to $18 billion additional revenue can be added to the company's top line. That underscores the importance of the dealership structure for Caterpillar.
The Road Ahead
Caterpillar will be focusing on its cost flexibility on the board and improved inventory management throughout economic cycles. The strategy aims to grow profits by 15% and pour in incremental profits of about 25%. Let's have a look at where the company can get tailwinds to achieve its set goal. The construction industry and power systems segment have rescued the company's revenues and profits, while the mining segment was under pressure due to low demand. Despite the revenue shortfall of 16% y/y, the company managed to sustain its profits and allowed its profit margins to grow.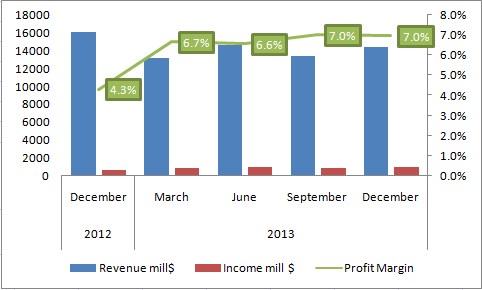 Source: Bloomberg
Mining Industry
The mining industry reduced its capital expenditure on new equipment due to the lackluster prices of commodities back in 2013. This was a major setback for Caterpillar, since it derives a significant portion of its top line from sales of mining equipment. In 2014, it is anticipated that gold and other commodities will attract a favorable price. From 2015 onwards, iron, copper and other basic materials will see increased exports globally, as in the case of Australia, Chile, India and China. Australia will top its iron exports by a whopping 22.1% to 709 million tons due to on stream projects by mining companies like Rio Tinto (NYSE:RIO), Fortescue Metals Group (OTCQX:FSUGY) and BHP Billiton (NYSE:BHP). The same is the case with Brazil that is set to enhance exports by 9.1% to 352 million tones. Chinese iron ore imports will rise 7.4% this year, and India will also raise its exports after its self-imposed ban on exports expires this year. Zinc, nickel, lead and tin will also see their output production increase in the coming years as the developed markets recover their demand. Apart from this, the global mining market is expected to grow to $137 billion by 2020, with 8.5% yearly growth. This scenario causes us to believe that the coming years will bode well for Caterpillar, as miners will require new mining equipment and servicing for their old equipment to avoid downtime.
Construction Industry
Segregating the sales of Caterpillar's construction machinery by geography, one discovers that other than EMEA, all of the other regions have the potential to offer growth momentum to the company.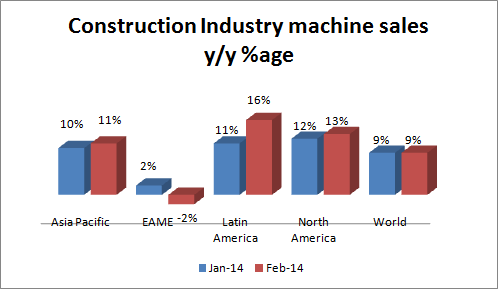 Source: Street Insider
Currently, on the industrial front, China had become a bright spot for the manufacturers of tractors and other machines, since China is the world's biggest construction equipment market. As the Chinese government reduced its spending, opportunities for the company also reduced in the region. It is anticipated that the Chinese market will rebound, but a double-digit growth rate would still be difficult to attain there. A report by KPMG shows that the government infrastructure plans act as a main driver for the construction industry. Other drivers include urbanization, population growth and global economic growth. Although developing countries like India and China are experiencing enormous population growth, economic growth and urbanization, there is still a lack of government infrastructure plans to allow for growth in the construction industry. Eventually construction equipment manufacturers like Caterpillar will have to suffer due to low demand. However, the scenario is not all doom and gloom, since the residential construction market is on its peak, while the commercial market needs a boost in the form of government support to be bolstered.

Source: KPMG Survey
On the other hand, after the financial crisis of 2008-09, many regions were on their way to recovery, like America, Europe and Australia. Although the economies are recovering, the big risk for manufacturers is that public spending on highways, stadiums and other infrastructure has not revived yet.
Energy & Transportation
Caterpillar has also filed a formal complaint to challenge a decision by the State of Illinois, according to which an important locomotive contract was awarded to its rivals. A high-speed rail project of $226 million was awarded to a partnership of Siemens AG (SI) and Cummins Inc. (NYSE:CMI). However, the contract is not that significant for the company, but the bigger issue is the influence of IDOT's (Illinois Department of Transportation) decision on the choices of other key states, such as California, Michigan, Washington and Missouri. It is a matter of time before this matter gets concluded, but the important concern will be regarding the decisions made by the four other states that, if awarded to Caterpillar, will bring a significant addition to its top line.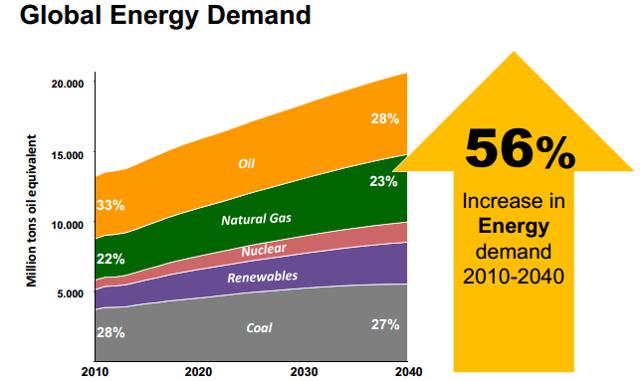 Source: Company Presentation
Global demand for energy will surely rise with the rise in population. Eventually, engines and other equipment used in the power generation process will be in high demand. This will bolster the industrial manufacturers' future outlook as well. Since Caterpillar is the largest among the equipment manufacturers, it has the guts to achieve more and more orders for the equipment from the market.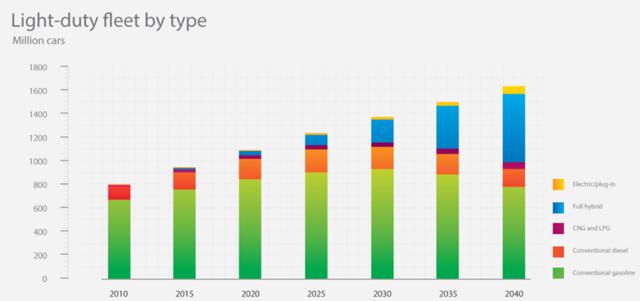 Source: Green Car Congress
As illustrated by the graph above, the global automotive industry is shifting towards greener and environment-friendlier alternatives, and opting for hybrids and electric-powered cars. With the conversion of diesel engines to natural gas engines or hybrid engines, the demand for Caterpillar's engines for powering cars and other equipment will catch up as well.
Shareholders' Return
Despite the slowdown in its performance, Caterpillar has always generously provided returns to its shareholders, either via dividends or share repurchases. Recently, the company increased its dividend by 14%. Comparatively, Caterpillar is offering a better dividend yield than its peers in the industry, as illustrated in the graph below.

Source: 1stock1.com & Reuters
Apart from dividends, Caterpillar repurchased shares worth $2 billion in 2013, and has authorized a share repurchase program of $10 billion, out of which $1.7 billion worth of repurchases will be made during the first quarter of 2014. In this way, this stock will continue to deliver extensive value for its investors. As far as the stock price movement is concerned, Caterpillar outperformed all of its peers, as it secured price appreciation of 5.95%, while others in the industry secured a negative price movement.

Source: YCharts
Final Take
There are certain uncertainties regarding the reaction of dealers towards Caterpillar's stance, and there are other challenges as well that can prove to be a setback for the company. However, the company seems fully capable to attain its performance targets in the long term. Caterpillar may continue to underperform for a year or two, but eventually, it will get back to its positive performance levels. Investors should be mainly focused on the company's sales development that will be driven by the improving economic conditions and rebounding equipment sales. I believe the stock price will react quickly to the increased equipment sales by the company in future. Therefore, in my opinion, investors should hold onto their stock for its long-term price appreciation potential, and meanwhile, enjoy the dividend treat as well.
Disclosure: I have no positions in any stocks mentioned, and no plans to initiate any positions within the next 72 hours.
Business relationship disclosure: The article has been written by a Gemstone Equity Research research analyst. Gemstone Equity Research is not receiving compensation for it (other than from Seeking Alpha). Gemstone Equity Research has no business relationship with any company whose stock is mentioned in this article.