By Grant Bowers, Vice President and Portfolio Manager, Franklin Equity Group®
The U.S. equity market has benefited over the last five years from a steadily improving domestic economy and a healthy combination of earnings growth and multiple expansion. Despite the market's run, we continue to believe the fundamental case for the U.S. economy and the U.S. equity market remains largely intact. In 2013, we saw strong corporate earnings reports, with many companies reporting record levels of earnings and free cash flow. On the economic front, the data generally continues to improve; unemployment rates are at a five-year low and consumer spending data have been strong. U.S. consumers have generally benefited from the improving economy and low interest-rate environment, increasing their savings rates and lowering their debt costs.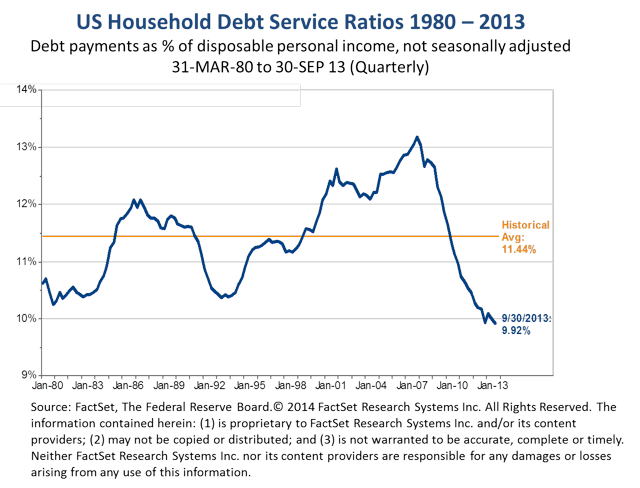 Click to enlarge
From our viewpoint at Franklin Equity Group, U.S. stocks have acted rationally over the last five years, reflecting the improving economic backdrop and strong corporate earnings growth we see.
As we look into 2014 and beyond, we remain optimistic about the U.S. equity market's prospects. We expect the fundamental picture of an improving U.S. economy should likely remain intact. We think investors should focus on the competitiveness of U.S. companies in the global market and the fundamental drivers of growth for the U.S. economy.
Valuations: Market Multiples Near Historical Averages
Despite our optimistic outlook, it is fair to say that our focus on buying what we perceive to be quality growth companies at attractive valuations has led us to be more selective as stocks have moved higher. Valuations have increased from the very low levels seen after the global financial crisis and are now approaching the historical averages on many metrics.
Even so, we think the market's valuation level is still reasonably attractive and reflects the positive fundamental backdrop in the United States. We believe it is much more likely that we are in the middle of the business cycle, as valuations haven't reached the extreme levels we would expect to see toward the end of a cycle. As of February 28, 2014, the forward price-to-earnings (P/E) ratio of the S&P 500 Index was 15.3 times. Looking at other valuation metrics, such as price-to-free cash flow or price-to-book value, the market also has been trading near long-term averages and does not appear overly expensive, in our opinion.
From an investment standpoint, we are being selective, but continue to see opportunities to buy high-quality growth companies at attractive prices. Investors should remember that many of the same factors that drove the market higher in the last few years are still in place. These factors include low inflation and accommodative monetary policy around the globe, as well as improving economic data in the United States.
U.S. Corporations Appear Well Positioned in the Global Marketplace
I have long argued that U.S. companies generally look strong, and we have seen many of them emerge from the financial crisis of 2008-2009 stronger, leaner and more profitable than they entered it. We see this scenario represented in the profit margins, earnings and free cash flows being generated today. U.S. companies have taken advantage of the current environment to lower their interest costs, improve productivity and solidify their competitive positions around the globe. We believe many of these improvements should continue to drive growth into the future. Many U.S. companies appear well positioned in the global marketplace, offering some of the world's leading brands and products. As the global economy transitions from recovery to self-sustaining economic growth, we believe many U.S. companies should be well positioned to potentially benefit.
Big-Picture Investment Theme: Energy Renaissance
Taking a longer-term view, we see a number of multi-year growth themes that we believe will benefit the U.S. economy, as well as provide us with potential investment opportunities. One of these themes is the U.S. "manufacturing renaissance," which appears to still be in its early stage. At the heart of this manufacturing renaissance are the vast shale gas discoveries in the United States over the last five years. These discoveries have changed the energy landscape, lowering energy costs for U.S. companies and consumers to some of the cheapest in the world. These shale gas discoveries are significant and have the potential to impact the U.S. economy for decades. We expect benefits will convey not only to the industrial and energy sectors where large investments will be required, but also to U.S. consumers who could benefit from low inflation, improving employment prospects and lower energy costs for years to come. We believe the access U.S. companies have to cheap energy gives them a structural competitive advantage in the global marketplace. From an investment standpoint, we view the impact of shale gas as a multi-decade tailwind that should benefit the U.S. economy, the domestic consumer and the U.S. equity market.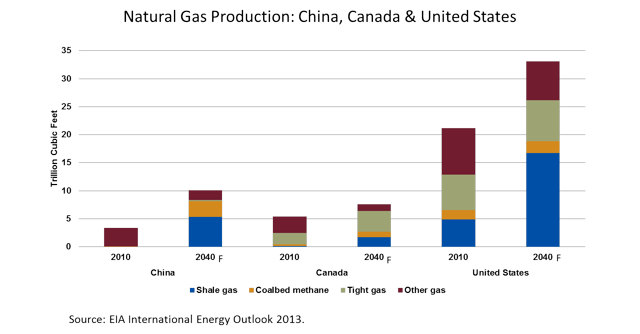 Click to enlarge
Big-Picture Investment Theme: Housing Market Revival
After a very difficult five-year period, the housing market has seen a nice rebound over the last few years. In our view, the backdrop is set for the housing market to contribute to U.S. economic growth in the years ahead. We're seeing price appreciation in many markets and new buyers returning to the market after sitting out the last few years. Mortgage rates remain generally low, and with home affordability still attractive in many markets, we think there is potential for ownership rates to appreciate over the next several years and for new buyers to return to the market. Housing is an important part of the U.S. economy, and its slow but steady improvement should continue to be a driver of growth going forward.
Grant Bowers' comments, opinions and analyses are for informational purposes only and should not be considered individual investment advice or recommendations to invest in any security or to adopt any investment strategy. Because market and economic conditions are subject to rapid change, comments, opinions and analyses are rendered as of the date of the posting and may change without notice. The material is not intended as a complete analysis of every material fact regarding any country, region, market, industry, investment or strategy.
For timely investing tidbits, follow us on Twitter @FTI_US and on LinkedIn.
What Are the Risks?
Franklin Growth Opportunities Fund
All investments involve risks, including possible loss of principal. Growth stock prices reflect projections of future earnings or revenues, and can, therefore, fall dramatically if the company fails to meet those projections. Smaller, mid-sized and relatively new or unseasoned companies can be particularly sensitive to changing economic conditions, and their prospects for growth are less certain than those of larger, more established companies. Historically, these securities have experienced more price volatility than larger company stocks, especially over the short term. To the extent the fund focuses on particular countries, regions, industries, sectors or types of investment from time to time, it may be subject to greater risks of adverse developments in such areas of focus than a fund that invests in a wider variety of countries, regions, industries, sectors or investments. These and other risks are described more fully in the fund's prospectus.
---
1.Source: S&P Index Data Services. Copyright © 2014, S&P Dow Jones Indices LLC. All rights reserved. Reproduction of the S&P Index Data Services in any form is prohibited except with the prior written permission of S&P. S&P does not guarantee the accuracy, adequacy, completeness or availability of any information and is not responsible for any errors or omissions, regardless of the cause or for the results obtained from the use of such information. S&P DISCLAIMS ANY AND ALL EXPRESS OR IMPLIED WARRANTIES, INCLUDING, BUT NOT LIMITED TO, ANY WARRANTIES OF MERCHANTABILITY OR FITNESS FOR A PARTICULAR PURPOSE OR USE. In no event shall S&P be liable for any direct, indirect, special or consequential damages, costs, expenses, legal fees, or losses (including lost income or lost profit and opportunity costs) in connection with subscribers' or others' use of the S&P Index Data Services. Indexes are unmanaged, and one cannot directly invest in an index. Past performance is not indicative of future results.
Disclosure: I have no positions in any stocks mentioned, and no plans to initiate any positions within the next 72 hours. I wrote this article myself, and it expresses my own opinions. I am not receiving compensation for it. I have no business relationship with any company whose stock is mentioned in this article.