Monsanto (NYSE:MON) is set to report earnings before the market opens today, June 30. Here are 7 factors to consider ahead of the release.
1. The stock has had a terrible year: Monsanto Company's stock has lost -35.59% over the last year, lagging the S&P 500 index. The stock is currently trading on the bottom end of its 52-week range.
click for expanded images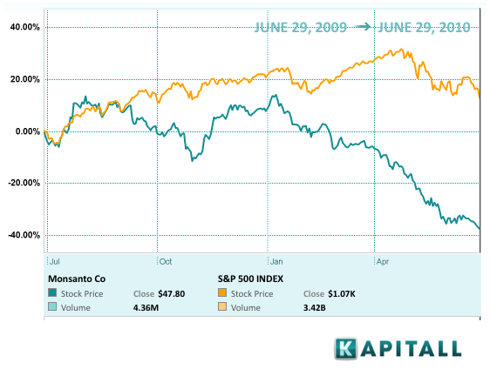 2. Profit margins deteriorated during the most recent quarter: Monsanto Company's net profit margin declined during the most recent quarter, declining from 27.06% to 22.80% for the 3 months ending 2010-02-28. Gross margin decreased from 62.48% to 53.96%, while the company's operating margin weakened from 38.96% to 32.85%.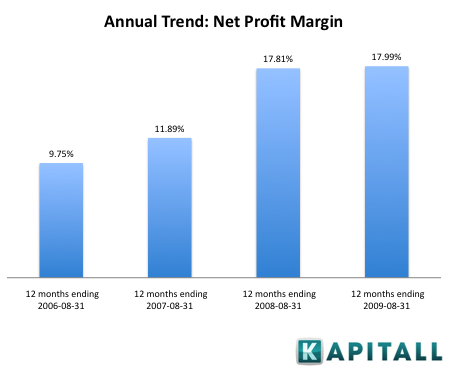 3. Recent Disappointments: It's also interesting to note that Monsanto performed worse than expected during their two most recent quarters. The following graph shows a history of their earnings results vs. analyst estimates. A green marker indicates better than expected results, while a red marker indicates worse than expected results.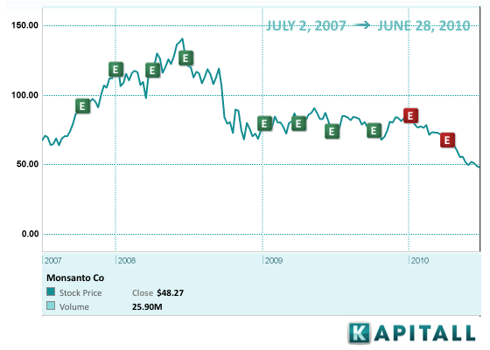 4. Monsanto's operating costs are increasing: Monsanto Company's cost of revenue, as a percentage of revenue, increased from 37.52% to 46.04% during the most recent quarter, while operating expenses, also expressed as a percentage of revenues, climbed from 61.04% to 67.15%.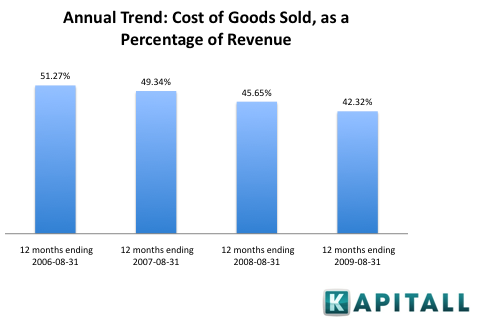 5. DuPont Breakdown of Return on Equity (ROE) - ROE and leverage both decreased during the most recent quarter: Monsanto's Return on Equity decreased from 11.37% to 8.29% during the most recent quarter. When we break apart ROE by using the DuPont equation, we get the following:
Decreasing Net Income / Sales: 22.80% (mrq) vs. 27.06% y/y
Decreasing Sales / Assets: 21.32% (mrq) vs. 22.43% y/y
Decreasing Assets / Equity (i.e. leverage): 1.71 (mrq) vs. 1.87 y/y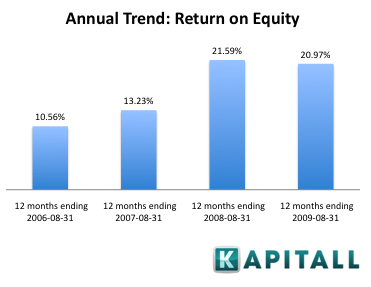 6. Monsanto's valuation: The stock's forward P/E of 18 is near the bottom end of its 3-year range.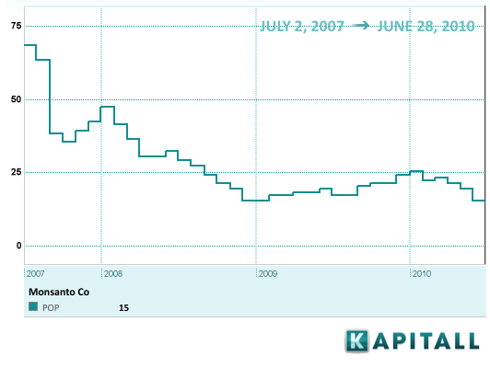 7. Monsanto has pushed its advantage too far with its customers: "Although the company's bioengineered crop seeds have delivered exceptional performance over time, farmers have begun to complain over the last couple of years hat Monsanto was pricing its newest seeds (well) ahead of the demonstrated performance," writes Stephen Simpson at Investopedia. "Couple this uncertain cost benefit trade off with a tough economy, stiffened credit market and competitor options, from DuPont and a copia of Chinese companies, spells a problem from Monsanto."
Disclosure: No position