By Sumit Roy
Natural gas was last trading up by close to 2 percent to $4.45/mmbtu after the Energy Information Administration reported that operators withdrew 74 billion cubic feet from storage last week, close to what most analysts were expecting.
The latest withdrawal was below last year's draw of 94 bcf, but above the five-year average draw of 6 bcf.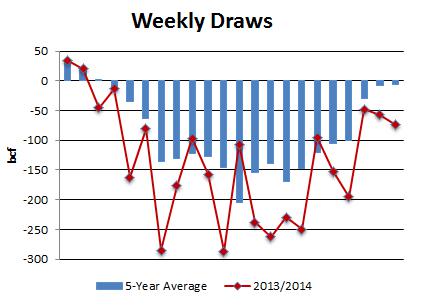 In turn, inventories now stand at 822 bcf, which is 865 bcf below the year-ago level and 993 bcf below the five-year average (calculated using a slightly different methodology than the EIA).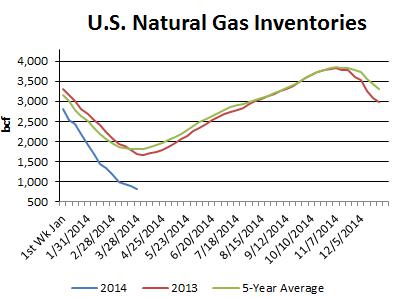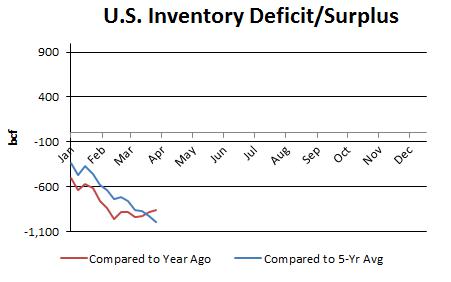 The weather last week was colder than seasonal norms.
According to the Edison Electric Institute, utilities generated 72,716 GWh in the week ending March 29, which was 1.2 percent above the same week a year ago.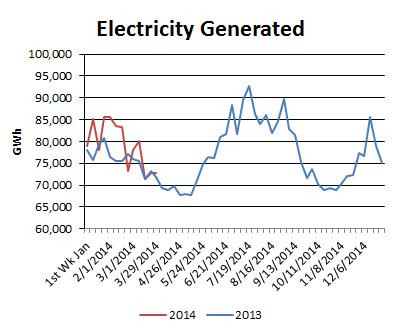 Looking forward, the NOAA's 6- to 10-day outlook calls for colder-than-normal temperatures across the Eastern half of the country and warmer-than-normal temperatures across the Western half.
NOAA 6- TO 10-DAY OUTLOOK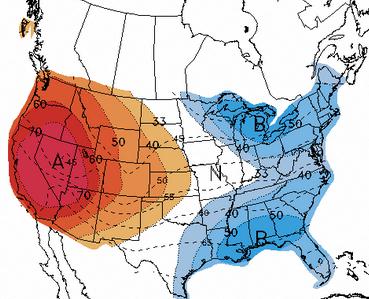 Meanwhile, Baker Hughes reported that the number of rigs drilling for natural gas in the U.S. fell by eight to 318 - the lowest level since 1995.
Natural Gas Rig Count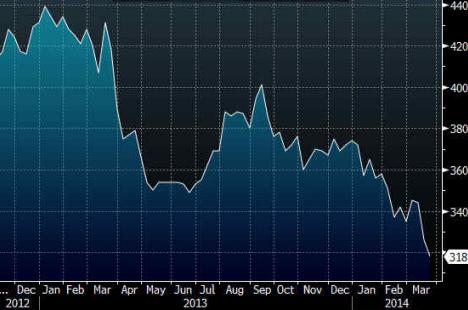 Natural Gas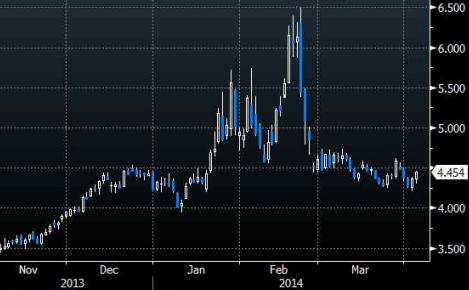 Bottom Line: The latest inventory data from the EIA were bullish, as the inventory deficit against the five-year average rose from 925 to 993 bcf.
The final results are in, and barring a major curveball, inventories for the 2013/2014 season are likely to have troughed at 822 billion cubic feet, the lowest level since 2003. Pipeline flows are indicating that storage levels will begin to rise in next week's report, one week earlier than last year.
Traders will closely scrutinize the forthcoming spring "shoulder season" injections to get a sense of whether severely depleted inventories can be refilled by next winter. Some are pointing to the fact that the number of rigs drilling for natural gas fell to a 19-year low last week as a sign that production will not grow enough this year.
But we counter that the rig count has not correlated with production levels for several years now. In fact, output has been trending higher while the rig count has trended lower. That's because producers have become more efficient, requiring fewer rigs to grow their output. Until we see evidence that this equation has changed, the rig count is not a good indication of changes in output.
That being said, producers still have their work cut out for them. Storage levels must increase about 3,000 bcf between now and November to bring them back to comfortable levels above 3,800 bcf ahead of next winter. We estimate that injections must average 94 billion cubic feet per week over the next 32 weeks to reach that goal. For context, injections averaged 70 bcf per week last year.
The next several weeks will be key. If injections fall short of the mark, prices will surely rise significantly. On the other hand, if injections come in at elevated levels, the bears will be vindicated and prices may remain capped below $4.50/mmbtu.