An anonymous investment blogger outed billionaire David Einhorn as a big buyer of Micron Technology (NASDAQ:MU) shares last November, and the brouhaha that Einhorn raised as a result may produce lasting changes to financial news reporting. But investors simply looking for insight on whether to buy or sell Micron shares also should watch another billionaire hedge fund manager, Baupost Group's Seth Klarman. The risk averse, capital-preserving investor who warns of a brutal market correction is making an awful lot of money on Micron.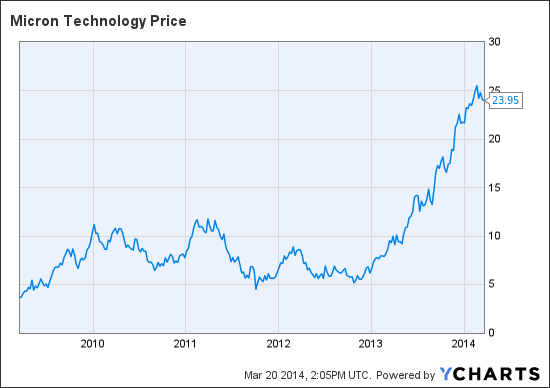 Over two quarters last year, Klarman built up Baupost Group's Micron holdings to about 32% of its portfolio. At Dec. 31, Klarman's group owned a bigger stake of Micron -- 5.8% of its common shares -- than Einhorn, whose ownership hadn't reached reporting status despite a $1 billion fourth-quarter addition. At Einhorn's Greenlight Capital, Micron comprised 14.6% of the portfolio at the end of the year. Klarman sold some Micron shares last quarter, but those trades most likely represent something more mundane than bearish signals about the chipmaker's potential. With the share price shooting higher - it's now up about 159% in a year -- he had to sell to keep the Micron portion of Baupost's portfolio from growing.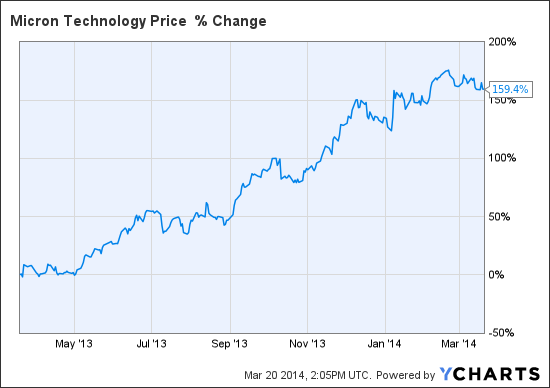 MU data by YCharts
Industry analysts as a group are not nearly so hot on Micron shares. While about half of the more than 30 analysts that track the shares recommend buying them, a startling four rate them as sell or underweight. But Klarman, who manages roughly $28.09 billion in assets, is looking at a much longer hold than the average industry analyst. The roughly $1.23 billion of Micron he's holding suggests a whole lot of confidence in the company long term.
Klarman rarely divulges his investment ideas for free, so any insights we have into his decision making are simple derivations of his published thoughts. Excerpts (often unauthorized) of his shareholder letters and his extremely popular strategy book, "Margin of Safety - Risk-Averse Value Investing Strategies for the Thoughtful Investor," are available online. That out-of-print book from 1991 is still on sale at Amazon for between $1,600 and $3,575.95.
As the title implies, Klarman says the best investors focus on the potential risks in a stock, not its potential rewards. He's a value investor to the core, looking for stocks priced well under the company's intrinsic value, defined in part by hard assets like cash and inventory. And he's absolutely incredulous of the euphoria and optimism in today's market. In his latest shareholder letter, Klarman calls out the "nosebleed valuations" of shares like Netflix (NASDAQ:NFLX) and Tesla Motors (NASDAQ:TSLA) and warns of a significant market correction ahead, according to the Financial Times this month.
So if not for already holding so many Micron shares, would Seth Klarman buy it today? While YCharts can't pinpoint Klarman's buy triggers, we can show you some key differences between the company today and the one he liked so much last year.
Micron's fortunes turned this year when earnings from a major acquisition last year kicked into its own bottom line. The addition of Japan's Elpida Memory made Micron the second largest maker of chips for personal computers (DRAM), and the benefits of the merger have exceeded all expectations. Micron also makes memory (NAND) used in smartphones and tablets, which is a fast-growing market. Together, these things have done wonders for its results.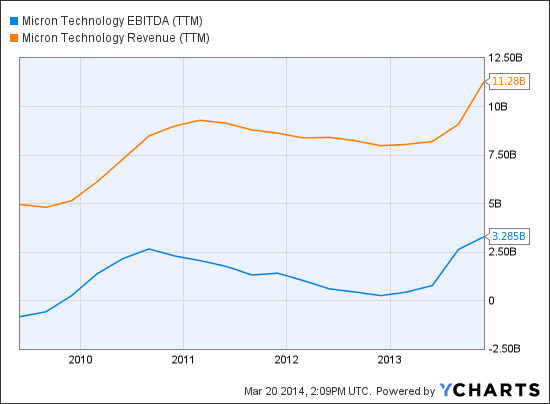 MU EBITDA (TTM) data by YCharts
Klarman started buying Micron in the second quarter last year, shortly before the Elpida deal closed in July. (It was announced a year before.) He must have liked what he saw coming on the books, as well as the valuations that lingered into the third quarter.
Inventories jumped with the merger. But they were rising before it closed.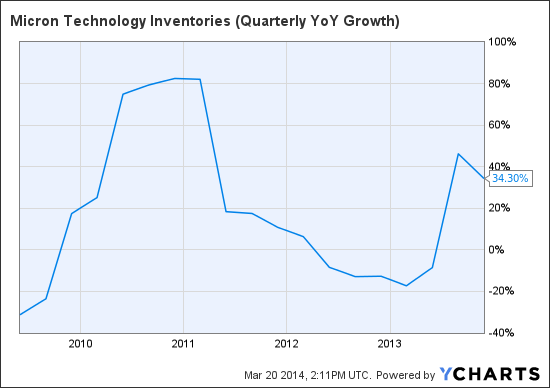 MU Inventories (Quarterly YoY Growth) data by YCharts
The company has more cash but also more debt.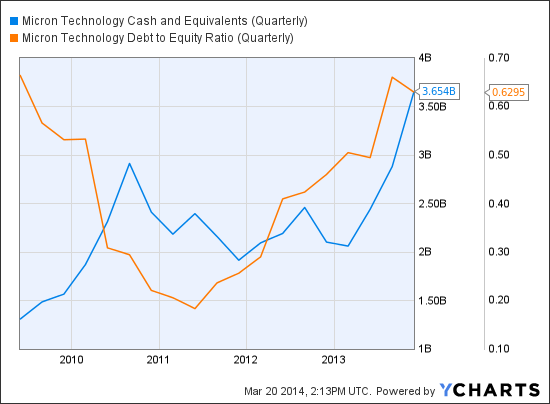 MU Cash and Equivalents (Quarterly) data by YCharts
Valuations have jumped by most measures, as shown most basically in the company's forward PE ratio and forward price-to-sales ratio. (The company had been losing money before last summer.)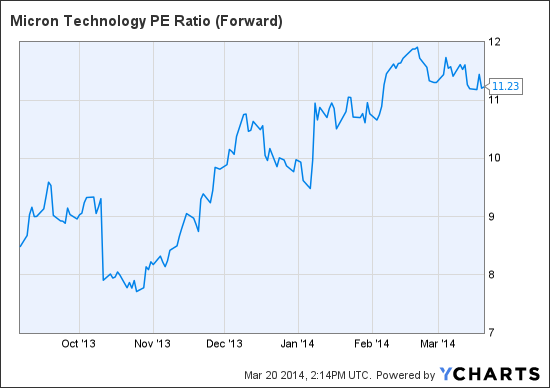 MU PE Ratio (Forward) data by YCharts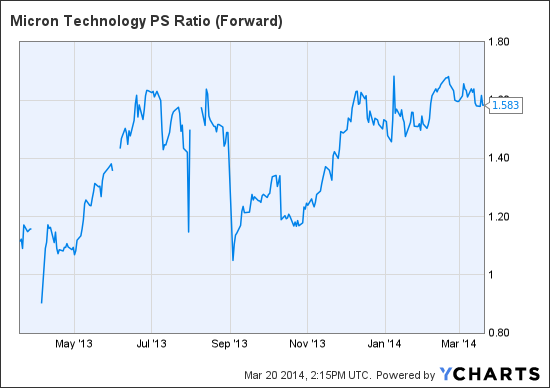 MU PS Ratio (Forward) data by YCharts
The price to tangible book value is nearly twice the size it was when Klarman was buying some shares. It's a much less startling rise when we account for Micron's revenue growth potential as well as its cash and debt obligations. The change in the enterprise value to revenue ratio is more subdued.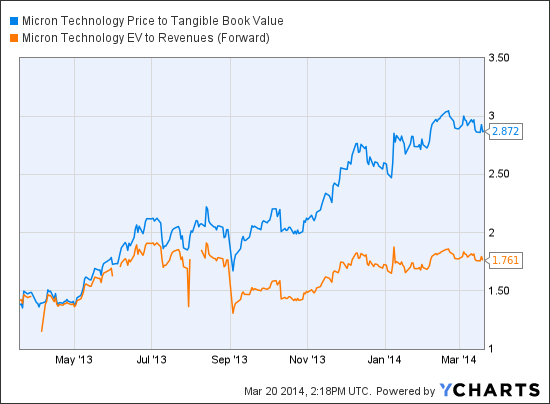 MU Price to Tangible Book Value data by YCharts
Investors who trust Klarman's wisdom should consider those charts alongside his very bearish sentiment about today's market reported by FT. While he concedes that he can't predict the timing of a correction, he's certain there's one at hand, and he expects few investors will be spared its pain. Whether or not that includes today's buyers of Micron, he doesn't say.
Dee Gill, a senior contributing editor at YCharts, is a former foreign correspondent for AP-Dow Jones News in London, where she covered the U.K. equities market and economic indicators. She has written for The New York Times, The Wall Street Journal, The Economist and Time magazine.

Disclosure: None