Advanced Micro Devices (NYSE:AMD) should reap substantial benefits from Nadella's recent move to make the Microsoft (NASDAQ:MSFT) Windows 8.1 desktop and mobile operating systems available for free. This free Windows OS offer is applicable to all device makers who make gadgets with a display size of 9 inches and below. This includes tablets, smartphones, netbooks, and other computing products.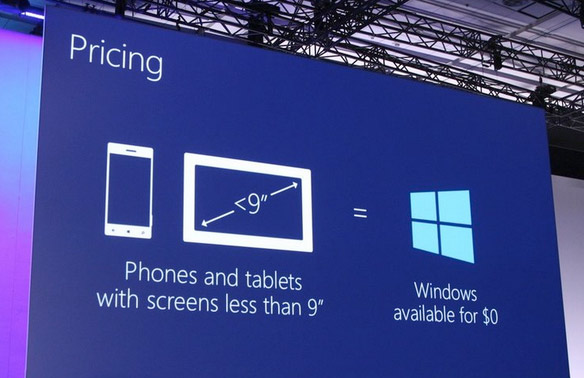 Image Courtesy of The Verge.com
This development is the most important tailwind for AMD this year. It is more significant than the Seattle 64-bit ARM-based servers and the cryptocurrency mania. Free Windows OS gives AMD's tablet ambition a strong boost. AMD's Mullins and Beema mobile chips will find more support from OEM device makers because no OS licensing fees means $150 Windows 8.1 tablets are now feasible.
Mullins is core to AMD's mobility campaign. Poor OEM support for this mobile SoC will hurt the company in the long run. More people are ditching traditional desktops and notebooks in favor of tablets and 2-in-1 hybrids. Debt-laden AMD cannot afford to offer contra revenue or subsidies for its tablet campaign like what Intel (NASDAQ:INTC) is doing for its 40-million-tablet-chips target for 2014.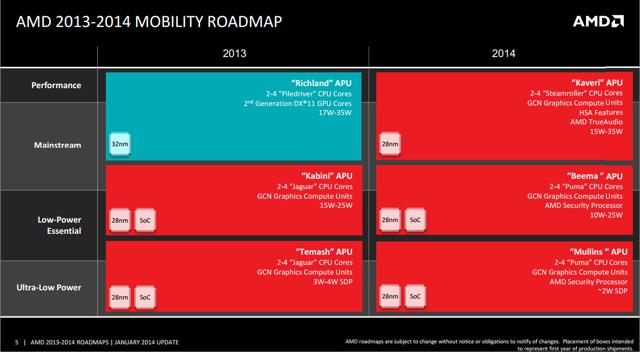 Source: AMD
Mullins Gives Great Gaming Experience on Tablets
The AMD Mullins is a low-power 2-5W TDP quad-core system-on-chip (SoC) with Radeon GCN graphics. It is aimed to compete with Intel's very successful Bay Trail SoC for tablets. Mullins brings top-notch 3D gaming experience to Windows 8 tablets. A prototype 2W Mullins-powered tablet from AMD demoed it can nearly smoothly run the very graphics-intensive Dirt Showdown game at 1,280x720 with 22 fps. This benchmark will likely improve after the final version of Mullins is released later this year.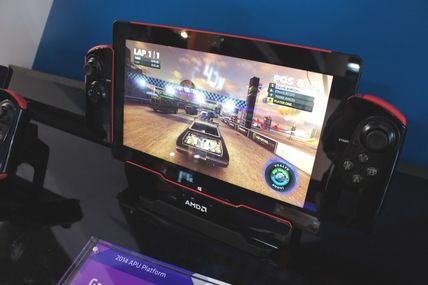 Image Source Courtesy of Expertreviews.co.uk
Even AnandTech already surmised that the Mullins might become a potent alternative to Intel's Bay Trail offerings for fanless tablets. AMD's strong graphics IP compels me to believe that Mullins-equipped tablet will offer better gaming experience than similarly-priced Bay Trail tablets.
I hope that AMD's marketing department will emphasize and promote all Mullins-powered tablets as power gaming tablets. This is to differentiate it from Intel-equipped Windows 8 products. The general tablet market is mostly composed of low-ASP products and AMD is better off avoiding a price war against Android tablet makers.
The Mullins, with the help of free Windows 8.1 OS, should be targeted for mid-priced $200 to $300 gaming tablets so AMD gets some decent net income. Yes it might be possible for Mullins to go head to head on the sub-$180 market but AMD will get little money from this sector. Even Intel with its contra revenue, will find intense competition from Chinese white-box tablet device makers who can afford to sell $100 7-inch tablets because they use very cheap components from Allwinner or Rockchip.
Conclusion
AMD investors will really appreciate it if Rory Read can persuade big-name tablet makers like Dell, Asus, HP, LG, Huawei, Lenovo, or Samsung, to give Mullins a try. Superior graphics performance makes Mullins a dual-OS gaming machine powerhouse. With BlueStacks, AMD-powered tablets can offer top caliber gaming experience on Windows and Android OS.
Just watch this YouTube video of Quanta-produced AMD Project Discovery Mullins tablet reference design and you will understand why I'm very bullish on AMD's tablet campaign. A game controller makes a 7-inch or 11.6 size Mullins tablet an awesome desktop quality gaming machine. Mullins can run DirectX 11 games in 1080p smoothly.
Another YouTube Video also shows the Project Discover tablet can be used as a productivity desktop computer by connecting it to a monitor and keyboard. Mullins offers top-notch gaming and productivity functions.
I believe Read should also ingratiate himself to Nadella by refusing to release new AMD APUs for the Chromebook tablet. Microsoft is not happy with Intel's aggressive support for Google's Chromebooks. AMD ought to take advantage of this blunder of Intel.
The lost revenue from Chromebooks can be offset by more OEM support for AMD Mullins and other low-entry APUs. A letter of recommendation from Microsoft can be a persuasive tool to convince OEM device makers to back Mullins and Beema.
AMD needs to increase its presence in the tablet market to offset the reduce revenue from desktop computers. Mullins promises to become the best chip for 3D gaming tablets. Microsoft's free Windows 8 offer just made AMD's tablet ambition much easier to fulfill.
AMD is a good BUY. Rory Read is doing well steering the company back into profitability. Free Windows 8 is a super tailwind which will help AMD soar higher than $4.50 soon.
AMD has an excellent P/S ratio of 0.57 and P/C ratio of 2.78. Two weeks from now, AMD's earnings report may come up with another big improvement on its Q/Q EPS and sales growth.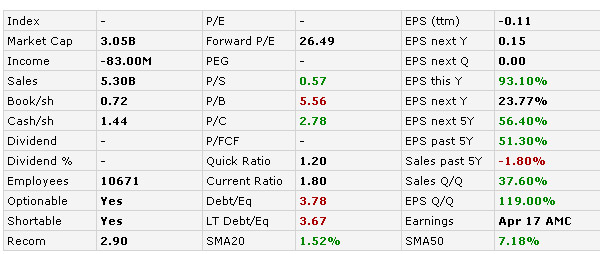 Source: Finviz
Disclosure: I am long AMD, INTC. I wrote this article myself, and it expresses my own opinions. I am not receiving compensation for it (other than from Seeking Alpha). I have no business relationship with any company whose stock is mentioned in this article.