Apple (NASDAQ:AAPL) will release its Q2 results on or around April 23, 2014. The investment community is all ears waiting to see if the Cupertino giant can sustain the momentum it had in Q1 when it turned in record unit sales of iPhones and iPads, and whether its China Mobile deal is leading to any real traction in the key Chinese market for smartphones and tablets.
A lot is at stake. Despite its record unit sales Apple reported flat Q1 profits and for its fiscal 2013 which ended September 30, 2013, profits actually fell from prior year.
Apple has had a terrific run for a few years now based largely on the success of its iOS devices which had grown to represent 75% of Apple's revenues by Q2 2013 and even more since, setting quarterly records for shipments as reach quarter was rolled out.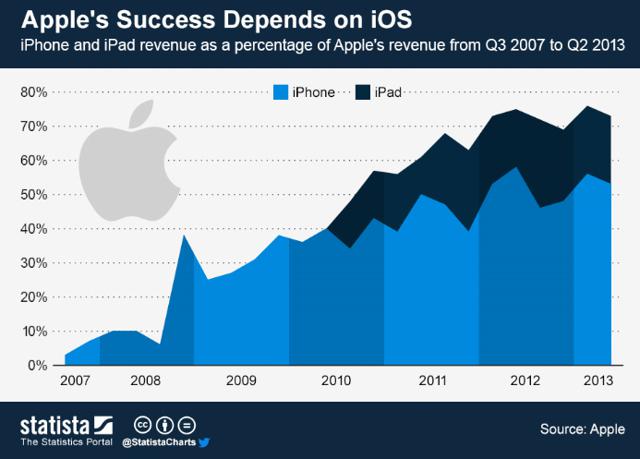 Despite the growth in shipments, Apple profits showed their first year-over-year decline in fiscal 2013.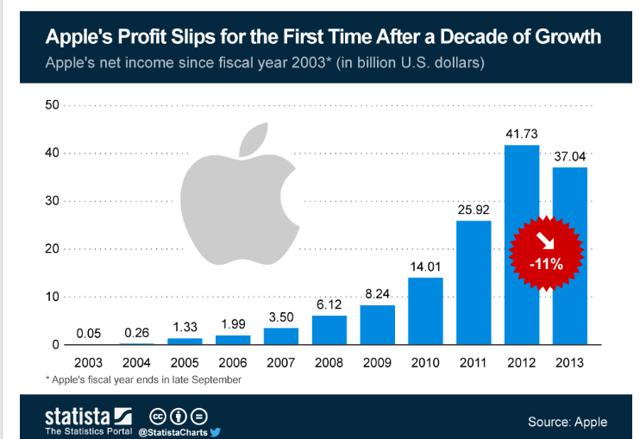 At the time Apple was reporting its fiscal 2013 results, investors had turned their attention to the launch of the new iPhone 5s and iPhone 5c and the subsequent launch of the iPad mini retina and the iPad Air, all of which were generally well received in the market. The iPhone launch sold a record 9.1 million devices in the first few days after launch and the iPads led the list of Christmas shopping items in many retailers.
When the dust settled Apple reported Q1 net income flat to prior year.
The fact is that despite the success of the new products Apple failed to grow as fast as its competition. Samsung (OTC:SSNLF) shipments grew 43%; Huawei shipments grew 68%; LG shipments grew 81%; Lenovo shipments grew 92% and everyone else collectively grew 36%.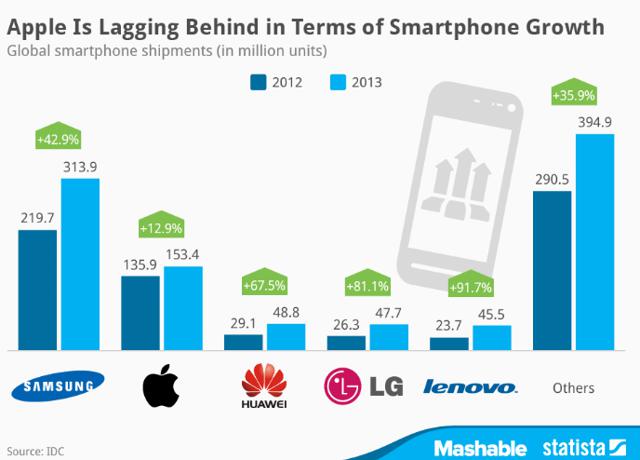 A similar picture emerged in the tablet market where Apple share of market fell more than 17 percentage points while Samsung, Asus, Lenovo and others grew smartly.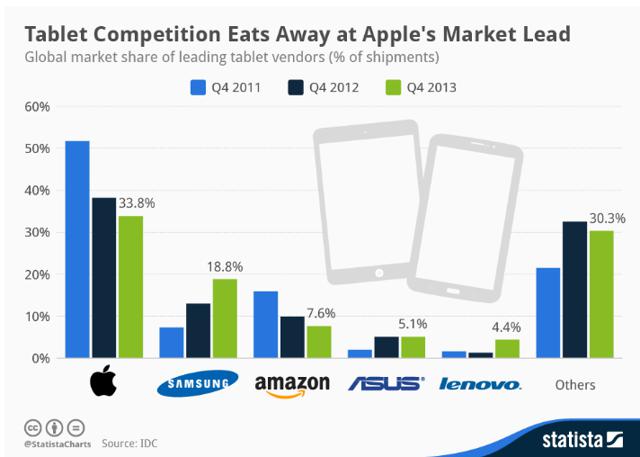 Apple depends on the iPhone for over two thirds of its income.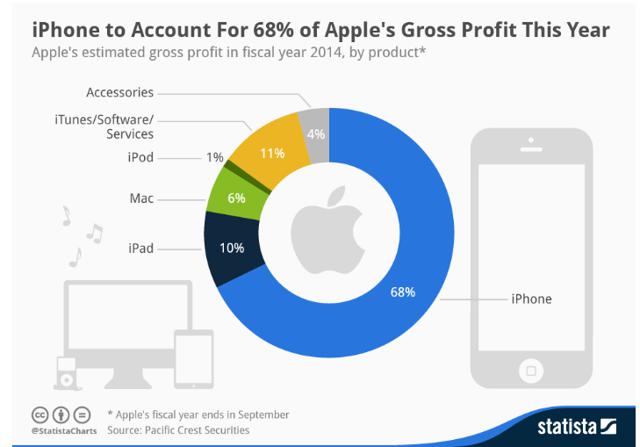 But, Android has now firmly taken the lead as the dominant OS in smartphones with a staggering 79% share of market.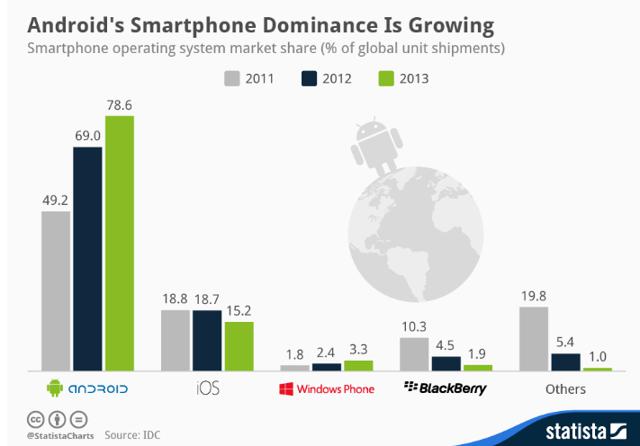 The competitive balance has been shifting away from Apple for a number of reasons. Android and Windows OS devices now include high-end models that compare favorably in performance and features with iPhones. iPhones and competing smartphones share many of the same or similar components - e.g., Qualcomm RF modules; Gorilla glass screens; DRAM and NAND from the same sources; standard cameras and batteries by and large - as seen is this teardown of an iPhone 5 compared to a Nokia Lumia 920.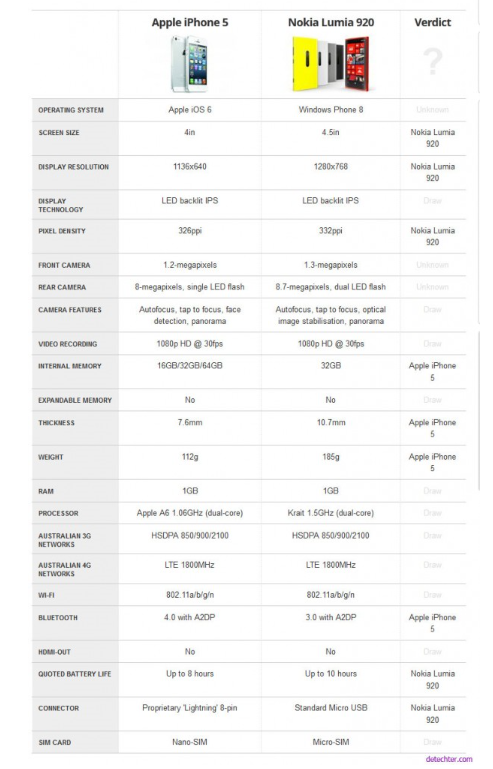 Source: Detechter.com
While the devices are comparable, Apple has positioned itself as a "premium" priced product and created the image of a "high-end" device building on its elegant design and powerful ecosystem. Many Android based smartphones offer equivalent or even better device specifications but are priced more aggressively. The average Android OS smartphone is now $374 cheaper than the average iPhone.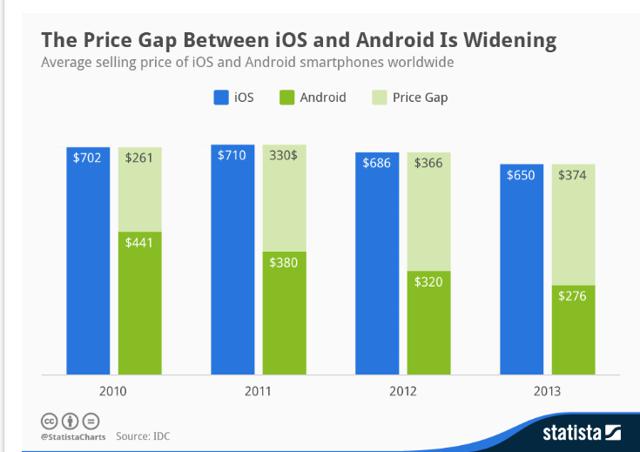 Whether Apple supporters like it or not, price remains a key factor in user decisions about what smartphone to purchase and operating system (read brand if it is iOS) ranks fourth after price, features and battery life.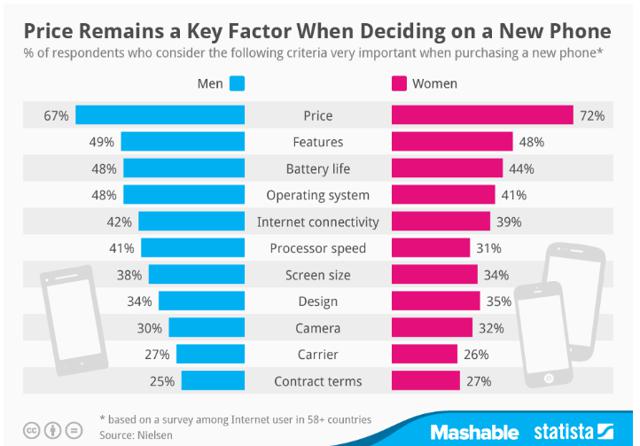 Product image is important and Apple has a deserved reputation for a first class product. But its pricing of very standard components wrapped in an Apple shell at a price more than double the competition is much like Mercedes trying to hang onto its premium reputation by sourcing its engine and transmission from Chevrolet. There is not a lot wrong with Chevrolet engines or transmissions but I am confident Mercedes would lose some of its mystique if it gave that game a shot.
A tear down comparison of the top of the line iPhone 5s versus the Samsung Note 3 makes the point that the components and specifications of the iPhone are unremarkable. The fact is that despite its "premium" image it is a cheaper device riding on brand name and a large applications library for its claim to a "premium" position. With Google Play about as rich as the Apple app store, that claim grows more hollow every day.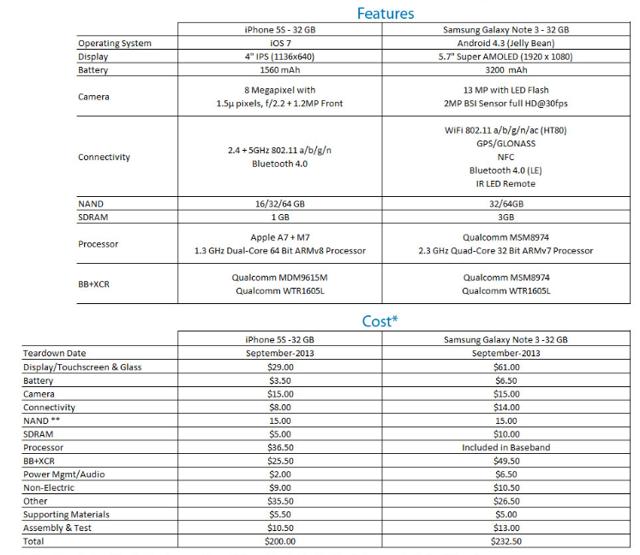 Source: TechInsights
The Samsung Note device has better specifications on every line than the iPhone and a higher cost bill of materials. Apple's 64-bit A7 processor distinguishes it somewhat but the Qualcomm processor very likely turns in better performance since the iPhone ships with only 1 GB of SDRAM and the Qualcomm 32-bit processor is Quad-Core versus Dual-Core and runs at almost double the clock rate and is supported by 3 times the SDRAM. The Samsung Note has more storage, a higher resolution camera, a bigger battery, and more connectivity with NFC and IR LED Remote not present on the Apple device.
To me, Apple's attempt at "premium" positioning would be similar to Mercedes offering its S Class Sedan with a 4 cylinder Chevrolet engine and a three-speed transmission, using the car metaphor once again. The comparison makes it obvious - Apple's "top of the line" price is not backed by a "top of the line" device. It is backed by a top of the line ecosystem but that advantage is narrowing quickly.
The result is that Apple's growth has all but vanished both in terms of revenues and profits.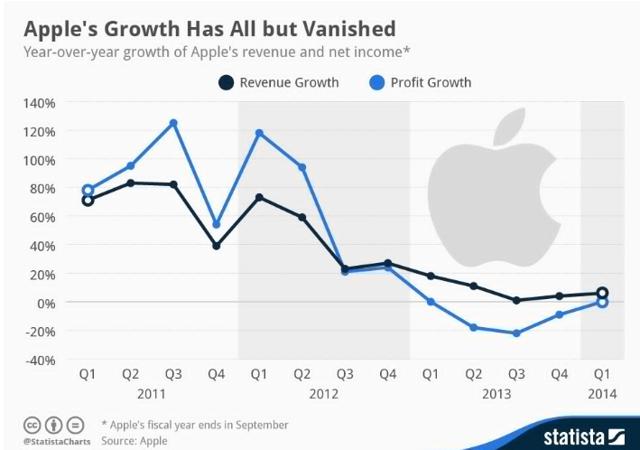 By 2016, 80% of iPhone sales may be replacement demand. When that tide turns, Apple will be most vulnerable to competition.
While Apple retention rates have been high they have not been absolute. The launch of the iPhone 6 with the expected larger screen may be a tailwind for replacements to the extent that Apple can compete with established phablet brands at lower prices, but the anticipated decline in carrier subsidies could well offset that bump in demand. Wealthy consumers who paid the full $600 plus price for an iPhone 5s may well upgrade, but those on contracts who looked to carriers to bring the price down to $199 through a subsidy may let the contract run out. If they are then asked to put up the full and likely higher price for a larger screen iPhone they may take a hard look at the very attractive alternatives being offered by Samsung, Nokia, LG, Sony, HTC and in Asia by Micromax, Karbonn, Xiaomi, Coolpad, Gionee, ZTE and Oppo to name a few.
Apple's Q2 results should begin to tell the tale.
Global smartphone markets may actually fall slightly in the March quarter according to Trendforce who see a 5.1% drop year over year.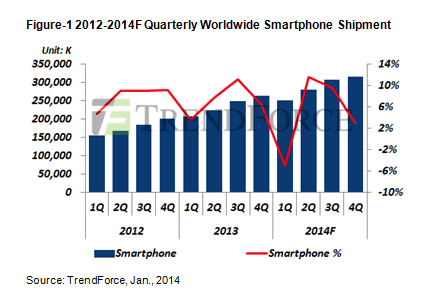 Source: Gigaom
iPhone average selling prices ("ASPs") should decline marginally as Apple ships older iPhone 4S models into Indonesia, Brazil and India at lower price points. Apple's ASP will do well to hold $600 for the quarter in my view.
Apple still has to deal with the overhang of unsold iPhone 5c's which were a dismal failure. Recent reports suggest as many of 3 million of the devices are piled up in inventories of which 2 million are at Apple supplier Pegatron and another million are on the shelves of carriers.
Apple has already recorded the devices shipped to carriers in its Q1 revenues so it is likely to book a loss if the excess iPhone 5c's are returned or sold for less than Apple has already recognized depending on the terms of the carrier agreements. One way or another, someone will have to eat the loss. Asking the carriers to take the hit might just bite back if Apple needs their full support to move its more popular iPhone 5s and expected iPhone 6 later this year in the volumes Apple needs to meet street profit expectations.
In the case of iPads, the global tablet market continues to grow but that growth has been slowed by growth in "phablets". I forecast the global tablet market to rise from 50 million units in the March quarter of 2013 to 60 million in the same period in 2014, and Apple to continue to hold about 33% of that market on the strength of its new iPad mini retina model and the popular iPad Air. The result should approximate iPad shipments of 20 million. iPad ASPs should also fall with the mix shifting to the lower priced iPad mini from full sized iPads, with Apple's Q2 ASPs coming in about $435.
Cirrus Logic (NASDAQ:CRUS) gets over 80% of its revenues from Apple. For the March quarter, Cirrus is guiding to $130 to $150 million in sales, down from $219 million in the December quarter for a drop of 32% to 40%. A similar drop for iPhone unit sales would show Apple's Q2 iPhone volumes at 32 to 36 million units. I think Apple's decision to sell iPhone 4s at lower prices in Indonesia, Brazil and India will spur a slight uptick in units sold and I am estimating 38 million units which would give Apple a 16.5% market share globally.
For the quarter in total I estimate sales of $43 billion with net income of less than $9 billion and earnings per share coming in at just over $9.50 with fewer shares outstanding.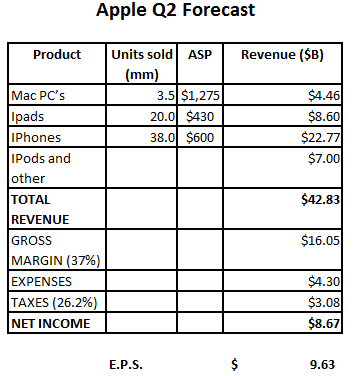 Source: Michael Blair analysis
My estimates fall short of the average analysts' estimate as reported by Yahoo.com on February 21, 2014, which see $43.5 billion sales and net income of just over $10.00 per share. Even those analysts' estimates call for flat sales and profits which has to be disappointing for what is seen as the leading company with the best products in markets which continue to grow at double digit rates.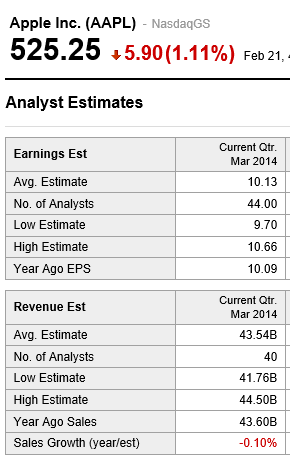 Source: Yahoo.com Finance
Apple watchers are starting to join in a chorus of doubters as estimates of Q2 sales begin to falter. The article March 25, 2014 in BGR captures the worry with the headline: "Spring iPhone sales are looking extremely weak". ARM Holdings (NASDAQ:ARMH) Executive VP Antonio Viano said in an interview in late March, "Anyone in the premium [smartphone] space has to be careful". That is definitely Apple territory.
Of course, not everyone is negative. Morgan Stanley analyst Katy Huberty expects Apple to surprise on the upside and report shipments of 42 million iPhones in the quarter, about 4.5 million more than last year. If so, many will look a bit more deeply into those shipments to assess how many were actually sold to end users and how many joined the estimated pile of 15 million iPhones already sitting on shelves in carriers and Pegatron.
Even if the quarter is decent, the longer-run picture for iPhones is not robust with data from ARM and Gartner showing that growth in the premium end is projected at only 4% through 2018, less than half the rate of the total market.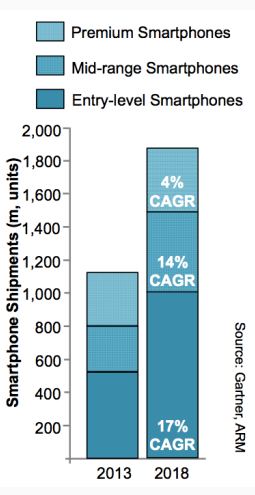 Source: Chart published on re/code
If my estimates are close, and barring upbeat guidance or an exciting new product on the horizon, institutional money will leave this name and sell out to the eternally optimistic retail investor in a process known in the industry as "distribution". The little guy will end up holding the bag and cheer leaders like SA contributor Robert McDonald, an Apple bull who has made it his mantra to excoriate me for my bearish calls on this name (simply because I disagree with his views), may well be finding reasons for hope and encouraging their followers to hang in there waiting for blockbuster sales of the iPhone 6. If the iPhone 6 is a dud, that means hanging them out to dry.
The bulls are betting the iPhone will be the number one choice for 4G smartphones in China. That bet may run into some opposition from local players like Coolpad who expects to be the largest 4G supplier and Lenovo who has similar ambitions. Some analysts agree with Coolpad as reported by the Washington Post:
"We expect Coolpad to become the largest 4G smartphone brand in China," said Alex Ng, a Hong Kong-based analyst at China Merchants Securities.
Coolpad introduced the first 4G smartphone in 2010 for a China Mobile (NYSE:CHL) trial network in Shanghai, Jiang said. China Mobile is the world's largest carrier with 776 million users.
Jiang said he was willing to engage in a price war that may see 4G handsets offered for less than 1,000 yuan if that was necessary to help Coolpad keep its market lead.
"The 4G low-end smartphones will help Coolpad to climb to No. 1 in 4G and No. 2 in the China smartphone market," said Ray Kwok, an analyst with CIMB Securities in Hong Kong."
In my view the 4G market in China and Apple's share will both be smaller than the Apple bulls expect. I am short the stock and long puts. If I am wrong this quarter I will add to my short for next. As I see it, this dog won't hunt.
Disclosure: I am short AAPL. I wrote this article myself, and it expresses my own opinions. I am not receiving compensation for it (other than from Seeking Alpha). I have no business relationship with any company whose stock is mentioned in this article.