Kodiak (NYSE:KOG) is one of the more interesting names in the Bakken, which has built a large number of locations; these are in some of the best areas of North Dakota. This has come at a stiff price, as Kodiak continues to outbid other operators, in hopes that Bakken real estate increases in value exponentially over the next few years. This is possible, as oil prices could be stimulated easily going forward. Not long ago, rumors stated Kodiak was for sale; this was true, but Kodiak's price wasn't met. This led to Kodiak's acquisition of its Polar and Ursid prospects. Polar was first, and looks to have better geology than its Koala prospect. Bullish sentiment followed it into 2013. Expectations had Kodiak operating within cash flows. This was dispelled when it purchased Liberty Resources. Both of these acquisitions added excellent acreage to its current Dunn and Koala prospects. That said, investors may interpret any further acquisitions as a negative. Kodiak is an excellent operator, and has outpaced other operators near its operated leaseholds due to a better well design. Quality can be expensive, and because of this, Kodiak has had a history of beating on the top and missing on the bottom line. In 3Q13, Kodiak beat on the top line and missed on the bottom. Revenues were aided by strong WTI pricing for the quarter. I had been right about higher oil prices in my research note about three months earlier. This was offset by wider differentials in 4Q13. Kodiak's pilot projects continue to perform well, and could provide bullish news going forward.
In 4Q13, Kodiak missed on both the top and bottom line. It reported revenues of $266.49 million, which missed estimates by $3.32 million. It reported an EPS of $.71/share, which missed estimates by $.01. Kodiak plans to spend $940 million and drill 100 net wells in 2014. This compares to $1.02 billion spent in 2013 to drill 100 net wells. Kodiak continues to lower well costs, and when looking at operated wells drilled by area, we see a big shift in how Kodiak views the economics of its acreage.
2013 Operated Wells By Prospect

Prospect

Percentage

Polar

47%

Smokey

22%

Dunn

17%

Koala

9%

Grizzley/Wildrose

6%
(Source: Kodiak Presentation)
Kodiak drilled more wells in the Polar Prospect than anywhere else in 2013. Its best wells have been drilled in Dunn County, but I would guess Kodiak has more acreage in Polar as yet to be held by production. The large percentage in Smokey has more to do with the pilot that was completed there in 2013.
2014 Operated Wells By Prospect

Prospect

Percentage

Polar

69%

Koala

13%

Dunn

10%

Smokey

5%

Wildrose

3%
(Source: Kodiak Presentation)
Polar continues to be the focus, as the bulk of CapEx dollars are being spent here in 2014. It's a little gassier, and has the highest well pressures. The Three Forks formation is better in Polar than Dunn. The Polar prospect EURs are higher than in Koala, but keep in mind, it has a higher natural gas cut. Smokey is a much better area than Wildrose, but neither will see a lot of traffic this year.
Kodiak has hedged 26,000 Bo/d at an average price of $93. Kodiak expects its debt-to-EBITDA on a run rate basis to be under 2.5 times as it exits 2014. Total proved reserves increased by 77% to 167 million Boe. It now calculates to a pre-tax value of approximately $3.5 billion, using a 10% discount factor. Three Forks, on average, produces 15% less resource than middle Bakken wells. Kodiak plans to drill an equal number of Three Forks wells into the middle Bakken in 2014. This backs the assertion that Polar Prospect's Three Forks intervals are superior, given the increased completions. Its year-end reserves are 83% crude and 17% natural gas. The natural gas produced in North Dakota is rich, with an average Btu of 1,600 or greater, and moving from east to west in Kodiak's leasehold, the GOR increases. Much of this is due to the Liberty acquisition. The average locations per section for Kodiak's leasehold are 10. Keep in mind, Kodiak is being conservative. My estimates are over double this number. We were happy to hear Kodiak had divested about 19,500 net acres and about 300 BOE per day, for just over $68 million. This was located in southwestern McKenzie County, and not considered prime acreage. We believe further divestment (Wildrose) could provide additional CapEx dollars for better areas of the play. In 4Q13, Kodiak's realized oil price was $12.50 below WTI. Expectations are for a tighter differential in 1Q14. Kodiak's full-year 2014 estimate is $10/Bbl, with 85% of oil being piped from location, eliminating weather-related issues. Kodiak has increased its natural gas sales to 66% of production versus 51% a year ago. It has also begun a new project gathering NGLs at the well site that are not already connected to gathering.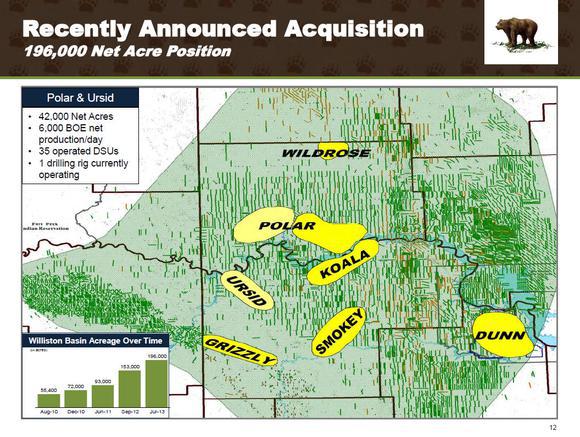 (Source: Kodiak Presentation)
The above map is a little out of date, but provides history of how Kodiak grew its Bakken footprint. It now has 173,000 net acres in the Williston Basin. Of this, 111,000 net acres are in the Polar, Koala, Smokey and Ursid prospects. 40,000 net acres are in Dunn County. The final 22,000 net acres are in the Wildrose prospect. It started with the Koala, Dunn and Grizzley prospects. In Dunn County, it had some non-op acreage it participated in with Exxon (NYSE:XOM). It spent this time with Exxon learning how to be a proficient operator. At a later date, it added both the Polar and Wildrose prospects. This was achieved through the purchase of North Plains Energy LLC and BTA Oil Producers. Kodiak's Ursid prospect was acquired through the acquisition of Liberty Resources. During this time, it was rumored Kodiak had been in the bidding for Helis' acreage in and around Grail Field. QEP Resources (NYSE:QEP) ended up being the highest bidder. Finally, it sold the Grizzley prospect.
Each prospect varies from a total resource standpoint. It is difficult to estimate recoveries, unless done for a specific operator in that area. In the table below, I have provided my Kodiak EURs by prospect.
Kodiak EURs By Prospect

Prospect

EURs MBoe

Dunn

950

Polar

900

Koala

850

Ursid

700

Smokey

600

Wildrose

400
(Source: Kodiak Presentation)
Kodiak's well design produces favorable economics. This design has been successful in slowing depletion substantially. It was one of the first operators to flatten the curve. It uses the best in completion work. By using a superior design, Kodiak realizes a higher cost. This design provides better economics, as seen in the IRRs below.
Kodiak Bakken Well Economics

EUR MBoe

WTI/Bbl

IRR%

Payback Months

900

$95

82

12

900

$85

66

14

800

$95

67

14

800

$85

53

18

700

$95

53

18

700

$85

42

22

600

$95

40

23

600

$85

31

29
(Source: Kodiak Presentation)
The above data assumes a $10/Bbl differential of Bakken light to WTI. It also is calculated for a $8.9 million well cost. Take note, that an EUR reduction of 100 MBoe is close the same as a $10 increase in current WTI pricing.
Keep in mind, the data above is specific to Kodiak's well design. This will differ from one operator to the next. Its Dunn acreage has a very good middle Bakken interval. There is natural fracturing here, so each well should be able to drain more resource per location. It can be assumed a smaller number of locations per section will be seen here. Better natural fracturing can create increased communication. Although small amounts of communication seem to be ok, too much can decrease well pressures and cause production issues. This has been seen in Whiting's (NYSE:WLL) Tarpon Federal wells in Twin Valley Field. These wells have been a great success, with the exception of well 22360. This well had to be abandoned. This was not due to the natural fracturing, but because of a compromised liner top. The wells before are other Whiting Tarpon wells completed in Twin Valley Field.
Whiting Twin Valley Field Completions

NDIC File Number

Total Crude Produced

Total Gas Produced

Days

22388

213271

510915

239

22387

173869

501960

239

22386

182203

466668

239

22361

246825

634090

356
(Source: NDIC)
The above wells are monsters, and show the significance of natural fracturing. When induced fracs connect with natural fracturing, it allows the well bore to be connected to the additional surface area of the source rock. There is uncertainty as to how this will affect production of adjacent wells. It has not affected the above wells. We won't know for sure until this field is downspaced further.
The Polar prospect has a higher percentage of natural gas, which produces higher well pressures. Increased well pressures provide better EURs and initial production rates. Both the Polar and Koala prospects have very good upper Three Forks intervals. Polar is a little better than Koala, but both are excellent areas for pad development.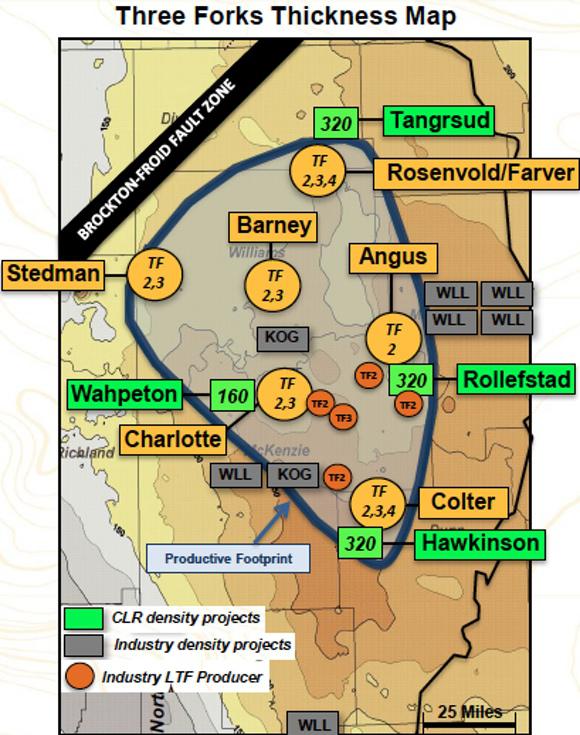 (Source: Continental Presentation)
The map above shows why both the Polar and Koala prospects may be better overall plays than Mountrail and Dunn counties. The Three Forks productive footprint, as stated by Continental Resources (NYSE:CLR), does not reach into those areas. Expectations are for much better Three Forks results west of Nesson. The Smokey prospect won't produce the IP rates or EURs of the prospects already mentioned, but it may have the thickest combination of intervals. Even with the decreased recoveries, Smokey is still a very good prospect. Ursid may have lower Bakken silt upside, and is an area where slickwater fracs have worked well. Kodiak has not stated whether it will try this type of completion in this part of the play. Wildrose has been less developed. It is shallower than other parts of Kodiak's leasehold. Well costs are about $2 million less. Both the Three Forks and middle Bakken are economic here, but the Three Forks may be better given its depth.
Kodiak registered excellent production and reserve growth in 2013. Kodiak has a 2014 guidance of 42,000 Boe/d to 44,000 Boe/d. The asset base grew through acquisitions and downspaced acreage. The majority of its crude is being sold directly to refiners. 35% goes to purchasers, while 65% ends up at refineries. 80% of its crude is transported via the rails, with 20% through pipelines. Kodiak's crude ends up in the areas delineated below.
Kodiak Logistic By Area

Location

Percentage

East Coast

40%

Gulf Coast

20%

West Coast

15%

Clairbrooke, Guarantee, Mandan

25%
(Source: Kodiak Presentation)
Rail capacity has built out quickly, but there is still capacity to fill with Kodiak and other Bakken operators' crude. The majority of oil ends up on the east coast. In April of last year, PBF Energy (NYSE:PBF) announced it signed an agreement with Continental Resources to supply its refiners with Bakken crude. PBF Energy has two refineries on the east coast, and one located in the mid-continent. Demand should continue to increase as logistical infrastructure is added. PBF is continuing its increase of Bakken feedstock. By 3Q14, PBF plans to rail in 130,000 Bo/d. This is an increase of 25,000 Bo/d from the first of the year. The map below provides U.S. crude transport costs. As you can see, the east coast pays more than any other area. Texas crude transported by ship could significantly lower those costs in the future.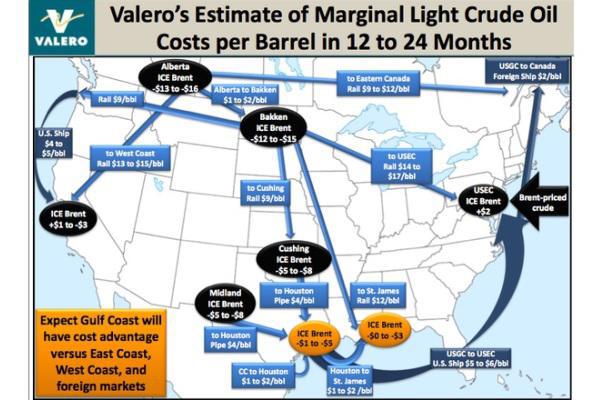 (Source: Valero Presentation)
Bakken crude is piped to the Gulf Coast and railed to St. James at LLS pricing. To the west, much of the feedstock will go to Tesoro's (NYSE:TSO) refineries in Washington and California. Tesoro has been a little late to the rail party, so it has the most to gain over the next two years. It still uses significant amounts of foreign crude. Anacortes uses 70% advantaged crude. This includes Bakken and Canadian. Martinez is using 45% advantaged, and plans to increase this up to 67% by year end. Its Los Angeles refinery is using 15%, and plans to increase this to 50% by year end. Last year, west coast unloading capacity was 218 MBo/d. Expectations are it will improve to 395 MBo/d this year. In 2015, the west coast increases to 910 MBo/d. The west coast refiners used 800 MBo/d of ANS/Brent in 2013. In 2015, expectations are that no Alaskan/Brent crude will be used on the west coast. Tesoro is motivated to do this because it saves $3/bbl. to $5/bbl. Bakken yields 14% to 16% more gasoline and distillates, improving margins.
Three new greenfield refinery projects are being built in North Dakota; the Thunder Butte will produce 13,000 bbls/d of throughput. The Trenton project is owned by Dakota Oil Processing. The Calumet Bakken refinery project is owned by MDU (NYSE:MDU) and Calumet (NASDAQ:CLMT), and is the last and largest project in Williston, and will produce 100,000 bbls/d.
In summary, Kodiak continues to miss earnings estimates, but could improve as it gets comfortable with the geology of its newest acquisitions. We could also see improvements from its pilot projects. Keep in mind, Kodiak has just began these pads, which could help its bottom line. Its core acreage has EURs above or near 1,000 MBoe. If it moves to cement liners and multiple perf clusters, these numbers may improve significantly. I believe the Street undervalues its acreage. The Polar prospect is almost as good as Dunn County, but could have better Three Forks benches. The Koala is also quite good, and Ursid has lower Bakken silt upside. Kodiak could be a very good entry point into the Bakken for a big oil and gas player. It provides access to some very good areas in North Dakota. If we see the price of oil run-up, it might be one of the first names to be taken out. Differentials might remain near or below today's level. The West Coast rail build-out will provide an additional 700 MBo/d of feedstock by the end of 2015.
Disclosure: I have no positions in any stocks mentioned, and no plans to initiate any positions within the next 72 hours. I wrote this article myself, and it expresses my own opinions. I am not receiving compensation for it (other than from Seeking Alpha). I have no business relationship with any company whose stock is mentioned in this article.
Additional disclosure: For more details including specific well results, contact us at www.splitrocktrading.com/index.html. This article is limited to the dissemination of general information pertaining to its advisory services, together with access to additional investment-related information, publications, and links. Accordingly, the publication of Split Rock Private Trading articles should not be construed by any consumer and/or prospective client as Split Rock Private Trading's solicitation to effect, or attempt to effect transactions in securities, or the rendering of personalized investment advice for compensation, over the internet. This information is provided for guidance and information purposes only. This information is not intended to provide investment, tax, or legal advice. The information contained herein has been compiled from sources deemed reliable and it is accurate to the best of our knowledge and belief. However, Split Rock Private Trading cannot guarantee its accuracy, completeness, and validity and cannot be held liable for any errors or omissions. All information contained herein should be independently verified and confirmed. Split Rock Private Trading does not accept any liability for any loss or damage whatsoever caused in reliance upon such information. Readers are advised that the material contained herein should be used solely for informational purposes. Split rock private trading is a registered investment adviser. Information presented is for educational purposes only and does not intend to make an offer or solicitation for the sale or purchase of any specific securities, investments, or investment strategies. Investments involve risk and unless otherwise stated, are not guaranteed. Be sure to first consult with a qualified financial adviser and/or tax professional before implementing any strategy discussed herin.