I don't have much time to enjoy movies these days, so maybe some of you can share your opinions on the latest movie, Noah. Reviews have been fair - though I'm not quite sure how over two hours of storms can be all that entertaining.
Of course, we all know that there are valuable lessons behind the events that led to Noah's famous quest - on orders from God to build an enormous boat housing his family and masses of animals in order to protect themselves from an oncoming flood.
Remember, Noah had a warning and it was his mission to prepare for the tough times ahead. Similarly, investors can prepare for potential losses - those who have not dealt explicitly for the time when risk meets adversity will not succeed for long.
As Howard Marks (author of The Most Important Thing) said, "risk is the potential for loss when things go wrong." While Noah was building his ark, he was, in a sense, preparing for the inevitable risk of a catastrophic disaster. He was managing risk by spending countless days and nights building a vessel that would mitigate adverse weather conditions. As Howard Marks explains:
Risk-control is invisible in good times, but essential.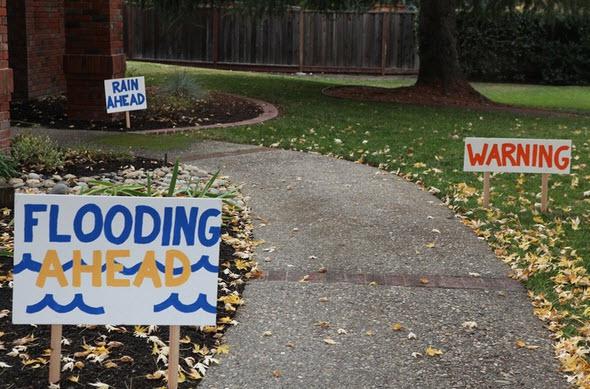 Realty Income: The Former CEO Shows Us The Blue Print For Repeatability
Last year Tom Lewis retired as CEO of Realty Income (NYSE:O). I had the pleasure of meeting Lewis around twenty years ago (when I was a real estate developer) - he has been an inspirational leader since the day we met. Lewis was replaced last year by veteran Investment Banker John Case.
One of the things that I'm going to miss about Lewis is his exceptional Letters to the shareholders. Much like Warren Buffett, Lewis had a true talent with communication and his letters were always filled with "traces of wisdom" that were both encouraging and thought provoking. I would always read the letters two or three times just to make sure that I didn't miss a "golden nugget" that could enable me to be a better investor.
Recently I pulled open a copy of Realty Income's 2011 Annual Report. Although Lewis has packed up his corner office (and is hopefully working on his putting game), I found some very useful content that could enable me (or you) to become a more skilled investor. As I said, Lewis crafted these words around three years ago, yet the language is more prophetic now. He explains:
One of the most important things to consider, as we think about the future, is what interest rates will do. Since 1982, interest rates have steadily declined, so the interest rate environment we have all grown accustomed to over the past thirty years, has represented an abnormally long period of affordable financing. As a result, an entire generation of people has been trained to embrace the notion that leverage and financial engineering almost always works.

Businesses maintaining high debt levels have been relatively unconcerned about their balance sheets because they believed they could always refinance, usually at lower interest rates. The risks associated with debt were generally ignored and companies that primarily used debt in their capital structure were considered to be financially savvy companies, and often succeeded even if they had a marginal business model.
I remember Lewis telling me the story out skiing three years ago. He reminded me how easy it is to ski downhill, but how difficult it is to climb back up the hill. His point being that anybody looks good when there is a lot of snow and you have velocity. Lewis continued:
An important byproduct of declining interest rates is that asset prices generally rise. This is because of an absolute low-priced debt capital is available to acquire assets, which pushes up asset prices as demand increases. As we've all observed, there seemed to be a nearly endless supply of money to finance asset purchases at interest rates that tended to only go down.
In the 2011 letter, Lewis provided the chart below. He explained that "debt was the savviest way to finance both business and personal asset purchases. However, no matter what we came to believe, the use of debt carries risk. And periods of prolonged low interest rates, like the period we're in right now, inevitably create economic imbalances that are often smoothed out by periods of adjustment that can be both prolonged and difficult. More importantly, the period of declining interest rates eventually ends and at some point rates starts to rise. At that point, in a highly leveraged society, the pain of higher rates can be significant."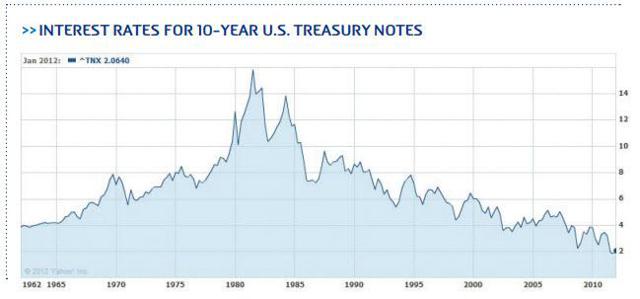 As I read over Lewis' words a few more times, it became clear to me that he was providing us (investors) with a blue print for the dividend ark. He was quite certain that intelligent investors could not succeed for long without addressing interest rate risk and he was preparing, in advance, for the potential for loss. Lewis asked the most important question:
So what does it mean for all of us if interest rates were to go up for some or all of the companies out there?
His reply:
It means that for companies with a lot of leverage, when they go to refinance their existing debt, it could be very painful and could remove a good deal of their cash flow to pay higher interest costs. Should this occur for some of our tenants it could make it harder for them to pay rent. It could also have an additional impact on consumer spending, should individuals have to pay meaningfully higher interest on their debts.

While neither the impact of a more muted retail environment, more competition for net leased-retail properties, or higher interest rates are a certainty, we believe that preparing for such events is very important so that we can control risks down the road.
As I said, Lewis wrote this letter three years ago. He pointed out that the most important aspect to investing is to successfully manage risk and to prepare for the storms ahead. He ended with an explanation of the "Noah rule":
It is not enough to know it is going to rain, you have to actually build the ark!
Realty Income: Is The Ark Prepared For The Storms?
As I said, Lewis is no longer steering the Ark and the 45-year old company is now being led by John Case. A few weeks ago, I was able to interview Case (on TheStreet) and you can watch that video HERE.
Outside of a new CEO, not much has changed at Realty Income. The company has a market capitalization of around $14 billion and is ranked the second largest Triple Net REIT, behind American Realty Capital Properties (ARCP).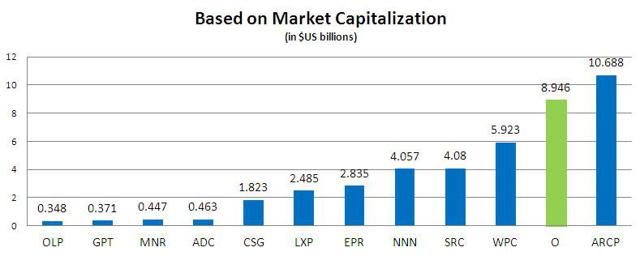 Based in San Diego, Realty Income owns 3,896 net-lease properties in 40 states and Puerto Rico.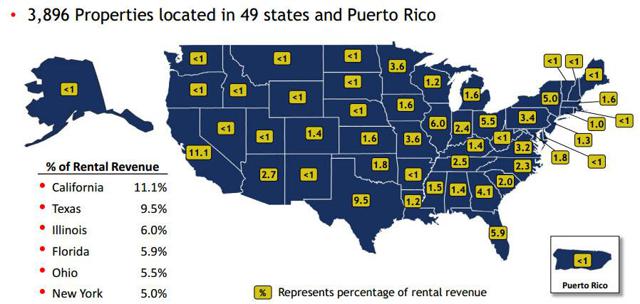 In line with Lewis' tenure, Realty Income continues to grow and diversify its portfolio. Today the company has 205 commercial tenants with no tenant representing more than 5.2% of rental income. The company's top 15 tenants represent 44.6% of total revenue and 40% of income is generated from investment-grade tenants.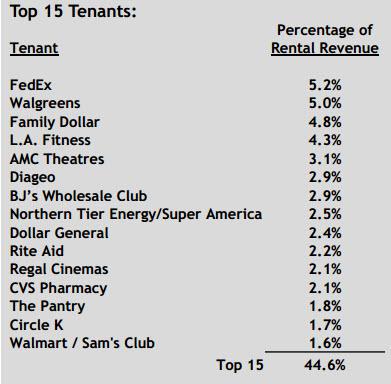 Realty Income has also increased its industry diversification by relying less on retail tenants. As noted above (in the 2011 letter), rising interest rates "could also have an additional impact on consumer spending, should individuals have to pay meaningfully higher interest on their debts."
That's precisely why Realty Income has been methodically pruning and rebalancing its portfolio, to be prepared for exposure to higher risk tenants and categories. Here is a snapshot of the Top 10 Industries (no industry represents more than 10.6% of rental revenue).

Over the last several years, Realty Income has been prudently balancing its portfolio to achieve maximum return while mitigating future risk. As evidenced by the last four years of acquisition history, Realty Income has executed a careful and methodical investment strategy.

In addition to acquiring one-off and smaller portfolios, Realty Income has also shown that it can successfully close a large scale M&A transaction - as in the American Realty Capital Trust deal that closed in January 2013.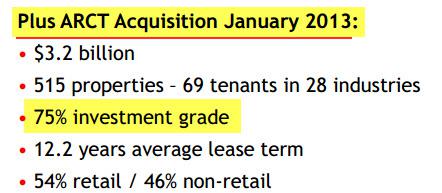 The blueprint for the "dividend ark" was well-planned as Realty Income was able to aggregate over $4.4 billion of investments in a three year period. Although the numbers were large, the company did not stray from the "quality-over-quantity" mission statement and objective to build out a blue chip investment vehicle. The investment strategy was no fluke as Lewis was, "preparing for such events… so that we can control risks down the road."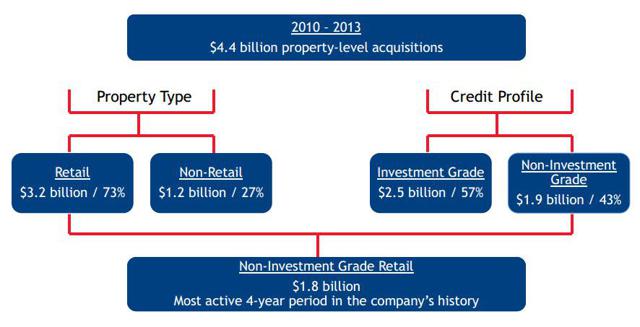 In a nutshell, Lewis was not actually building a new ark - we already know that Realty Income had survived almost 20 years as a public company while NEVER cutting a dividend. Instead, he was simply improving the vessel to function more like a battleship, prepared for the inevitable risks on the horizon. Although simplification of the strategy cannot be underestimated, the blueprint can be summed up as follows:

Although risk control is a never-ending endeavor, Realty Income has become a much more durable business model as the portfolio is well-positioned for the potential impact of rising rates. The company's current occupancy is 98.2% (and has never dropped below 96%) and the average remaining lease term is 10.8 years. Over 90% of the retail tenants offer a service, non-discretionary, and/or low price point component. Also, Realty Income owns around 15.6 million square feet of Industrial and Distribution space and a limited amount of Office space (3.1 million square feet).

Realty Income: A Fortress Balance Sheet
Realty Income is the only Triple Net REIT with a BBB+ or higher credit rating (S&P). The company has a fortress balance sheet that consists of $4.15 billion of debt, $629 million of preferred stock, and $7.8 billion of common stock. That translates into a Total Capitalization of $12.6 billion.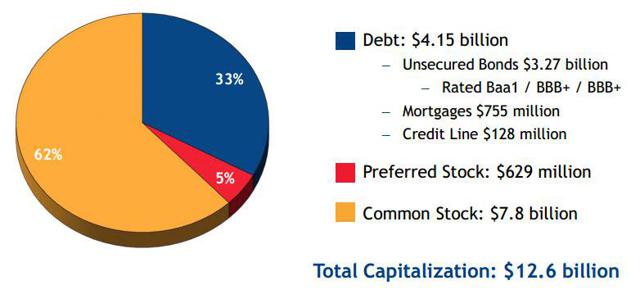 Recently Realty Income announced that in addition to the already upsized 12,000,000 share common stock offering, the company placed an additional 1,800,000 shares (purchased by the underwriters upon the exercise of their over-allotment option). The total shares sold in the offering was 13,800,000 shares, and the total net proceeds from the offering, after underwriting discounts and offering expenses payable by the company, is approximately $528.5 million.
The purpose for the secondary offering was to replenish the credit facility and by issuing equity, the company was able to reduce the revolver so $1.5 billion was available for new investments.
One essential element for Realty Income's battleship blueprint has been to match fund its investments with its long-term liabilities. As noted above, the company has an average lease term duration of over 10 years and the company has an average maturity of unsecured debt of 8 years. With the exception of short-term facility borrowings, Realty Income also has 100% fixed rate debt (with a weighted average rate of 4.9%).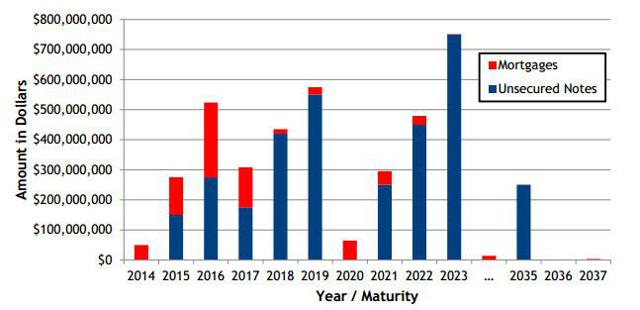 Other critical capital metrics include Debt/EBITDA coverage of 6.1x, Interest Coverage of 3.6x, and Fixed Charge Coverage of 3.0x. The company has just 18.77% in secured debt (only due to assumptions).

Realty Income's recurring revenue stream is around $819 million with free cash flow of over $75 million per year. As evidenced by the FAST Graph below, Realty Income has established a stalwart record of consistency and a brand marked by dividend repeatability.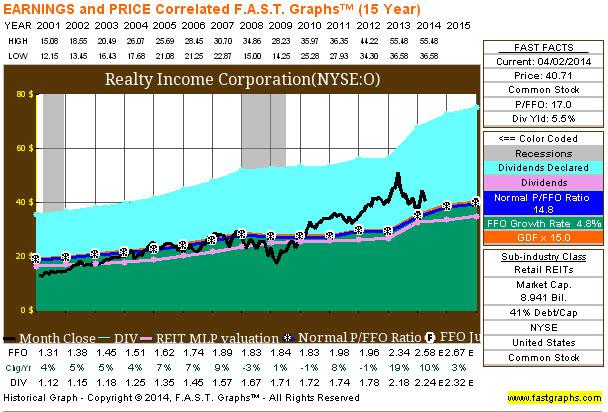 Soon to be included as a "Dividend Aristocrat", Realty Income has enjoyed 74 dividend increases since going public (in 1994) and 65 quarterly increases. The company has declared 521 consecutive monthly dividends.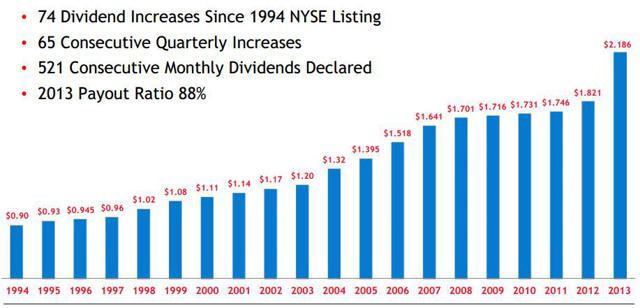 Realty Income increased its annual dividend by over 20% in 2013 and the company's three year average dividend increase has been over 8%. The payout ratio is around 85%.

Realty Income: Is The Ark Safe?
As illustrated below, Realty Income had a record year with FFO per share increase (year-over-year) of 19.3% and AFFO of 17%. As noted above, the dividend increased by 21.2%.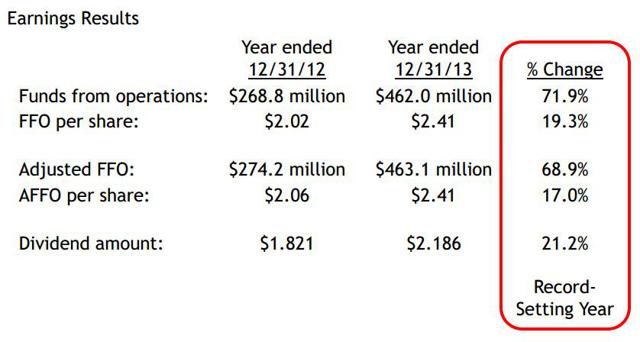 In 2014 Realty Income expects to acquire another $1.2 billion and the estimated FFO growth is between 5% and 7%. This is nothing new as Realty Income has demonstrated that it can easily and successfully close $1 billion+ a year and the company has knocked down around 40% of that goal by closing around $500 million (84 single-tenant assets) of deals purchased from Inland Diversified.

Remember that Lewis was aiming his message (in the 2011 Letter) around "periods of declining interest rates" which "eventually ends" and as "rates starts to rise, in a highly leveraged society, the pain of higher rates can be significant."
So what is the risk related to "The Monthly Dividend Company"? Can the company take a tough economic punch and keep on paying AND increasing dividends? To better answer that, let's take a look at the current dividend.
Realty Income is currently paying out a dividend yield of 5.42%. Here is the peer comparison:

So, as you can see, there are a variety of Triple Net REITs that pay out varying dividends. Realty Income is not the highest or the lowest paying company; however, given the overall composition, I consider Realty Income's dividend to be one of the safest.
Conversely, American Realty Capital Properties pays out the highest dividend. Although, this REIT does not have the same track record as Realty Income, the portfolio is very similar with around 50% of investment grade rated assets.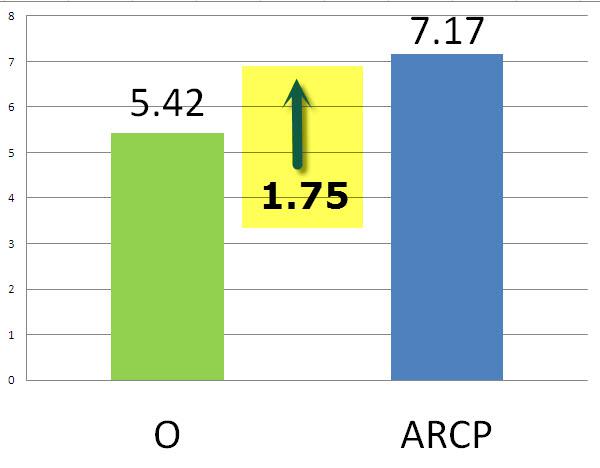 So what is the difference?
That's simple: R-I-S-K
Mr. Market can see that Realty Income has built a durable ark that's prepared for the rough weather ahead. The company's current valuation is 15.7x P/FFO and that's in line with the peer group. Conversely, American Realty Capital Properties does not have the same blueprint and therefore, Mr. Market considers the fleet less prepared.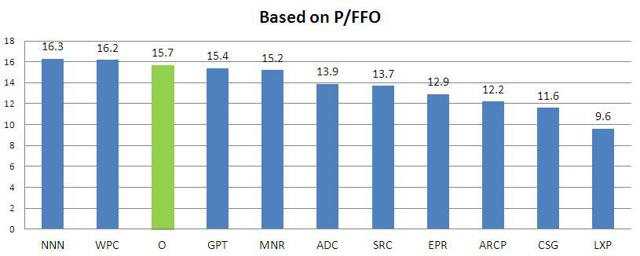 There are significant fundamental differences in these two REITs:
(1) Execution Risk: It took just over two years for ARCP to grow from a $100 million REIT into a $20+ billion REIT. When you grow and absorb such a large company quickly, there is inherent integration risk. Simply put, there's still very little track record.
(2) Leverage Risk: Although ARCP has done a fantastic job balancing its debt levels, the company still has considerable short-term debt and that strategy is not as safe as Realty Income's match-fund model. When a company has more floating rate debt, it opens up a new element of risk. As Lewis observed (3 years ago), the consensus view is that rates will tick up and that could impact cash flows for all companies with floating debt.
(3) Office Risk: ARCP has considerable more office product than Realty Income. When office tenants move out, owning office space is more costly and time consuming. Again, this is another element of risk.
(4) Untested Private Capital Risk: ARCP owns a private capital business that generates fees in the form of non-traded REIT investments. There are just a handful of REITs that operate this type of business model and although it has been highly successful (non-traded REITs closed almost $20 billion in 2013), the valuations are complicated. There's also a conflict of interest risk whereby some of the Non-listed REITs compete directly with the traded ones. Conclusively, this is an evolutionary model and not "time tested".
So when you compare Realty Income to ARCP (or any other REIT), you must ask yourself if the ark is built to be sturdy, reliable, and dependable. It's one thing to get in a speed boat that will get you to Costa Rica quickly and it's another thing to get in a battleship that will get you to another country. I think that's precisely what Lewis was pointing out 3 years ago. Risk is often in the price you pay, not the stock itself. I often tell people that difference between a fairly valued stock and a cheaply valued stock is nothing but insurance.
Wikipedia defines Risk Premium as "the minimum amount of money by which the expected return on a risky asset must exceed the known return on a risk-free asset, or the expected return on a less risky asset, in order to induce an individual to hold the risky asset rather than the risk-free asset. Thus it is the minimum willingness to accept compensation for the risk."
I own shares in Realty Income and American Realty Capital Properties. I have researched both companies in great detail and interviewed the management teams of both REITs. I am unwilling to add more exposure in ARCP until I see the risk moving down (see my article on the ARCenter spinoff HERE). Conversely, I am willing to increase my concentration in Realty Income as I believe that Mr. Market has not given "The Monthly Dividend Company" credit for the extraordinary strides it has made to become a fortress vessel that started over a decade ago.
You cannot escape risk. All you can do is prepare and manage for it. At $40.40, I consider Realty Income to be a soundly valued REIT. The shares are much safer today than they were back in May (at $55), and in my opinion, Realty Income has done an extraordinary job at managing the portfolio and balance sheet level risks. It's easy for me to "sleep well at night" when I know that my principal is safe and my dividends are working for me when I'm sound asleep. As Howard Marks explains:
When you boil it all down, it's the investor's job to intelligently bear risk for profit. Doing it well is what separates the best from the rest.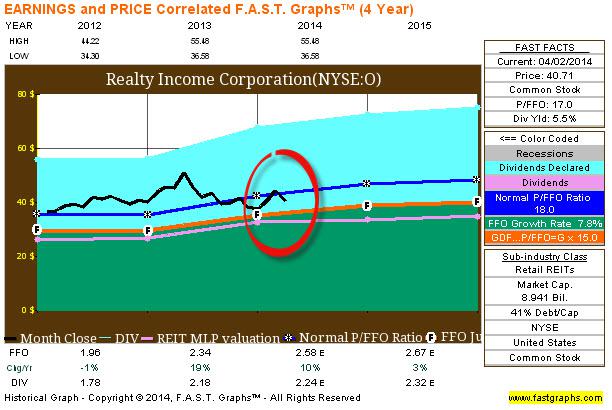 For more information on my "sleep well at night" ("SWAN") REIT picks, check out my newsletter HERE.
Other REITs mentioned: (NYSE:GPT), (NYSE:NNN), (NYSE:WPC), (NYSE:ADC), (NYSE:CSG), (NYSE:LXP), (NYSE:SRC), (NYSE:OLP), and (NYSE:MNR).
Sources: SNL Financial, FAST Graphs, and Realty Income Presentation.
Disclaimer: This article is intended to provide information to interested parties. As I have no knowledge of individual investor circumstances, goals, and/or portfolio concentration or diversification, readers are expected to complete their own due diligence before purchasing any stocks mentioned or recommended.
Disclosure: I am long O, DLR, VTR, HTA, STAG, UMH, CSG, GPT, ARCP, ROIC, MPW, HCN, OHI, LXP, KIM. I wrote this article myself, and it expresses my own opinions. I am not receiving compensation for it (other than from Seeking Alpha). I have no business relationship with any company whose stock is mentioned in this article.