Anyone looking at the performance of the Kinder Morgan group, Kinder Morgan Energy Partners (NYSE:KMP), Kinder Morgan Inc. (NYSE:KMI) and Kinder Morgan Management (NYSE:KMR), can tell you that these stocks have had a rough time. While Kinder Morgan has performed well recently, even reaffirming its guidance, critics of the company still point towards growth concerns and uneasiness regarding IDR payments to Kinder Morgan Inc.
A look at Credit Suisse's restructuring proposal
On April 3, a Credit Suisse analyst team led by John Edwards put out a note detailing why it thinks Kinder Morgan should undergo a restructuring or elimination of its IDR payments structure. The firm highlighted that IDR payments have become a major concern for Kinder Morgan, with some shareholders even claiming that they amount to improper distributions of profits.
In addition, it has been argued that IDR payments may be increasing Kinder Morgan's overall cost of capital, with the MLP forced to hand over half of its incremental distributable cash flow ("DCF") increases to the GP. This somewhat limits the potential capital projects available and may be forcing the company to seek out higher-risk investments to eke out some growth.
As a solution, the Credit Suisse team mentioned three possible solutions to the IDR problem:
(1) Using KMP units and EPB units to simply eliminate the IDR burden from both entities while allowing KMI to continue as an entity. This would be analogous to a LNCO/LINE structure. This option appears to be doable with modest leverage applied (i.e. ~10-15%) and assuming some support from Mr. Kinder initially and flexibility to move the cash flows between entities.

(2) Using KMP units to buy out KMI altogether.

(3) Using KMP units to reset the IDRs.
Let me start by saying that issuing KMP units to reset the IDRs lower (solution 3) seems highly unlikely, as that would only be a short-term fix. If Kinder Morgan is going to solve the problem, it will need to either have KMP buyout KMI outright (solution 2) or have KMP buyout only the IDR burden from KMI (solution 1).
Let us take a closer look at solution 1. If KMP were to buyout only the IDR burden (this means the GP interest), this will result in a rather lackluster rump KMI.
In all honesty, I cannot see anyone wanting to own KMI shares without the GP interest in KMP, given that this has been the driver of substantially all the earnings growth for the company.
Trading the GP interest for an increase limited partner stake may also bring up some nasty tax concerns as well as weaken the ability to independently set the dividend policy. KMI's dividend growth rate would be set pretty much be equal to KMP's, or in other words, lower than current levels.
Let us also not bring up the issue as to how to value KMP's GP stake by itself. In addition, how much of KMI's valuation is based on expected future IDR payments from KMP compared to its other assets.
Therefore, I think that the most likely solution is via KMP buying KMI (solution 2).
Depending on how the transaction is structured, KMI shareholders could receive cash, KMP units, KMR shares, or some other combination of the three.
Any such transaction is likely to be very dilutive for KMP unitholders short term. However, in the long term, the transaction should become accretive as the combined company would be able to retain 100% of its incremental cash flows. Furthermore, Credit Suisse noted that this move would allow Kinder Morgan to trade back towards its previous $90 level.
As seen in the case of Enterprise Products Partners (NYSE:EPD), which actually bought out its GP a few years back, investors will pay up for MLPs without IDR burdens. As of this writing, EPD is trading at a 25x multiple to DCF, compared to under 14.0x for KMP.
Kinder Morgan's current structure is too complicated and needs to be streamlined
Finally, I believe Kinder Morgan stands to benefit greatly if it can somehow streamline its corporate structure. When including El Paso Pipeline (NYSE:EPB), the Kinder Morgan group consists of four separate stocks, each which different levels of growth, different sources of income (cash dividends, cash distributions, stock dividends), and various levels of risk. For the average investor, this structure is way too complicated.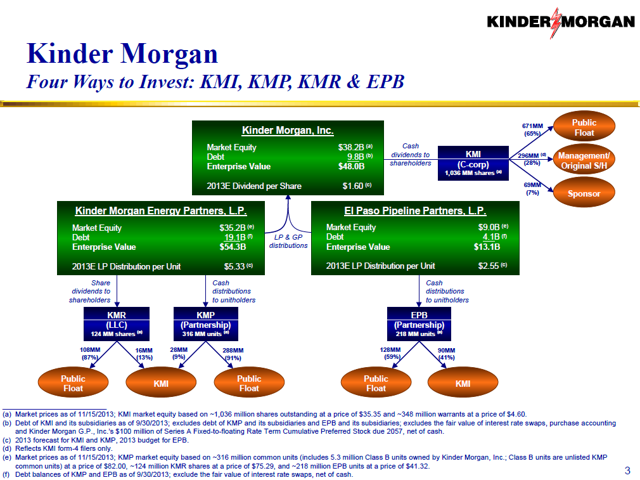 Conclusion
Overall, I think Credit Suisse is right. Kinder Morgan needs to eventually merge at the very least KMI with KMP. However, there is no need to rush into it. Many of the "distractions" facing Kinder Morgan have been caused by questionable actors with dubious motives. Even if a merger were announced, the stocks may very well continue to face pressure.
Furthermore, as I noted in my recent article, long-term investors should focus on Kinder Morgan's actual results and ignore the day-to-day turmoil, especially with US production of oil and gas surging.
Disclaimer: The opinions in this article are for informational purposes only and should not be construed as a recommendation to buy or sell the stocks mentioned. Please do your own due diligence before making any investment decision.
Disclosure: I am long KMI. I wrote this article myself, and it expresses my own opinions. I am not receiving compensation for it (other than from Seeking Alpha). I have no business relationship with any company whose stock is mentioned in this article.