In addition to unveiling the Intel Edison wearable computer last January, Intel (NASDAQ:INTC) also revealed a prototype smartwatch. Brian Krzanich, Intel CEO, said Intel is working hard to produce the said smartwatch which has geofencing and integrated connectivity. The Intel SmartWatch's geofencing feature lets the wearer receive location-based notifications.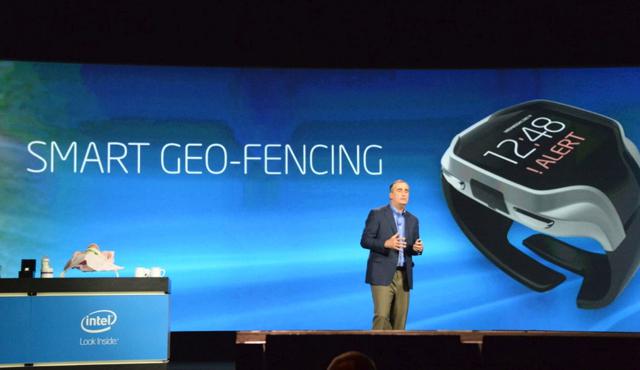 Click to enlarge
Photo Courtesy of The Verge
The smartwatch business is a new growth industry with heavyweight like Samsung (OTC:SSNLF) and Sony (NYSE:SNE) already marketing their smartwatch products. The smartwatch is on the spotlight this year because KickStarter-funded Pebble startup sold more than 400,000 smartwatches last year. Pebble's 2013 sales was 60 million and the company is expecting to double its revenue this year.
The Pebble Steel is already getting rave reviews for its low price ($249), premium materials, and compatibility with both iOS and Android platforms. The Pebble app ecosystem is also robust with many developers producing apps optimized for the small display of Pebble smartwatches.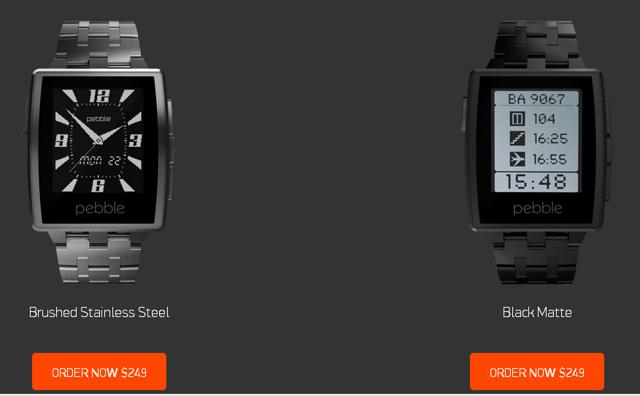 Click to enlarge
Courtesy of Pebble
Success Breeds Envy
The success of Pebble has made the smartwatch 2014's best new break out tech product. Envious firms are now working hard to make sure that they can also sell 800,000 smartwatches this year. Samsung recently rebooted its Gear smartwatch. The Samsung Gear 2 now runs on Tizen OS and it will retail for $295 starting this month.
Intel, faced by the rapid success of Pebble, wasted no time and bought health tracker watch maker Basis Science. The $100 million purchase gives Intel immediate entry into the health-monitoring wearables business. Basis Science's IP solidifies Intel's grand masterplan to dominate the Internet of Things and wearables.
Basis Science sells a health tracking smartwatch for $199. It's a Fitness Tracker watch that functions as a heart-rate monitor, pedometer, sleep pattern monitor, and calorie tracker. The watch also looks great, white and reminiscent of Apple-like white Zen-design aesthetics.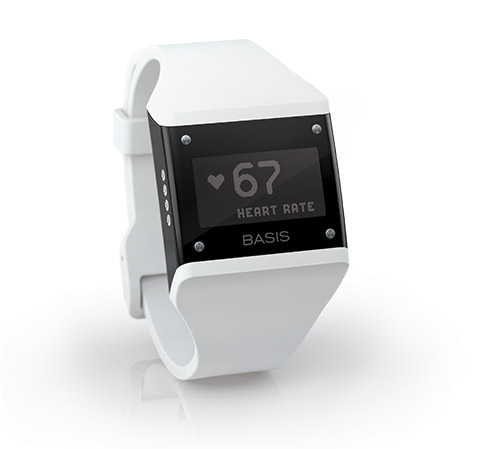 Source: Basis Science
Intel Can Improve the Basis Science Watch
Intel's $100 million gives the company Basis Science's 7% market share for health monitoring wearables. But with the mighty resources and global reach of Intel, the Basis health tracking smartwatch should reach more customers. Knowing Intel's penchant for using contra revenue to smother the competition, the $199 price of the Basis watch might even go lower.
With Intel's fat R&D budget, Basis Science can further tweak the watch to include more health monitoring options. Like millions of people around the world, I suffer from obstructive sleep apnea (OSA). The Basis watch's sleep pattern monitoring should get upgraded with better sensors to prevent sleep apnea-related deaths.
I can sleep without my CPAP machine now because I had surgery in Karlsruhe, Germany in 2009. However, I still do suffer from obstructive sleep apnea episodes - like waking-up in the middle of the night with a big snorting sound because I stopped breathing. I would like a watch I can wear while I sleep which will wake me up before I go to full no-breathing OSA state.
Health-Monitoring Wearables Has Big Business Potential
I would rather buy a $199 Intel smartwatch which can detect obstructive sleep apnea episodes than spend $3,000 to get a jaw-repositioning surgery. Intel can make a bundle of money selling a smartwatch that monitors and prevents sleep apnea attacks. Sleep apnea affects as high as 24% of men and 9% of women in the United States. Ten million smartwatch sales is not hard to imagine for Intel just catering to OSA sufferers.
Obstructive sleep apnea is just one illness that a health monitoring watch can address. There are a lot more applications. Apple is working hard to come up with a smartwatch too and I'm sure it's also geared toward health and fitness monitoring.
Conclusion
I'm not a real financial analyst but I'm upgrading INTC to a Strong BUY. Intel has the early bird advantage now against Apple (NASDAQ:AAPL) or Google (NASDAQ:GOOG). The Basis Science watch and the included IP assets gives Intel a strong chance to lead in health-related smart wearables.
With Tim Cook busy fighting off climate change skeptics, Apple might not release the iWatch this year. Intel should take this opportunity to improve Basis Science's watch. It looks like Jonathan Ive designed it, even the iLoyalists will be tempted to buy the Intel health tracking smartwatch.
I also hope that Intel will continue working on its original connected and geofencing watch design. There's a market for high-tech James Bond-type watches like the Pebble Steel and Samsung Gear 2. Smartwatches should not be confined to health applications but should also be fashionable. Intel should learn from MetaWatch, that startup is making a smartwatch with Italian high-fashion aesthetics.

Click to enlarge
Disclosure: I am long INTC, AAPL. I wrote this article myself, and it expresses my own opinions. I am not receiving compensation for it (other than from Seeking Alpha). I have no business relationship with any company whose stock is mentioned in this article.