The Federal Reserve (FED) rejected Citigroup's (NYSE:C) plans to manage its capital payout or in other terms blocked the bank from raising its dividends and share repurchase program authorization. This is the second time in three years that the Federal Reserve has rejected Citigroup's shareholder payout plans and this caused an embarrassing blow for the company. The market was not ready for the shock and after the CCAR announcement Citigroup's stock fell by more than 5% in afterhours trading. The purpose of this article is to evaluate the impact of this event on investors.
What Does the Failing CCAR Mean For Citigroup?
The Federal Reserve released its comprehensive capital analysis and review (CCAR) by the end of March 2014. This test assesses the capital adequacy of large, complex US bank holdings (BHCs) and their practices involved in capital management. This process is meant to ensure that companies can withstand economic and financial crises and have sufficient capital planning processes to counter their respective risks. Citigroup was one of the 5 unfortunate companies that failed the Federal Reserve stress test. Citigroup had passed the quantitative round of the CCAR whose results were announced earlier and according to the results, the company exceeded the minimum capital requirement. It had a 6.5 percent Tier 1 common ratio above the Federal Reserve's 5% minimum threshold. Citigroup had exceeded not only the Federal Reserve's minimum requirements but also many of rival banks and financial institutions.

Source: Federal Reserve
The Federal Reserve refused to approve Citigroup's shareholder payout plan because of control issues in the qualitative trial. The Federal Reserve describes its reason for rejecting Citigroup's specific capital plan in following words:
"While Citigroup has made considerable progress in improving its general risk-management and control practices over the past several years its2014 capital plan reflected a number of deficiencies in its capital planning practices including some areas that had been previously identified by supervisors as requiring attention but for which there was not sufficient improvement."
The Federal Reserve mentioned that irregularities and inconsistencies in the company's controls alone were not sufficient enough to warrant a rejection but when seen in aggregate they are critical enough to warrant an objection. However, the Federal Reserve didn't specifically point out the fraud in Citigroup's Mexican unit (as discussed in my previous article) but indirectly pointed out the fact that the event also played a critical role in the financial institution's notoriety. Fraud at the company's Mexican unit had cost the firm $235 million after tax and $0.08 in per share earnings. However, a comprehensive review revealed no other such mishap across the board for the company and indicates that Citigroup is not that unsafe as portrayed by the Federal Reserve. The response from the CEO of Citigroup, Mike Corbat, shows that although management is extremely disappointed by the Federal Reserve's decision, it will work closely with the Federal Reserve in order to better understand their concerns and satisfy their expectations.
The Federal Reserve approved capital plans for 25 other banks including Bank of America (NYSE:BAC) and Goldman Sachs (NYSE:GS). According to Bloomberg, both the Financial Institutions would have probably failed the quantitative trial of CCAR as their capital plans seemed aggressive to the Federal Reserve. To pass the CCAR, FED allowed them to resubmit a less aggressive version of their capital plans. Unfortunately, Citigroup was not awarded that relaxed option. However, Citigroup can resubmit its plans after it fully incorporates control measures into its operations to satisfy the Federal Reserve's stringent quality control requirements. This rejection is something that can be perceived as another wakeup call for the company and investors should expect specific improvements in the firm's risk controls in the latest quarter results to be announced by mid-April.
Investor's Perspective
For investors the rejection is undoubtedly bad news as the company will now be unable to raise its dividends or share repurchase program authorization. Also the news has depressed the stock price further and it has decline by almost 5% in afterhours trading. Moreover Citigroup will be following the limits it has been allowed regarding shareholders' payout according to which the firm is eligible to pay its shareholders a quarterly dividend of $0.01 and repurchase shares of worth $1.2 billion by the first quarter of 2015. The capital action requested by Citigroup included a $6.4 billion common stock repurchase program and an increase of the quarterly dividend to $0.05. Collectively Citigroup had requested a shareholders' payout plan of almost $7 billion that does not seem very aggressive keeping in mind the company's key capital metrics (see graph below).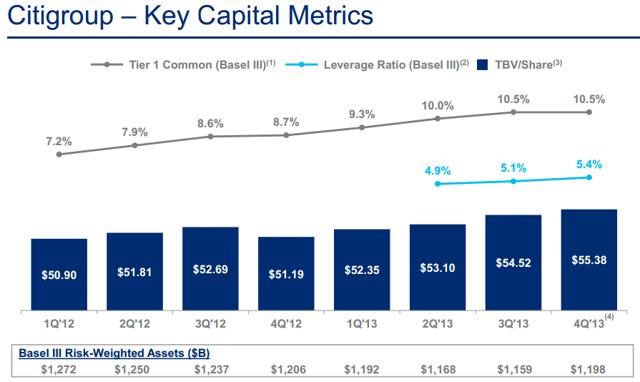 Source: Citigroup Presentation
Moreover at its current price of $50.16 Citigroup's stock is trading at a cheaper price at an almost 10% discount to its tangible book value per share. At its current price levels it is trading at just 8.8X of its 2015 earnings.
Bottom Line
With the US and European economic recovery, banks and other financial institutions are on the verge of rising again after the financial crisis of 2008-09. Citigroup has been working towards cutting risky assets at its Citi Holdings unit and eventually has bolstered its capital position. Moreover, this stock is trading at a deep discount to its book value and tangible book value per share and that makes it an attractive investment for contrarian investors that aim to buy low and sell high. Therefore in my opinion, the current stock price dip should be seen as an attractive opportunity to enter the stock.
Disclosure: I have no positions in any stocks mentioned, and no plans to initiate any positions within the next 72 hours.
Business relationship disclosure: The article has been written by a Gemstone Equity Research research analyst. Gemstone Equity Research is not receiving compensation for it (other than from Seeking Alpha). Gemstone Equity Research has no business relationship with any company whose stock is mentioned in this article.