The Next Chapter For Questcor: Continued Prosperity Or Regulatory Brick Wall?
Questcor (QCOR) has been the subject of a bit of controversy, as Citron Research has come out this year and claimed that the company is not only selling a different product than the one that's on its label, but the company is selling a diluted version of it, as well.
The silence over the better part of the last month, since Questcor's response to Citron, has been deafening. It certainly hasn't happened the way that I thought it would, which would have included a definite response from Questcor to Citron's amended allegation that the company is selling a diluted drug from what's on the label. That's an allegation that, if true, has the potential to yield serious consequences.
Here's a small update to get you up to speed.
2/18/14 - This was my article, reminding investors that even though Questor was rocketing up towards $80, that major risk remained.
2/27/14 - This was Citron's report last month, first looking into the chemical composition of Acthar, claiming it wasn't purified ACTH.
3/3/14 - This was Questcor's response, acknowledging that Acthar is really "deamidated porcine corticotropin" and that is the amino sequence laid out on the label. It's the last we've heard from the company regarding this situation.
3/14/14 - This was Citron's last report, claiming that not only does it not appear to be "deamidated porcine corticotropin" as we know it today in the label's amino sequence, but the concentration of the drug is 20% of the label specification.
3/14/14 - This was my thoughts on the situation, and whether or not it was more of a chemistry issue, labeling issue, or concentration issue.
3/19/14 - This was my article stressing the importance of the dilution issue and questioning why the company hasn't responded to it.
But, nothing has happened since then, and it appears to be business as usual at Questcor. The company's stock has done well, pulling itself out of the $60 muck and starting on its way back up to the pre-allegation levels.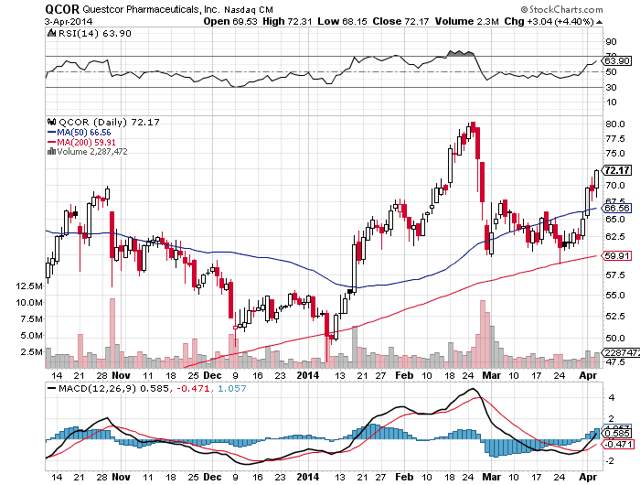 The market has such a short memory sometimes. In an effort to continue to wrap my head around the situation, I went back to look at what we know about this whole situation, and if risk still remains. I contend that Questcor, even at the low multiple it's at now, holds too much risk to be an investment vehicle at this point.
And, again - because I know the longs will bring it up - this is in no way an attack at Questcor's financials. The company has done financially well, has made money for its shareholders, and continues to trade at a very attractive valuation compared to peers in the same sector. The reasoning for that likely continues to be the looming questions hanging over the head of the company.
What we know for sure: Questcor admits that they are selling deamidated porcine corticotropin and claims that Citron's lab results are correct in their 8-K: "Therefore, what the short sellers' research firm claims to have found appears to be consistent with what is specified on the FDA-approved Acthar package insert."
This means that Questcor is betting that no one will find label issues with selling a product called "highly purified" Acthar gel that isn't highly purified, and doesn't have any ACTH in it - fine.
What we know for sure: The FDA is reviewing the Citron backed lab test results. The FDA has not acted.
Questcor longs are basing their argument - and their entire investment - on the fact that the FDA hasn't stepped in and done anything yet. As with the case of Herbalife, I'm quick to point out that regulators - when they do act - move slowly, methodically, and clinically. They need to build a case, they need to make it iron-clad, and then they worry about executing it.
What we know for sure: If Citron's lab results are correct, as the company has backhandedly acknowledged, Questcor is seemingly selling a diluted product.
This is the big one. If true, and if it can be proven that the company knows about this, there's going to be serious liability to go around, and we'd be looking at potentially one of the biggest placebo stories in history. Sure, it sounds like a long-shot, but when you connect the dots of the Citron reports with what Questcor has admitted, you can almost draw a straight line here. Almost.
Investment Thesis - Significant Risk Still Exists
Yes, I know Questcor is rallying, and yes, it's tempting to get in on that momentum. But, why put your money in a vehicle with so much risk when there are plenty of other stocks on the big board without these looming questions?
It will be interesting to see what the next move is in the Questcor saga - will Citron fire back? Will Questcor produce some type of response or go about business as usual. Will the FDA eventually exonerate the company? Also, what will be the results of the company's other regulatory investigations that are pending?
As an investment vehicle, I continue to contend that Questcor is a major risk. As a saga, it's going to continue to be one to watch for those that love the drama.
Best of luck to all investors.
Disclosure: I am short QCOR. I wrote this article myself, and it expresses my own opinions. I am not receiving compensation for it (other than from Seeking Alpha). I have no business relationship with any company whose stock is mentioned in this article.