Connecting the Dots: The Iconic Coca-Cola is a sell at $38
Introduction
With 4.4 billion shares outstanding, a current market capitalization of approximately $167.2 billion based on its April 3, 2014 closing price, Coca-Cola (NYSE:KO) is one of the most widely held stocks and most iconic global consumer product brands. This is a streamlined research piece as the vast majority of people on the planet have consumed one of Coke's beverages and there are currently 24 sell side analysts covering its financial performance along with publishing research on the company. This includes the Tier 1 sell side shops, which can devote significant resources towards covering Coca-Cola shares. If you want a fifty page research report containing Coca-Cola's history since its founding in 1886, I would contact your broker or financial advisor.
Thesis
In today's low interest rate environment, many investors are forced to purchase equity in the large stable Fortune Fifty companies, such as Coca-Cola with its 3.2% dividend as it's hard to generate income from fixed income securities due to the tight credit spreads and the currently historically low U.S. Treasury bond yields. Given this dynamic and that investors need dividend income to live off, U.S. large capitalization stocks that have the magic dividend yields of at least 3% have been good places to hide since the 2008 - 2009 market crash. Although, I'm not arguing Coca-Cola isn't one of the most valuable, widely known and best marketed brands on the planet, I think its stock is overvalued. Specifically, I think its shares are 10% - 20% overvalued from its current price of $38 based on the four bullet points highlighted at the beginning of this concise write up.
In fact, I'm a bit puzzled at how slowly the market has digested the recent data that clearly states that the U.S. soda business is in secular decline. Moreover, consumers are wisely noticing the concerning empirical science indicating diet soda may cause serious health issues. Unlike tobacco, which is highly addictive, it's relatively painless to switch away from diet sodas given the plethora of consumer beverage selection and soda's stale and stodgy image (think Starbucks vs. Coca-Cola). In fact there was, and continues to be, behavioral confusion exhibited by some consumers that falsely associate zero calories with healthy. In fact, the American College of Cardiology's recent research study concludes that women who consume two or more diet sodas daily are 50% more likely to die of cardiovascular disease. This isn't conjecture on my part and I'm not trying to be alarmist, but this is a major PR and marketing nightmare for the producers of diet soda beverages. Given the viral nature of information sharing and negative health consequences, this may only continue to accelerate the downward trajectory of diet soda sales, thus negatively impacting Coca-Cola's revenue, which actually declined in YOY from 2013 to 2012.

Source: Coca-Cola's 2013 10-K
Here is a snapshot of Coke's revenue and gross margin and operating income from its income statement, taken directly from its 10-K. As you can clearly see, top line revenue declined over 2% and operating income dropped as well. Therefore, since Coca-Cola is a pure play non-alcoholic beverage company with impressive global reach, I would argue it's the most vulnerable as it doesn't have a snack business, like its competitor PepsiCo (NYSE:PEP) to diversify its revenue streams. Moreover, Coca-Cola's Powerade and Vitamin Water brands aren't nearly as popular as Pepsi's crown jewel Gatorade. According to Forbes, Gatorade commands 46% of the global sports drink market. In 2012, Gatorade's U.S. market share was 75% vs. Coke's 20% from its Powerade brand.
Valuation
Coca-Cola's market capitalization is $167 billion, with an enterprise value of about $169 billion as it has $17 billion on its balance sheet in cash, but $19 billion in long term debt. As of yesterday, current consensus EPS numbers for FY14 are $2.09 per share and top line revenue is forecasted at $46.81 billion.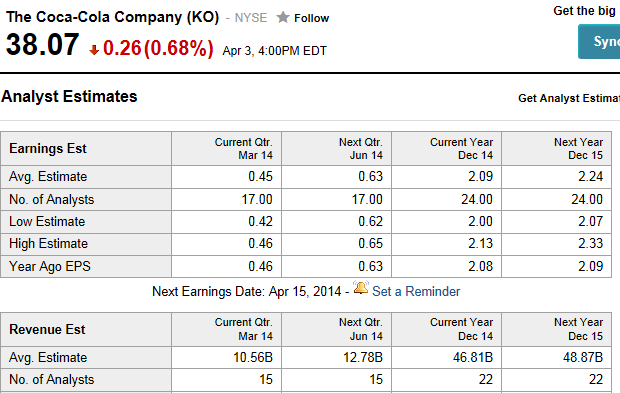 Source: Yahoo! Finance
This would represent zero revenue growth YOY and modest earnings growth from share buybacks and cost controls. However, I have no idea why the market is valuing Coca-Cola at 18X this year's FY2014 expected earnings for a company that hasn't meaningfully grown revenue for at least three years. So, despite the share buybacks and relatively attractive dividend, I would argue at the 20,000 foot level, consensus estimates are too high, especially given the secular decline in soda consumption patterns and the negative healthy findings from empirical evidence that will not arrest the decline in Diet Coke's volume slide. Moreover, I haven't even mentioned former Mayor Bloomberg's crusade to ban soda from schools as well as the low probability threat of potential legislation that would try to tax soda companies for the high calorie count and zero positive nutritional benefits associated with their products. For these reasons described above, I would strongly suggest that investors should consider selling their shares of Coca-Cola and find greener, more stable dividend pastures where there aren't as many secular headwinds for the company's major product lines. Remember, when a stock trades at a premium to the S&P 500 earnings multiple and you miss consensus earnings, a 3% dividend yield will not protect investors.
Sources
Disclosure: I have no positions in any stocks mentioned, and no plans to initiate any positions within the next 72 hours. I wrote this article myself, and it expresses my own opinions. I am not receiving compensation for it (other than from Seeking Alpha). I have no business relationship with any company whose stock is mentioned in this article.