Jobs March Forward
March 2014 saw the US economy add a net 192,000 new non-farm payrolls. March net payroll growth was slightly above the 12-month average of 183,000 net new payrolls per month. The broad U-3 unemployment rate remained stuck at 6.7% in March. Revisions of previous months indicate that there has been greater strength in the labor markets in 2014 than previously reported. January jobs were revised up by 15,000 jobs to 144,000 and February was revised up by 24,000 jobs to 197,000 net new jobs. The average workweek also increased and this is a positive development and indicator. On the negative side, we continue to see no wage growth and new jobs are being created lower wage areas.
On April 01, 2014 the Bureau of Labor Statistics released the Occupational Employment and Wage Summary. This research makes clear a serious drag in the economy arising from the employment situation. This drag is not captured in, or widely reported in, the discussion and attention paid to payrolls and unemployment rates each month. Employment rates and new jobs are powerful and important indicators. The type, pay, quality and benefits associated with the jobs we create and lose have enormous importance. These types of data are poorly captured in BLS payroll data.
Over the last few years, we have alternated between no job growth and growth in lower pay and lower benefit employment. Periodic occupational research is valuable in understanding what kind of wage, benefit and employment security we are offering to people in our labor force.
Most of the largest occupations were relatively low paying. Of the 10 largest occupations, only registered nurses, with an annual mean wage of $68,910, had an average wage above the U.S. all-occupations mean of $22.33 per hour or $46,440 annually. Annual mean wages for the rest of the 10 largest occupations ranged from $18,880 for combined food preparation and serving workers to $34,000 for secretaries and administrative assistants, except legal, medical, and executive.
BLS Occupational Employment and Wage Summary April 01, 2014
Above and beyond the payroll numbers and unemployment rates are the lived reality of the 93.7% of people in the labor force who are working. These folks saw a decline in their wages, unadjusted for inflation, in March 2014. Average hourly wages fell by $.02 in March to $20.47. Additionally, the jobs we have created nearly uniformly pay less than the jobs we have lost since 2008. The benefits associated with jobs lost tend also to be more generous than the benefits associated with the jobs created. An example is the continued and significant net decline in government employment.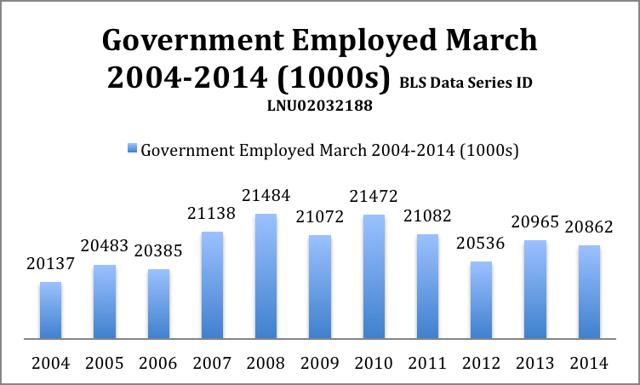 We are poised to march into interest rate normalization. After years of well below average and stimulatory interest rates and monetary policy, we are moving back toward a new interest rate normal. This will act as a drag on growth until the economy adjusts to the new normal and sustainable, albeit higher, average interest rates. We see this expectation pushing some trepidation in the housing markets and sending companies into the bond markets to strike while the rates are low.
The US economy continues to be weak at creating good jobs and wage growth. This pattern is now 5 years old and having real impacts on markets, perceptions of economic strength and political anger. Additionally, we expect profit and revenue growth deceleration. Thus, we are cheered to see better job growth, announced and revised. We expect pressure on wages to rise to extend beyond the present activity around raising minimum wage.
Global political risk has returned. Recent tumult in Ukraine, Thailand, Venezuela and a slowing China has sent risk capital and money heading to the US. Thusly, we got an extension in our equity market outperformance. We see this is challenged by our weak wage growth and average quality of jobs created. We see the near future as defined by flat growth in corporate profits with pressure on multiples in riskier assets with higher multiples.
It is long time for this "recovery" to create more jobs of higher quality and wages before the recovery has run its course.
Disclosure: I have no positions in any stocks mentioned, and no plans to initiate any positions within the next 72 hours. I wrote this article myself, and it expresses my own opinions. I am not receiving compensation for it. I have no business relationship with any company whose stock is mentioned in this article.