Anadarko Petroleum's (NYSE:APC) announcement yesterday, ahead of what was supposed to be the final bankruptcy court hearing in the Tronox Adversary Proceeding, came as a surprise to the market and the stock surged almost 15% in the final two hours of trading. APC announced yesterday that it has entered into a settlement agreement with the Tronox plaintiffs to resolve all claims against APC's subsidiary, Kerr-McGee. The stock was up by a whopping 14.5% at market close yesterday.
Free From All Future Claims
The company agreed yesterday to pay $5.15 billion to clean up areas across the United States polluted by nuclear fuel, wood creosote and rocket fuel waste that caused cancer and other health problems. The settlement, which will free the company from all future claims, provides a significant NAV unlock potential. The company now has increased clarity to attack its assets, including Niobrara, Permian, and International Exploration, to drive NAV and recapture its premium valuation.
There Is More Upside
APC share price increased by more than $12 yesterday; however, there is more upside to this story as litigation concerns and a consensus view of a delayed resolution has led to the stock being under-owned by the institutional investors. The Woodlands, Texas based company offers investors better than average portfolio at attractive valuation. The company's attractive portfolio includes high-potential deepwater program and solid onshore assets, particularly the dominant position in the Niobrara and the emerging Delaware Basin.
Although Anadarko's upstream portfolio has performed exceptionally well since 2012, the company has been partially restricted in its approach due to need to maintain an under-levered balance sheet. This in-turn led to a less than optimal capital allocation program. Instead of further accelerating high RoR projects in the Wattenberg or Delaware Basin, the company limited capex to internally generated cash flow to preserve balance sheet strength. Moreover, the company has had limited flexibility to pursue corporate actions including buybacks and meaningful dividend increases. Now that the company has made a reasonable settlement, it is free to pursue any action it thinks can increase shareholder value.
Financial Flexibility to Fund the Payment
The $5.15 billion settlement is significantly lower than the market expectations. The company expects a net tax benefit ranging from $550 million to a maximum of $1.65 billion. As such, the net settlement could be as low as $3.5 billion, which is considerably lower than the Judge Gropper's range of $5.2 billion to $14.2 billion. The settlement is expected to be paid before the end of 3Q14 after some legal issues are finalized. APC's significant cash on hand and a credit facility of $5.0 billion should provide the company flexibility in funding the payment.
Fundamentally Strong
APC has a strong growth profile and is looking for a long-term growth of 5%-7% from its continuing assets. If the natural gas prices remain above $4.5/mcf on a sustained basis, CAGR increases to 7%-9%. The company is looking at a strong 2014. APC's onshore production volumes are expected to increase by 9%-10% in 2014. It is important to note here that these figures do not factor in upside from developing assets.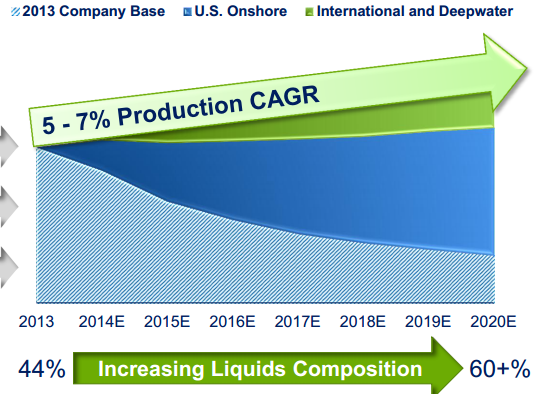 Source: Company Documents
As mentioned earlier, APC has the financial flexibility to fund the payment. After paying the net settlement of $4.6 billion, the company could still have more than $3.2 billion in cash by the end of the year. This includes year-end 2013 cash of $3.7 billion and proceeds from Mozambique sale, Pinedale and Jonah fields sale, China divestiture, and midstream sale to Western Gas Partners (NYSE:WES).
Going forward, APC's deepwater exploration and appraisal expertise should continue to provide production and volume upside. By providing the company with ~250 mboe/d of production and ~5.0 bboe of resources, while funding the $9.0 billion of capital investments with ~10 billion of divestitures, Anadarko Petroleum's exploration program has more than paid for itself.
Conclusion
We are bullish on Anadarko Petroleum. Investment case for APC is clearer after the Tronox settlement. Despite its peer leading execution, exploration, and management, APC has been trading at a discount to its peers. The risk associated with Tronox and consensus view of a delayed resolution compressed the valuation and created a wide discount to NAV. Now that the Tronox overhang is out of the way and there is an increasing likelihood that the Clean Water case would not be an issue, the focus should finally return to APC's superior execution, deep portfolio, and growth potential. The Tronox overhang has plagued APC for years and now that it is removed, there is significant upside potential through share buybacks, asset sales, and accelerated growth. Eagleford, Niobrara, Permian, and International Exploration should be the benefactors of increased investment. Going forward, as focus shifts back to E&P and away from the complex legal issues, Anadarko should be able to quickly regain its premium valuation.
Disclosure: I have no positions in any stocks mentioned, and no plans to initiate any positions within the next 72 hours. I wrote this article myself, and it expresses my own opinions. I am not receiving compensation for it (other than from Seeking Alpha). I have no business relationship with any company whose stock is mentioned in this article.