McDonald's return will come equally from its dividend yield, share buybacks, and growth in the future. Investors in McDonald's can expect an 8% to 10% CAGR going forward based on their dividend yield (3.32%), share buybacks, and expected growth rate (3% to 5%).
McDonald's Corporation performs well during recessions due to their low priced food items. During the recession of 2007 to 2009, McDonald's Corporation earnings per share increased. Their strong brand, global presence, and slow-changing industry provide investors with safety as well as return.
Business Overview
McDonald's is known for quality, consistency, and value. The Golden Arches are recognizable worldwide. Nearly every American has had a Big Mac and fries at least once. In 2012, McDonald's served 69 million people every day.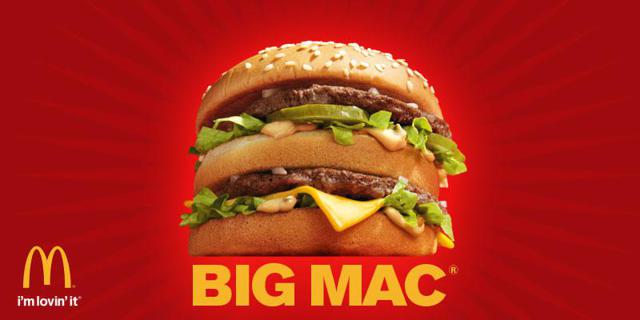 Click to enlarge
Source: Imagine That Digital Design & Marketing
The consistency in McDonald's operation has translated into consistency on the income statement. McDonald's has grown earnings per year every year since 2002. Even better, they have increased their dividend for 36 years in a row.
McDonald's revenue comes from company owned stores (67%) and franchise owned stores (23%). The revenue does not tell the whole story. The franchise unit contributed 70% of gross profits versus just 30% for the store owned businesses.
McDonald's is a geographically diversified business. In 2013, revenue was distributed as follows:
| | |
| --- | --- |
| Region | Revenue % |
| US | 31.49% |
| Europe | 40.20% |
| Asia/Pacific/Middle East/Africa | 23.04% |
| Other Countries & Corporate | 5.26% |
Source: McDonald's 2013 Financial Highlights
Valuation
McDonald's compares favorably to its peers on a Price to Earnings basis:
| | |
| --- | --- |
| Company | Price to Earnings Ratio |
| McDonald's (NYSE:MCD) | 17.58 |
| Burger King (BKW) | 41.20 |
| Chipotle (NYSE:CMG) | 55.03 |
| Jack in the Box (NASDAQ:JACK) | 30.44 |
| Popeye's (NASDAQ:PLKI) | 29.87 |
| Sonic (NASDAQ:SONC) | 33.79 |
| Yum! Brands (NYSE:YUM) | 32.81 |
McDonald's average price-to-earnings ratio is about 16, which is fairly close to its current price-to-earnings ratio of 17.58.
Growth
McDonald's expects to grow revenue by 3% to 5% long-term. This is in line with their revenue growth of 3.77% since 2008. Share buybacks have made per share revenue grow faster than total revenue. This trend should continue in the future.
Source: Nation's Restaurant News
Catalyst
McDonald's is expected to return about $5 billion to shareholders in 2014, similar to the $4.9 billion they returned in 2013. They expect to use about $3 billion for capital expenditures.
McDonald's does not need a catalyst to average 8% to 10% returns for shareholders. As long as they continue to return a substantial portion of cash flow in the form of dividends and repurchases, shareholders will be rewarded.
Source: McDonald's 4th Quarter & Full Year Results
Conclusion
McDonald's has grown operating cash flow by 3.77% since 2008, and expect to grow at a rate of 3% to 5% in the future. They plan to return approximately $5 billion to shareholders in the form of share repurchases and dividends, resulting in a shareholder yield of 5.18%. Together, this amounts to a return of 8% to 10% per year for shareholders of McDonald's. McDonald's powerful brand, strong balance sheet, fair valuation multiples, and slow-changing industry provide assurance that they will continue to grow profitably.
Disclosure: I have no positions in any stocks mentioned, and no plans to initiate any positions within the next 72 hours. I wrote this article myself, and it expresses my own opinions. I am not receiving compensation for it. I have no business relationship with any company whose stock is mentioned in this article.