The precious metals markets are turning higher this morning, and gold has moved above the $1,300/ounce level, which has also dragged silver above the $20/ounce level. Platinum remains in its uptrend, and as we stated earlier this week, we believe that market to be separate of the rest of the precious metals at this time.
Looking at the coffee market, we do see it catching a bid as news of issues with the rain in India point to a less-than-stellar crop from the region.
Chart of the Day:
Corn has been a strong performer year-to-date, and appears to be running into some resistance around $500. If issues persist in Eastern Europe, we could see all grains remain strong throughout the summer, as their planting and growing seasons could be affected.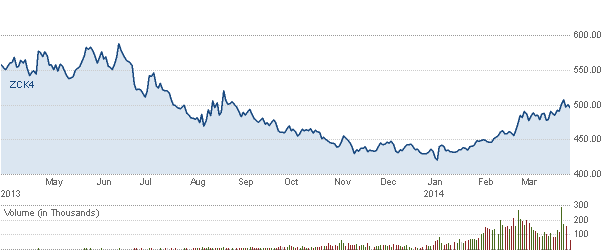 Source: CNBC
Commodity prices this morning are as follows:
Gold: $1,304.50/ounce, up by $19.90/ounce
Silver: $20.135/ounce, up by $0.33/ounce
Oil: $101.23/barrel, up by $0.94/barrel
RBOB Gas: $2.9339/gallon, up by $0.0221/gallon
Natural Gas: $4.442/MMbtu, down by $0.028/MMbtu
Copper: $3.0175/pound, down by $0.0095/pound
Platinum: $1,449.90/ounce, up by $4.40/ounce
Independent E&Ps In Focus
Many readers know that we have been long-term bulls of the large independent E&P names here in North America, with our two favorite names with diversified production being Anadarko Petroleum (NYSE:APC) and Apache (NYSE:APA). Our bullishness has not always been unwavering, but rather one marked by taking advantage of certain opportunities.
Often, this has required us to use these two names as hedges, or at the simplest of trades, selling out of one to go long the other. The asset portfolios that the two companies have are quite solid, so the play in our mind has always been to buy when there is value and sell when events push the stock closer to the fair value the market demands.
The losses have more than been made up here, and we suspect that there will be a bit of a pullback in the near term, which is why we think rotating out now seems a prudent move.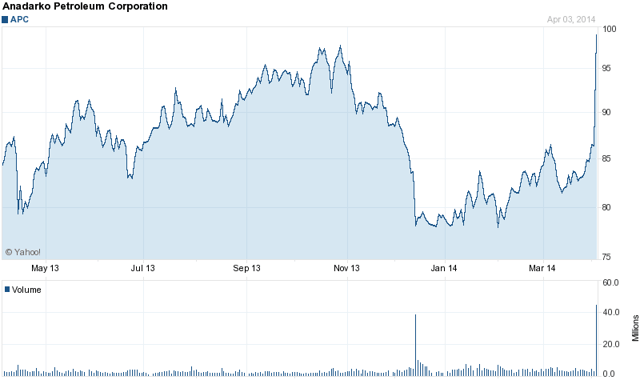 Source: Yahoo Finance
We tweeted the news of Anadarko Petroleum reportedly being close to settling its Tronox (NYSE:TROX) litigation yesterday (you can follow us on Twitter via @theinvestar), after seeing the sharp 10% rise the company's shares suddenly saw in the early afternoon. The settlement is quite positive for the company, because the $5.15 billion settlement figure is just below the low range of the estimated cost a judge told the company it could expect to pay due to its exposure; the range was $5.2-14.2 billion.
Now that Anadarko has cleared up this issue and the shares have rebounded sharply on that news, as well as a few analyst upgrades, it appears that investors are taking profits once again and rotating into Apache. It seems to us that the next round of value adding news will come from Apache now, and not Anadarko. Also, Anadarko could see selling in the near future, as many who were buyers on the big dip could look to lock in gains.
Agriculture Drawing Attention
We have talked this week of the growing excitement around the grain markets and how farmers are benefiting across the board from the bottom of the food chain (think crops) to the top (think meets). With issues in the all-important Eastern European bread basket still at the forefront and unfavorable weather in the US, investors could see the PowerShares DB Agriculture ETF (NYSEARCA:DBA) continue to rise on the back of price increases in the grains.
Exxon To Share Fracking Data
In an interesting story, ExxonMobil (NYSE:XOM) has agreed to make public data that it has outlining the environmental risks of fracking. The company agreed with the New York City pension funds to compile a report from its data and publish the finished report on its website by September. Although the agreement seems odd and appears like liberal politicians are forcing Exxon's hand, we think the argument made by the pension funds holds merit. They wanted the information in order to better weigh the risk associated with their investment, and what they are asking for would have eventually been required by the shareholders anyways. We say that it was inevitable due to the roughly 30% of shareholders who approved this same motion last year at the annual meeting.
Disclosure: I have no positions in any stocks mentioned, and no plans to initiate any positions within the next 72 hours. I wrote this article myself, and it expresses my own opinions. I am not receiving compensation for it (other than from Seeking Alpha). I have no business relationship with any company whose stock is mentioned in this article.