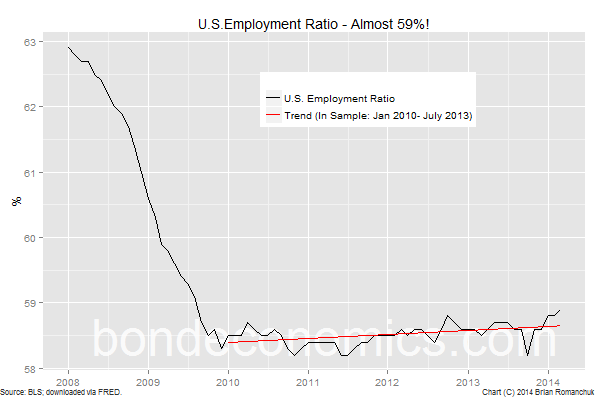 The data for March 2014 for the Household Survey component of the U.S. Employment Situation Report were good. The employment/population ratio rose by 0.1% to 58.9%, which means that a whopping 476,000 jobs were created on that measure. The unemployment rate was static at 6.7%, courtesy of a rise in the participation rate by 0.2%. On the whole, this gives evidence that steady growth continues.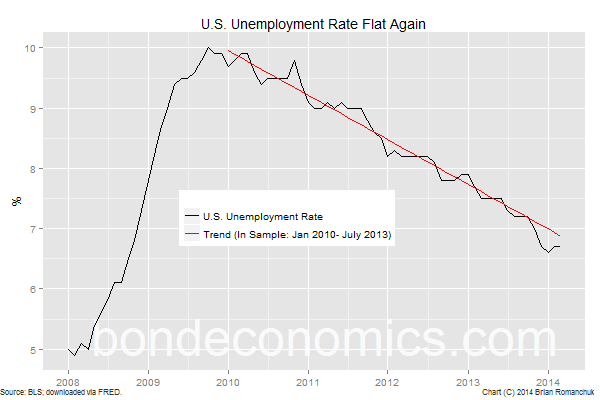 The rise in the Participation Rate has slowed the descent of the unemployment rate, which had previously slashed below the cycle's trend line in late 2013. I do not see this as surprising. As the unemployment rate drops, there are less long-term unemployed that can quit the labor market. And since jobs are being created, albeit at a slow pace, those who have quit the labor market will drift back into it. At 63.2%, the participation rate is almost unchanged from last March's level (63.3%). It is going to be correspondingly more difficult for the unemployment rate to fall in the absence of a meaningful acceleration of job creation.
The Non-farm Payrolls (NFP) number was slightly below the pre-release consensus. Given that the standard error around the +192,000 estimate for NFP covers almost the entire range of pre-release economist estimates, they all can claim to have been correct.