Jim Cramer is one of the most known and polarizing of the pundits in the financial community. Millions love him feeling he has made investing understandable to the masses through his show Mad Money and his frequent appearances on CNBC. Others feel he is extremely overexposed and prone to hyperbole.
I have a more nuanced view on Jim. Although we have completely different investment styles - I am more of a value investor - I admire his ability to read the pulse of the market. There are few better in pointing out the momentum of the market and he is very good at finding sector rotations early in the process.
He also has been one of the biggest bulls on the market for the past five years. I have disagreed with his perspective several times, but am willing to admit his call on the direction of the market over the past half-decade has been dead on.
So when one of the biggest bulls on the market starts to get cold feet on equities - my antennae go up. Cramer is starting to sound cautious if not downright pessimistic in his market outlook over the past week. He penned an article on TheStreet.com this morning stating that the IPO market is starting to feel a lot like 2000.
Given IPO activity is up to 2007 levels - just before the market crashed - this bears watching. One only has to look at the action in GrubHub (NYSE:GRUB) in its debut in trading this morning to see there is significant froth in the market. The shares are up more than 40% at midday. This values the food delivery service at more than 20 times sales, excessive by any rational valuation model given the low barriers to entry in this space. I have at least three similar services I can use from my condo in Miami. Cramer repeated his concerns on the IPO market on CNBC this morning.
Jim has also noted that some of the stocks and sectors that led the over 30% rise in equities in 2013 have started to turn over in the last month. Stocks like Tesla Motors (NASDAQ:TSLA), Netflix (NASDAQ:NFLX) and Amazon (NASDAQ:AMZN) have started to break down (See Chart). Even with their recent pullbacks, these names all trade for at least 75x trailing earnings for those that have earnings; so further declines could be in order.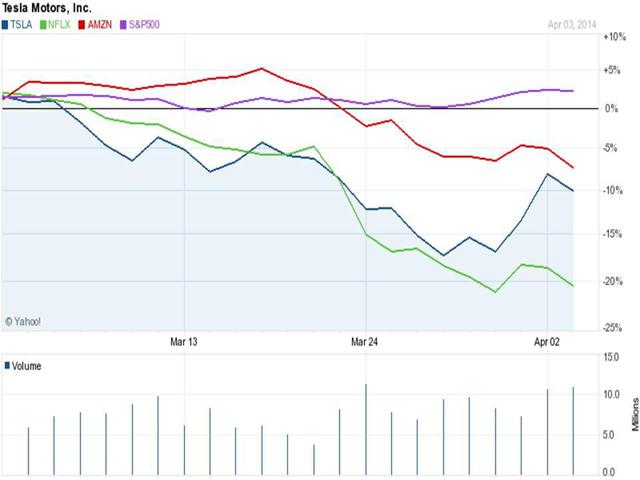 Jim has also noted on CNBC several times this week that biotechs that have produced some of the biggest winners in the market over the past year; have started to turn over. This can be seen in the chart below.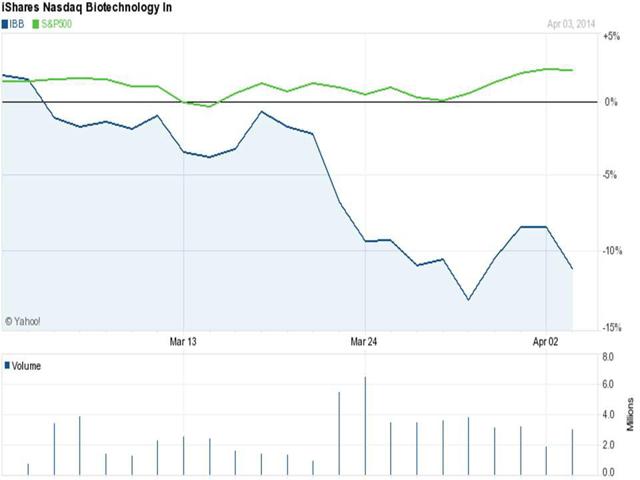 I am agreement with Mr. Cramer that the market seems ready to roll over and I penned an article recently that had some of the same concerns the Maestro of Mad Money has drawn attention to this week.
In addition, I believe investors are much too sanguine on the impacts to our market from the Federal Reserve starting to unwind QE3. It is important to remember equities fell back by ~17% after the conclusion of QE1 and ~13% at the conclusion of QE2, before the Fed rode to the market's rescue with another QE program. It seems naïve to think that another similar decline is not a possibility given equity valuations are much higher than they were then even as GDP growth remains stuck in the 2% to 3% range.
I think most investors should have a 5% to 10% cash cushion in their portfolios right now as the market feels overdue for a correction that should provide lower entry points for those with "dry powder." My cash position is higher than the recommended level as I started selling slightly out of the money calls starting with my small biotechs in early March. At this point over 80% of my portfolio has covered calls against it as I am agreement with Mr. Cramer in thinking now is a time to be cautious.
Disclosure: I have no positions in any stocks mentioned, and no plans to initiate any positions within the next 72 hours. I wrote this article myself, and it expresses my own opinions. I am not receiving compensation for it (other than from Seeking Alpha). I have no business relationship with any company whose stock is mentioned in this article.