Bank of America Corporation (NYSE:BAC) may be considered the poster child for stocks whose valuations are based on earnings and earnings growth.
The 21-year Fastgraph chart below indicates the price movement of Bank of America stock as indicated by the solid black line is almost directly attributable to the level of earnings. From 1995 to 2007, the stock increased five-fold while earnings grew from $1.79 to $3.45 per share, and dividends increased from $0.52 per share to $2.40 per share. Then during the financial crisis, both earnings and dividends collapsed and the stock price followed suit. Since 2009, the stock stabilized (thanks to the good ole U.S. government) and has resumed its steady climb. Meanwhile, dividends have remained at their post-crisis level of $0.04 per share due to government restrictions on dividend payments.
Analyst estimates call for a $0.35 per share dividend in 2015, a whopping 8 times the current dividend. With a payout ratio of just 3%, BAC is quite capable of such a hike. In fact, while I will only focus on valuation in this article, Josh Arnold does a wonderful job of estimating future dividends for Bank of America in his article Bank of America: How Big Can The Dividend Get?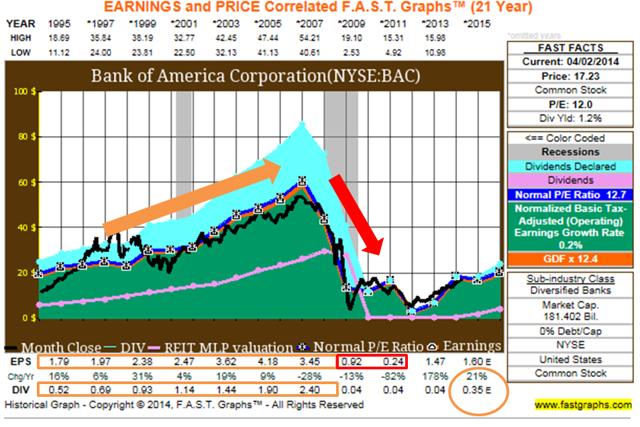 Click to enlarge
At a current price of $17.23, I want to determine if the stock has upside. It makes sense that a growing dividend will cause the stock price to rise, but if those expectations are already baked into the price, I'd like to know.
If you look at a 5-year chart, you will notice that BAC stock continues to have a high level of correlation to earnings growth. Earnings growth over the last 5 years has been close to 10% while the average PE ratio has been 16.3. In this graph, you will also notice that as a BAC investor, you won't have to wait until 2015 to see dividend growth. Estimates for dividends this year are $0.16 per share, which is 4 times the current level. And the light blue shaded area at the top of the graph indicates that the payout ratio will remain relatively low. (The width of the light blue area provides a good indication of the payout ratio relative to the green earnings area.)
For investors who missed an opportunity to buy Bank of America when it was in the mid-single digits, the black line indicates there may still be an opportunity for more upside in the stock. The solid black line is currently lying below the solid orange line, which can be considered fair value. If that is the case, Bank of America should be priced at around $20 by the end of this year. Combined with the previously mentioned dividend growth and it looks like we have a good buying opportunity.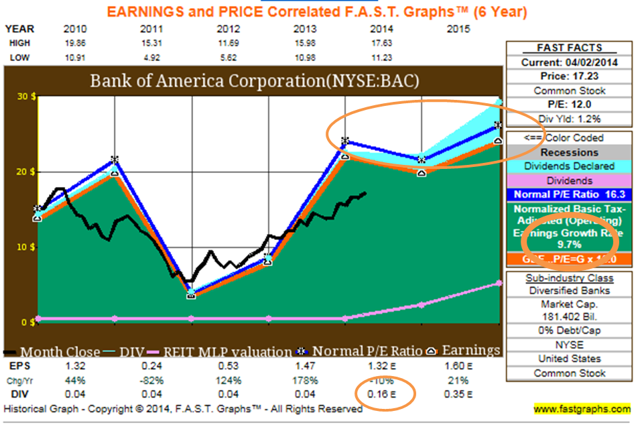 Click to enlarge
On a forward looking basis, the graph below displays the possible price ranges for BAC stock over the next 5 years assuming the estimates provided by the 25 analysts surveyed by S&P Capital IQ. The solid black line that lies below the fair value orange line confirms the previously identified undervaluation. If earnings estimates are realized, the stock looks like it could reach $36.75 by the end of 2019. That would be more than 100% return on capital appreciation that when combined with the dividends will result in an annualized return of 15.6% over the 5 year period.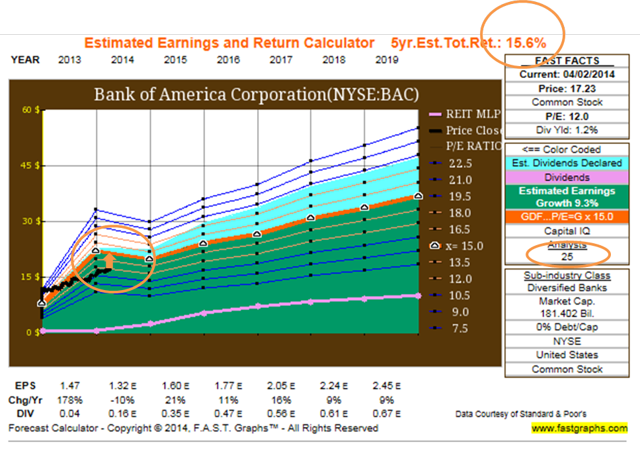 Click to enlarge
The 10-year estimates for earnings, dividends, dividend yield and total return are presented in the table below. I'd like to point out two interesting findings. The estimated price of $36.75 in 5 years is highlighted in brown. It results in an annualized return of 15.6%, but what I found interesting is that the highest annualized return is expected to be a holding period of just 2 years. Notice that as the price reaches $24 in 2015, the resulting annualized return is 22.3%. The dividend yield at that point would be just 2%.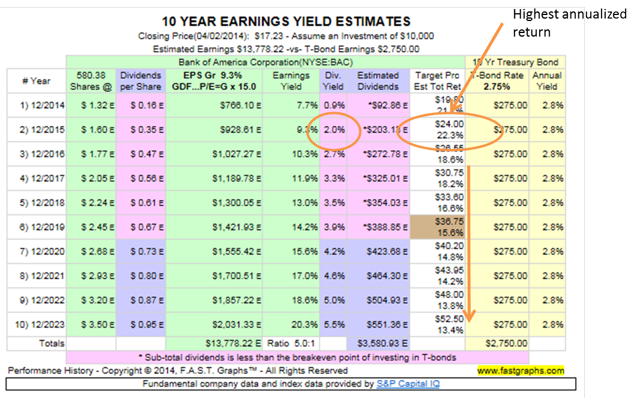 Click to enlarge
Notice that for every year after 2015, the annualized return continues to decline even though the stock price is expected to continue to rise. I mention this to remind the reader that this type of analysis should be done on a regular basis to determine if there are other opportunities that may provide better returns in the future. For example, by December 2015, assuming the earnings estimates and price forecasts are spot on, we know that returns will be diminishing after 2015. At that point there may be a better opportunity to rebalance into. Obviously, we don't know that yet, and the Bank of America forecasts at that point can and probably will be completely different. Or you may be satisfied with a 5.5% dividend yield in 10 years if that is or will be your investment objective.
Conclusion
I agree with Josh in that Bank of America has the potential to increase its dividend substantially over the next couple of years if not sooner. I also think the stock has yet to reflect those possible increases. With a possible 22% return over the next couple of years, we can reevaluate all of our assumptions then and figure out whether to continue to hold the stock or sell it. For now, it looks like Bank of America is a solid buy.
Disclosure: I have no positions in any stocks mentioned, and no plans to initiate any positions within the next 72 hours. I wrote this article myself, and it expresses my own opinions. I am not receiving compensation for it (other than from Seeking Alpha). I have no business relationship with any company whose stock is mentioned in this article.