Equity researchers Jefferies Group, recently reiterated their buy rating for Abbott Laboratories' (NYSE:ABT) stock. The stock is currently trading between $38-38.50 and the researchers have set a $45 price target. This reflects handsome upside potential. The company's current stock price was up 13.95% since the previous year as shown in the chart below.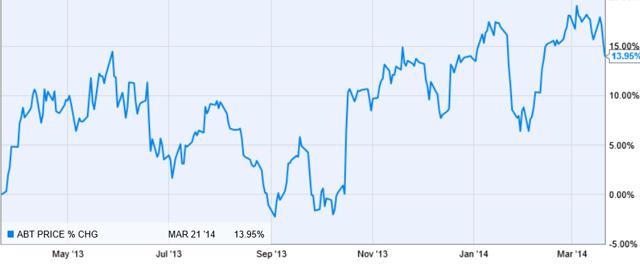 Source: Ycharts
I am writing this article to determine the drivers that will enhance the bright future prospects of the company. The company is involved in the discovery, development, production and sale of a diversified portfolio of science-based health care products.
To begin, let us have a look at the activities initiated by the company in the previous fiscal year that will benefit the company's top and bottom lines in the current and future fiscal years.
Acquisitions Will Prove to be Profitable
In August 2013, Abbott acquired OptiMedica, an ophthalmic device maker, for $400 million. This acquisition will expand the company's vision care business by providing Abbott with an instant entry point into the laser assisted cataract surgery market.
The global cataract surgery laser market is forecasted to reach $2.4 billion by the year 2019. The driver of this growth is the aging population; with growing age comes the development of cataracts and the need for surgery. The femtosecond lasers for cataract surgery have increased the quality of the procedure in a considerable manner and have resulted in more surgeons switching to this more reliable and safer technology. The change in demographics will also contribute to the growth in the demand for this technology and related services. The aging baby boomers and the fact that people older than 65 require 10 times more eye care than those younger than 65 create an extraordinary demand for cataract surgery.
Additionally, in August 2013, Abbott acquired 100% of IDEV Technologies, net of debt, for $310 million in cash. The acquisition of IDEV Technologies enlarged Abbott's endovascular portfolio as IDEV Technologies, a privately held company, is concentrated on developing next-generation medical devices for use by interventional radiologists, vascular surgeons and interventional cardiologists.
The rising demand for minimally invasive endovascular procedures offers growth opportunities for related devices manufacturers. The field of endovascular surgical intervention is growing quickly as minimally invasive techniques provide benefits over the traditional intrusive surgeries. Continuous device enhancements and an introduction of new generation devices are forecasted to drive double digit growth for the next couple of years. The endovascular devices market has observed a lot of consolidation through mergers and acquisitions with the niche players being acquired by tier 1 companies. Examples of these strategic moves by the players in the industry include Cordis Corporation's acquisition of Flexible Stenting Solutions in order to strengthen the company's portfolio in the treatment of vascular disease. Cordis is a unit of Johnson & Johnson (NYSE:JNJ). All of these happenings in the industry have led to an anticipation of $1.6 billion, by 2016, for the global endovascular abdominal aortic aneurysm (AAA) repair market, which was valued at $1 billion in 2011.
In case the above acquisitions had taken place before the beginning of FY 2013, the company's consolidated net sales and income for FY 2013 would have been significantly different from the reported amount. This indicates that these acquisitions did not reach their full potential in FY 2013. Hence a full-year contribution in FY 2014 will materially add to the company financial results for FY 2014.
Ongoing Restructuring will Support the Bottom Line
In FY 2013, Abbott's management agreed upon a plan for cost reduction and improving efficiencies through various functional areas. These initiatives also include a plan to rationalize certain manufacturing operations in order to decrease costs and increase efficiencies in Abbott's established pharmaceuticals business.
Abbott recorded employee related severance charges of around $78 million in FY 2013 in addition to other charges of around $4 million mainly for asset impairments. Approximately $35 million of the total employee related severance charges and other expenses in 2013 were charged to the cost of products sold and about $47 million is logged as selling, general and administrative expenses.
The restructuring expenses incurred in FY 2013 will result in an overall cost reduction for the company in FY 2014. As a result, the company has projected improvements in its bottom line and issued ongoing EPS guidance for the full FY 2014 of $2.16-2.26 up from $1.62 in FY 2013. Not only it is in line with analysts' estimates but it will also turn into double-digit EPS growth in FY 2014 in comparison to FY 2013.
In addition to acquisition and restructuring (internal factors), the company also has opportunities to expand into the growing emerging markets.
More Business from Emerging Markets
Revenue generation across Abbott's businesses is well balanced in terms of geography; 30% is generated from the U.S., 30% from Western Europe, Canada, Japan and Australia, and 40% from the fastest-growing economies that include India, China, Russia, and Brazil. So, the company generates 30% of its total revenue from the U.S. and 70% internationally. The company's presence in the high-growth emerging markets gives it an advantage. The following pie charts show that the company is forecasted to generate 75% of its total revenue from emerging markets by FY 2016 up from its current 60%.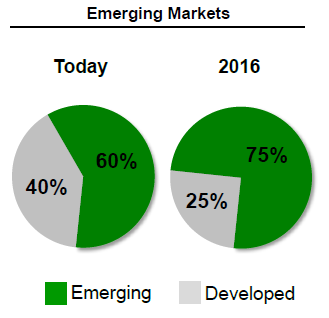 Source: JP Morgan ABT Presentation
After spinning off its proprietary pharmaceutical division, AbbVie (ABBV), Abbott is now leaner and more concentrated on growing its global reach.
The company is turning its focus on emerging markets to cater to the rising demand in those countries for basic products such as nutrition supplements and generic drugs. Global healthcare and malnutrition problems are rising so there is an increased demand for nutrition supplements. The U.S. is a major market but the largest emerging markets for nutrition supplement are China and India. For generic drugs, the emerging markets represent the second largest market following North America. The emerging markets are forecasted to record a CAGR of 15.1% in generic drugs sales from 2011 to 2016, reflecting an increase from $57 billion in 2011 to $115 billion in 2016.
Therefore, in the long run, the company anticipates that the growth rates in the emerging markets will be greater than the growth sourced from developed markets.
Return to Shareholders and My Recommendation
In October 2013, Abbott declared a 57% increase in the company's quarterly common dividend, increasing it to $0.22 per share from $0.14. Through this increase the company has demonstrated itself as a shareholder-friendly dividend stock with 359 consecutive dividend payments and 41 straight years of dividend increases. The company's stock has a dividend yield of 2.29% that is greater than the industry average of 1.73%.
According to the company's CFO's disclosure in the Q4 2013 conference call, the company is looking forward to increasing its payout to $1.7 - $1.8 billion for 2014. This can be seen as an indicator of the 2014 dividend raise.
In addition to this, Abbott projects an increase in its share repurchases to more than $2 billion in 2014.With a market cap of around $60 billion, a $2 billion dollar repurchase equates to around 3.33% of the outstanding shares.
Overall, the company has opportunities and the potential to expand into emerging markets in the coming years. For FY 2014, the company has more to earn from acquisitions made in the previous fiscal year. The company's dividend and return profile is attractive for dividend-growth investors.
I would suggest investors consider adding this stock to their long-term portfolios as the stock is currently undervalued and trading at 25.27× TTM P/E in comparison to the industry average of 31.59×.
Disclosure: I have no positions in any stocks mentioned, and no plans to initiate any positions within the next 72 hours.
Business relationship disclosure: The article has been written by a Gemstone Equity Research research analyst. Gemstone Equity Research is not receiving compensation for it (other than from Seeking Alpha). Gemstone Equity Research has no business relationship with any company whose stock is mentioned in this article.