The second quarter is underway and earnings season will soon be upon us starting next week. And following Friday's U.S. employment report that provided a solid headline but is still not all that great in the grand scheme of things, it is worthwhile to consider what we might expect from capital markets in the coming weeks and beyond. The good news is that attractive opportunities are likely to present themselves for those at the ready. But they are likely to be accompanied by more bouts of increased volatility.
The Fed Continues To Head To The Exits
Make no mistake, the Fed wants out of the QE game. They will almost certainly continue to provide near daily counseling sessions with a speech from a given Fed member playing either good cop or bad cop for the markets depending on the needs of the day. But the broader objective is to try to slowly wean capital markets including stocks (NYSEARCA:SPY) off of their heavy addiction to monetary stimulus as painlessly as possible. So barring something absolutely catastrophic, the Fed is likely to stay the course in tapering stimulus. And since tapering is in effect tightening from extremely loose monetary conditions, the trend toward more restrictive monetary policy is now underway. As it progresses, increasing bouts of volatility should be expected.
The key to monetary policy and boosting stock market performance has never been the entire stimulus program, as some aspects have been highly correlated with rising stock prices while others have shown to have much less of a direct effect. So although overall Fed stimulus under QE3 is still at $55 billion in total asset purchases, the key to inflating stock prices has always been the daily Treasury purchases that is down from $45 billion before tapering and currently stands at $30 billion for April (the other side of the QE3 equation are mortgage purchases that have been reduced from $40 billion to $25 billion, but since the cash inflows into the financial system associated with this part of the program are not daily like Treasury purchases but instead are lumpy on only two or three days in a given month, they have historically had the influence of holding the market level with swings of volatility along the way). The following is a schedule for how these Treasury purchases have been reduced to this point and are likely to be wound down through the remainder of 2014:
Tapering of Treasury Purchases Thus Far:
December - $45 billion
January - $40 billion
February - $35 billion
March - $35 billion
April - $30 billion
Projected:
May - $25 billion
June - $25 billion
July - $20 billion
August - $15 billion
September - $15 billion
October - $10 billion
November - Tapering completed
So while less adrenaline is projected to be pumped into financial markets as we progress through 2014, which is likely to lead to stretches greater volatility as the effects wear off, we are also likely to still see periods of sudden and euphoric spurts higher in stock prices as long as the monetary juice continues to flow in on a daily basis.
Capitalize On The Corrections...For Now
This leads to the next question of when exactly can we expect to see these sudden explosions higher in stock prices take place. With an expectation of increased volatility not unlike we saw during the first quarter of 2014, they will most likely take place during times when the market is wrapped up in fear over the news of the day and appears that the stock market is accelerating to the downside. Such was the case with concerns surrounding the events unfolding in emerging markets including China earlier this year. And such will likely be the case as we move through the second quarter, as too much bullish sentiment remains in the market and too much fresh liquidity is still being injected to sustain a downside move in stock prices at least for now.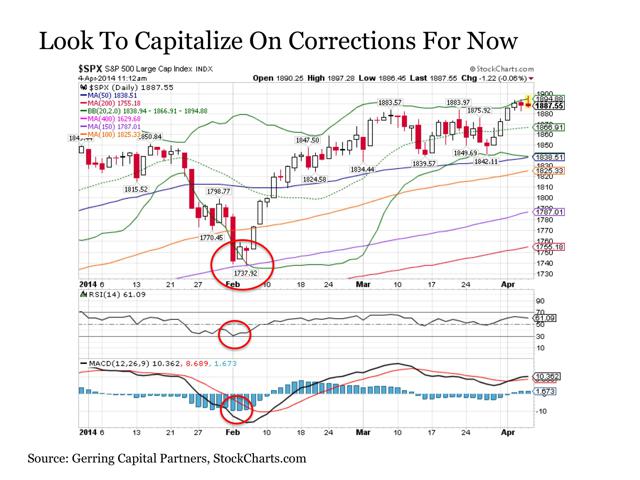 This is not to say that stocks are not long overdue from a fundamental perspective for at least some sort of sustained correction at this stage, as they are already considerably overvalued in an environment where economic and corporate earnings growth remains woefully inadequate to support prices at these levels. But the resoundingly strong bullish confidence needs to be cracked, and some long-term technical levels need to be put to the test before any sustained downdraft in the broader stock market is likely to begin. And watching key technical levels can provide reasonably good indicators of exactly when may be a good time to pull the trigger and add to selected positions on the margins during any such pullbacks.
Mind The High Quality Gaps
Some of the best buying opportunities are likely to present themselves among individual stock names in the coming weeks. The fact that we are entering the latest earnings season starting next week at a time when underlying market volatility is rising suggests that we may see a greater incidence of stocks getting unduly punished and gapping lower for missing expectations or revising their outlook lower. But recent history during the QE3 era has repeatedly shown that enough liquidity is still pouring into the market to eventually propel many of these stocks to subsequently fill the gap and continue to the upside. This has been particularly true among dividend growth stocks that have high underlying fundamental revenue and earnings quality.
A repeated example in this regard since the addition of Treasury purchases to QE3 at the beginning of 2013 has been McCormick (NYSE:MKC). This phenomenon is shown in the chart below. While McCormick is still trading below its May 2013 peak, it has presented four such opportunities following steep sharp declines to either trade it or add to existing positions as part of a long-term allocation.
As long as Fed liquidity resulting from daily Treasury purchases continues to flow into the market at a rate of $1 billion to $3 billion per trading day in the second quarter, it is very possible that we will continue to see a number of these gaps created during the upcoming earnings season and eventually closed as the quarter progresses. But as mentioned before, keeping a close eye on strong fundamentals in this regard will be just as important if not more so, as an aging bull tends to increasingly favor quality over beta as it draws to a close, and it is just as likely that some of the momentum driven high fliers that gap lower during the quarter may accelerate further to the downside once the price acceleration trance is broken.
The Key Level To Watch In The Months Ahead
As discussed in a recent article, the key level to watch in the months ahead as it relates to the U.S. stock market remains the 200-day moving average. This is a level that stocks have not breached since late 2012, and a sequence of repeated breaks below the 200-day moving average could be an early indicator that a new sustained bear market may soon be upon us.
Two points are notable in this regard. First, the 200-day moving average on the S&P 500 Index continues to rise at a historically fast rate at more than 7 basis points a day on average. What is also notable is that the peaks in the spread between the daily level of the S&P 500 Index and its 200-day moving average have been increasingly narrowing since May 2013, which marked the point when capital markets first began grappling with the prospects of the Fed winding down its QE3 stimulus program.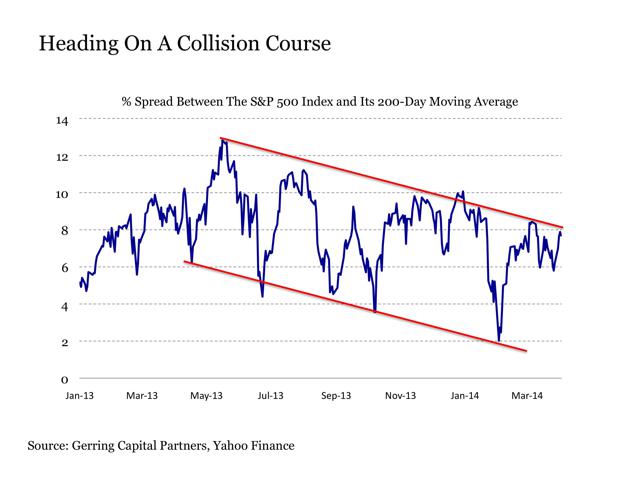 As a result, the S&P 500 Index may be gradually working its way toward a collision with its still upward hurtling 200-day moving average at some point in the next few months. If it turns out that stocks breach this important technical level, the magnitude of the break along with the prevalence of any aftershock breaks that follow may be an indication that the time has come to begin lightening up on stock market related risk.
Use Stock Peaks To Accumulate Hedges
Just as it may be worthwhile to seek buying opportunities amid market corrections during the quarter, it may be just as worthwhile if not more so to use short-term market rallies to accumulate positions in portfolio hedges that are sold off in the process but stand to perform well during any sustained bear market phase that lies ahead. For as the Fed's stimulus program winds down as we progress through 2014, the probability will be rising that the long running bull market in stocks that first started in March 2009 will also be drawing to a close. At this stage, even if we see a dramatic improvement in the global economy along with a renewed surge in corporate revenue and earnings growth, stock valuations have moved ahead of underlying fundamentals at this stage that any such improvement would almost certainly be insufficient to fill the sizeable air pocket in valuations that has been created along the way. As a result, capital has the potential to increasingly flow to uncorrelated or negatively correlated asset classes that have demonstrated the ability to perform as the stock market consolidates at best or more realistically blows off some considerable steam potentially starting as soon as the next few months.
Some leading hedge positions that may be worth consideration when the time is right include long-term U.S. Treasuries (NYSEARCA:TLT). Gold (NYSEARCA:GLD) including positions such as the Central GoldTrust (NYSEMKT:GTU) or the Sprott Physical Gold Trust (NYSEARCA:PHYS) is also worth consideration, although one more sustained flush in gold prices may be required in the coming months before we arrive at a final bottom. Exchange traded volatility positions (NYSEARCA:VXX) may also merit consideration, but such allocations should be viewed with a very short-term holding period in mind if one believes a stock market pullback is imminent. And for those using options strategies, deep out of the money LEAP puts may also be a possibility to explore in this regard, but once again only those that are highly experienced in using options should consider undertaking such an approach. Lastly, holding higher than normal levels of cash is also a reasonable approach, as it protects the value of principal in the short-term while waiting for targeted buying opportunities to present themselves following price declines.
These have been interesting times for investing in the years since the financial crisis, and the upcoming second quarter promises to be no different in this regard. And while volatility is likely to continue elevating as we move through 2014, it will also be accompanied by opportunity that can be capitalized upon for those who stand at the ready.
Disclosure: This article is for information purposes only. There are risks involved with investing including loss of principal. Gerring Capital Partners makes no explicit or implicit guarantee with respect to performance or the outcome of any investment or projections made. There is no guarantee that the goals of the strategies discussed by Gerring Capital Partners will be met. I am long MKC, TLT. I wrote this article myself, and it expresses my own opinions. I am not receiving compensation for it (other than from Seeking Alpha). I have no business relationship with any company whose stock is mentioned in this article. I am long stocks via the SPLV and XLU as well as selected individual stocks. I also hold a meaningful allocation to cash at the present time.