Most of my research and articles are directed at investors who basically follow a value investment strategy, that is, either contrarian, deep value or high-yield. I am heavily concentrated in my distressed securities portfolio with just about a dozen highly-promising contrarian investments such as Fannie Mae (OTCQB:FNMA), BlackBerry (NASDAQ:BBRY) and J.C. Penney (NYSE:JCP). Just occasionally, I am diverting from what I consider to be my core competence (searching for Fifty Cent Dollars) and move into growth investments -- if the valuation is attractive enough.
Micron Technology (NASDAQ:MU) is such an investment. The company combines my desire for low valuations, cash flow strength (a key metric for value investors), an industry leadership position in terms of innovation and a promising economic outlook, which, at least partly, is driven by cyclical semiconductor demand. I still believe that Micron has the fundamentals in place to achieve a significantly higher equity valuation. As I have said before, Micron could reasonably manage to trade at around $30 in 2014, while I continue to see even more upside potential in the years beyond 2014.
Share performance
Despite solid quarterly results, Micron Technology traded weakly in yesterday's trading session and actually fell twice below the $24 mark. Micron has fallen back quite a bit since it marked a new 52-week High at $25.68 at the end of February. Even though Micron's results met the reserved reception of the market, the chip maker remains a promising bet on cyclical chip demand nonetheless.
(Source: Yahoo Finance, click to enlarge)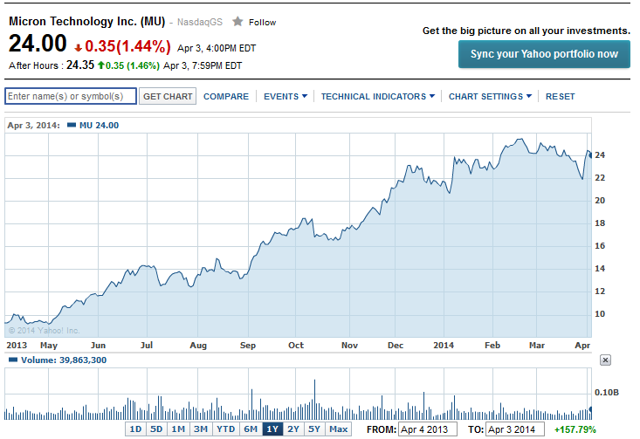 Click to enlarge
Promising quarterly results
First, let's take a look at Micron's second quarter results which were released yesterday. The semiconductor company delivered revenues of $4.1 billion -- about 2% higher than Q1 2014 revenues and 98% higher than the $2.1 billion achieved in the year ago quarter. At the same time, Micron beat analyst revenue expectations of $4.0 billion by 3%.
Micron also made progress on the gross margin and operating income front: Micron's Q2 2014 gross margin increased to $1.4 billion compared to $1.3 billion in the previous quarter and compared to $366 million in the year ago quarter -- an increase of 10% and 283% respectively.
Operating income in the second quarter of fiscal 2014 increased to $869 million which compares against $551 million in Q1 2014 and an operating loss of $23 million in the same quarter in Q2 2013. A rebound in operating income profitability is an important milestone for Micron Technology, especially considering the force with which operating income has rebounded over the last year.
Micron's net income stood at $731 million ($0.61 per diluted share) in the most recent quarter, again hugely outperforming previous performance results: Q1 2014 net income came in at $358 million ($0.30 per diluted share). In the year ago quarter, Micron's net loss stood at $286 million or a net loss of $0.28 per diluted share.
Adjusted net income in Q2 2014 was reported at $989 million ($0.85 per diluted share) compared to $881 million ($0.77 per diluted share) in Q1 2014.
Valuation
What often seems to get neglected when it comes to Micron Technology, is its cash flow (this is because it is usually not the focus of Micron's investor presentation). Micron's most recent 8-K filing with the SEC shows, that the chip maker achieved nearly $2.9 billion in operating cash flow in the first six month of fiscal 2014. Micron's operating cash flow stood at just $470 million in the first six month of fiscal 2013, which highlights that Micron's rebound in operating performance also finds strong reflection in its cash based performance figures.
Micron also reported investing cash outflows of $451 million leading to a six-month free cash flow of approximately $2.4 billion. If, for the sake of argument, we annualized Micron's free cash flow performance in the first six month of fiscal 2014 (I believe Micron will be able to sustain the momentum in sales, operating income and cash flow for the remainder of the year), total free cash flow would stand at around $4.8 billion. With about $1.2 billion shares outstanding, this translates into approximately $4.00 per share in estimated full year free cash flow (before debt changes). Put differently, Micron Technology currently trades at just 6x estimated 2014 free cash flow, which clearly is absolute bargain territory. Micron also trades at only 8x forward earnings according to Yahoo Finance, which hints at Micron's extremely low valuation as well.
Conclusion
Micron Technology has made great strides over the last year. All major performance metrics (gross margin, operating income, adjusted earnings and operating cash flow) have materially improved. Most noteworthy is a rebound in operating- and net income profitability. Given the extremely low valuation multiples derived above, Micron is still severely undervalued.
Being a consolidation force in the industry, Micron has substantial room to run, especially if it can capitalize on the accretive Elpida transaction (which it looks like). With a recovering memory market, I believe Micron Technology will experience the necessary tailwinds to quickly take the $30 level. Long-term BUY.
Disclosure: I am long MU, FNMA, BBRY, JCP. I wrote this article myself, and it expresses my own opinions. I am not receiving compensation for it (other than from Seeking Alpha). I have no business relationship with any company whose stock is mentioned in this article.