Over the past year, Dice Holdings, Inc. (NYSE:DHX) has declined 27.82% and underperformed the S&P 500 by over 50%. When comparing this to a bucket of companies in the same industry like Monster Worldwide (NYSE:MWW), Adecco (OTCPK:AHEXY), Randstad (OTCPK:RANJF), Manpower Group (NYSE:MAN) and Paychex (NASDAQ:PAYX) they have outperformed somewhere between 45%-80% over the past year.
The exact reason why investor demand for the company is dwindling and the price for a share is in a decline is unknown. There are no major issues threatening the existence of the company. In fact, revenue is on the rise. Most likely, it's caused by a combination of the following factors:
The European jobs market is staying depressed much longer than anticipated.
LinkedIn is hot and seen as a threat to the Dice model.
Expectations were lofty to begin with. Investors expected great things from Dice.
The Dice investor now moved on to the currently hot LinkedIn while the company is still not a likely candidate for the value-minded investor.
The European jobs market is still something to be concerned about. The International Labour Organization issued a snapshot in April 2013 and it wasn't pretty. The company itself also reported disappointing numbers coming out of Europe for a few quarters but on its latest earnings call the revenue numbers in Europe were reported as ticking up:
In the U.K., revenues decreased 1% year-over-year, but increased 5% sequentially in sterling. In the Asia-Pacific region, revenues increased 4% year-over-year and 3% sequentially in Singapore dollars, with stronger performance in Asia, partially offset by continued softness in Australia. In Continental Europe and the Middle East, revenues increased 5% year-over-year and 9% sequentially in euros. And in the U.S., it was down 15% year-over-year and 5% sequentially.
LinkedIn (NYSE:LNKD) is a hot stock right now. It has become apparent to investors this is a social media company that is likely to stay and with a clear business model.
One of its revenue streams is based on Employers using LinkedIn to reach potential job candidates. This is a competitive offering to the services of Dice. Logically this is taking away some of the attractiveness of Dice. However, as I will argue it has now come to a point where Dice is available at a very good price compared to its actual FCF. LinkedIn is likely to be a major player but there is room for the Dice model in the market as well.
Finally, expectations may have been too lofty to begin with. Last year George Jarkesy interviewed Clay Mahaffey, Chief Analyst of the National Eagles and Angels Association who talked about Dice:
But they hit a problem. They had a secondary offering. There was stock dilution. The expectations from the analysts and brokerage community got way ahead of themselves. They didn't meet the next quarter earnings. Everybody downgraded the stock. It went all the way from $18.00 to $8.00. It's come back to $10.00. I think it's an excellent stock at this price because of the growth prospects.
It would be an exaggeration to compare the popularity of LinkedIn to that of Dice. Yet, a few years ago, Dice was a very pretty girl at the ball. Now Dice pales in comparison to the rising star of LinkedIn. Numbers - especially earnings - have been sluggish for quite some time now. The typical growth investor has turned away from the company. Just like expectations for Dice were a little too high in the past, they are a little low now.
Dice is not a typical value stock either. The company trades at a high P/E and P/S ratio. It scores well on some value metrics but terrible on others. Misvaluation occurs more frequently when a stock isn't attractive to either growth or value investors. Dice is one of these stocks in which major interest from either camp fades.
Meanwhile operating results are fine. Strategically the company continues to develop back-end products that provide value to its clients while acquiring online properties within the employment niches they serve to achieve economies of scale with their back-end products. In addition, this acquisition strategy also enhances the value of their back-end products. Advertisers and employers do not necessarily get more bang for their buck but they do get more bang for their time invested. Ultimately, that comes down to the same thing.
I do expect numbers from continental Europe will continue to improve in the coming years. I don't expect anything revolutionary to be developed by Dice. But it's not necessary for the company to come up with anything revolutionary to be a great investment. A value investor only needs the price to be right. I'll illustrate with some charts and numbers that the company is fine and it's available at an excellent price.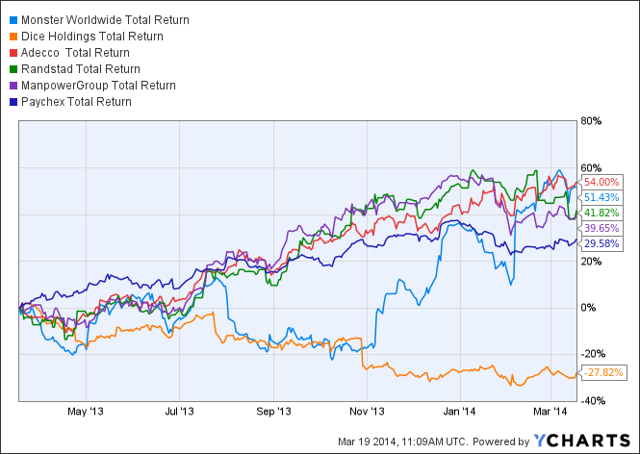 MWW Total Return Price data by YCharts
Business Summary:
Dice provides specialized career Websites and career fairs for professional communities. Its career Websites serve as online marketplaces where employers and recruiters find and recruit prospective employees, and where professionals find relevant job opportunities and information.
The company's Tech and Clearance segment operates Dice.com, a recruiting and career development Website for technology and engineering professionals in the United States; and ClearanceJobs.com, an Internet-based career network for matching security-cleared professionals with hiring companies searching for employees.
This segment also includes Slashdot Media, which comprises Websites, such as Slashdot, a user-generated news, analysis, peer question, and professional insight community; SourceForge, an online destination for technology professionals and enthusiasts to develop, download, review, and publish Open Source software; and Freecode that indexes downloadable Linux, Unix, and cross-platform software for a worldwide technology audience.
Its Finance segment operates eFinancialCareers.com, a recruiting and career development Website for financial market professionals and the financial services industry worldwide.
The company's Energy segment operates Rigzone.com, a career Website that delivers online content, data, advertising, and career services for the oil and gas industry.
Its other segment includes Targeted Job Fairs, which produce and host career fairs and open houses focused primarily on technology, energy, and security-cleared candidates; Health Callings, a recruiting and career development Website for healthcare professionals; and WorkDigital, a technology company focused on the recruitment industry. The company serves staffing companies, recruiting agencies, consulting firms, and marketing departments of companies, as well as small, mid-sized, and large direct employers. Dice Holdings, Inc. was founded in 1991 and is headquartered in New York, New York. Source: Yahoo Finance
Developments & Acquisitions
There have been a few recent major developments that should be taken into account when considering an investment into Dice:
-Acquisition OilCareers
Dice Holdings, Inc. (DHX) announced March 19 it has acquired OilCareers, the leading recruitment site for oil and gas professionals in Europe. The acquisition strengthens the Company's position in online energy recruiting, which it currently serves through Rigzone, the market leader in the oil and gas industry delivering content, data, advertising and career services. According to Michael Durney:
The growth prospects are very promising for our energy vertical and the addition of OilCareers will help us capitalize faster on that opportunity,"

Our energy vertical has grown to more than double its size from our acquisition of the businesses three years ago. This acquisition is an opportunity to move forward in Europe. OilCareers is a good strategic fit and provides critical mass for both brands to leverage.
-Acquisition JobBoard Enterprises
In July 2013, the Company expanded its online tech recruiting business to Europe by acquiring all of the issued and outstanding shares of JobBoard Enterprises Limited, an online recruitment company in the technology industry. The purchase price consisted of £8.0 million ($12.2 million), net of cash acquired, plus deferred payments totaling £3.0 million ($4.6 million) in the aggregate, payable upon the achievement of certain operating and financial goals ending in 2014.
-Acquisition onTargetjobs
This acquisition is a little less recent but worth a mention. Dice Holdings is expanding its online recruiting business by acquiring onTargetjobs from Warburg Pincus, including recruiting sites HEALTHeCAREERS and Hcareers. Dice Holdings purchased the outstanding shares of onTargetjobs for $50M in cash. The sites generated trailing 12 months revenues of approximately $38M. Prior to the acquisition, onTargetjobs separated and spun off to its shareholders the previously owned local business known as RegionalHelpWanted.com and certain other assets.
The purchase sum of $50 million appears high when TTM revenue of the acquired business is just $38 million, but Dice currently achieves operating margins of 24% and will be able to realize synergy advantages. As skeptical as I am of acquisitions, Dice will most likely be able to create real value here because it's a good fit in the overall portfolio. The unit can make use of Dice tools and Dice can integrate the platform into its offerings to clients.
Stock Repurchase Plan
On December 17, Dice Holdings announced that its Board of Directors has authorized a stock repurchase program that permits the purchase of up to $50M of its common stock. The new authorization is effective upon the completion of the existing $50M repurchase program and will be in effect for one year. Under the plan, management has discretion in determining the conditions under which shares may be purchased from time to time.
In recent history, management has been aggressively buying stock back at a significant premium to the current share price, with several stock repurchase plans, and that's a positive signal.
New products
In the October 29, 2013 earnings call, the CEO announced a new service that will reaccelerate development at eFinancialCareers, as well as Dice in Health Callings. Basically, this is a search, match and filter service. The company will perform searches, create a shortlist and qualify candidates to hiring managers' openings for an additional fee.
The company has leveraged a database search service that Rigzone has had for a long time and rolled it into the other services. While it's early, the company did report success selling this product. At eFinancialCareers, the product has been well received by smaller financial services organizations like fund managers who want to take advantage of eFinancialCareers but don't necessarily have the resources to source candidates for themselves.
In healthcare, the company is providing a similar service to provide employers with talent efficiently. Another area of focus is mobile. The company screwed this up on Dice.com the first time, but Rigzone's apps, which were launched during the quarter, earned 4.5 stars in the Apple Store and nearly 5 stars in the Android app store.
In the third quarter, Rigzone launched a product called Rig Recruit IQ. This product marries rig data that the company collects and sells as part of its subscription-based data service with its recruiting expertise. This gives customers an understanding of when rigs are coming in and out of service, which has workforce and recruiting implications. Most likely their latest acquisition will allow the company to further capitalize on this product.
Traffic Overview
To get an idea of the development of traffic across the company's main properties I've looked up Quantcast reports on the company's most important websites.
Keeping an eye on traffic is useful because it is traffic that ultimately leads to advertising and subscription revenue. This is true for almost any website but in addition several of the company's site are built around a community model. These benefit and/or suffer from a network effect. The more traffic they have, the more attractive they are to visit.
You can take a look at the development of traffic over the past six months on the graphs below. Most of the websites are not actually connected to Quantcast, which means the data is not as reliable as it could be, but it still gives a rough idea of traffic development. Especially now I was able to contrast the numbers to the data I collected on December 22, 2013. Which can be found at my blog.
Keep in mind that there is quite some seasonality to website traffic and these developments over six months might not show the complete picture. I picked the six-month time period because this data was available for most of the company's important websites. While other time periods were showing gaps in data.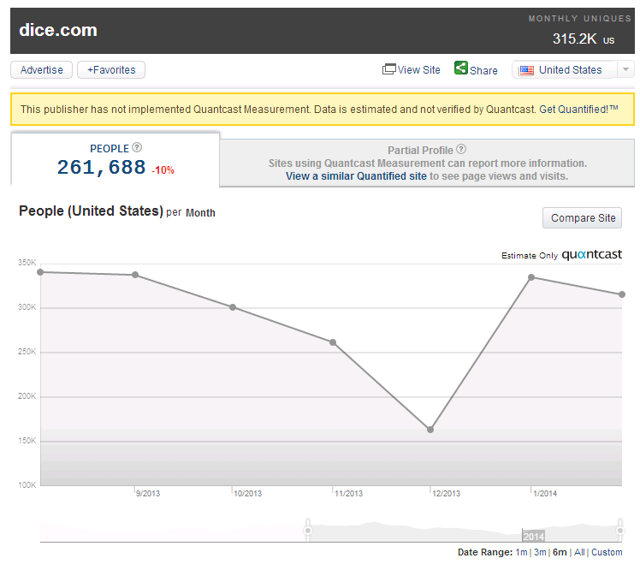 On Dice.com average monthly visits were down compared to the numbers in the previous article and the number of monthly uniques went down as well. Monthly uniques didn't decrease by much.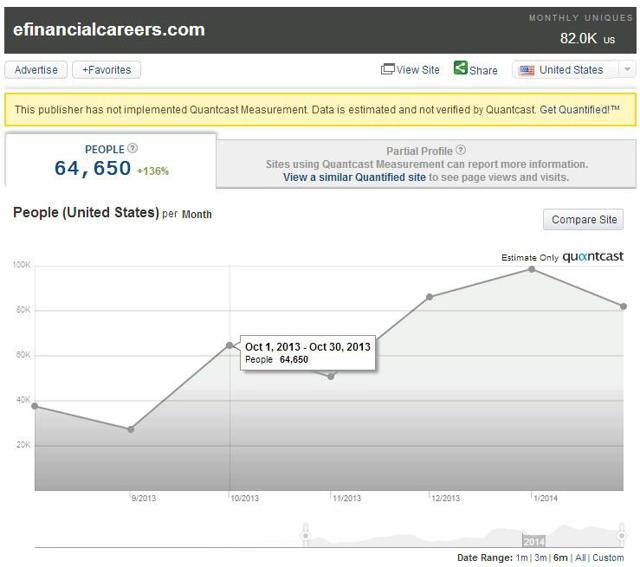 On efinancialcareers.com the average number of monthly visitors is approximately at the same level as it was six months ago, but monthly uniques increased by 33%. Uniques are more likely more valuable so this is a small positive.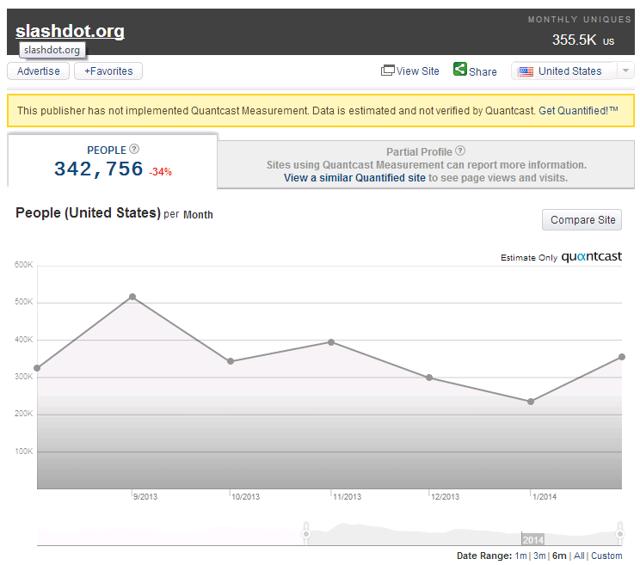 On Slashdot.org the number of monthly average visitors went down and the number of monthly uniques decreased as well. The difference is not very large and likely impact on the company's bottom line will be negligible.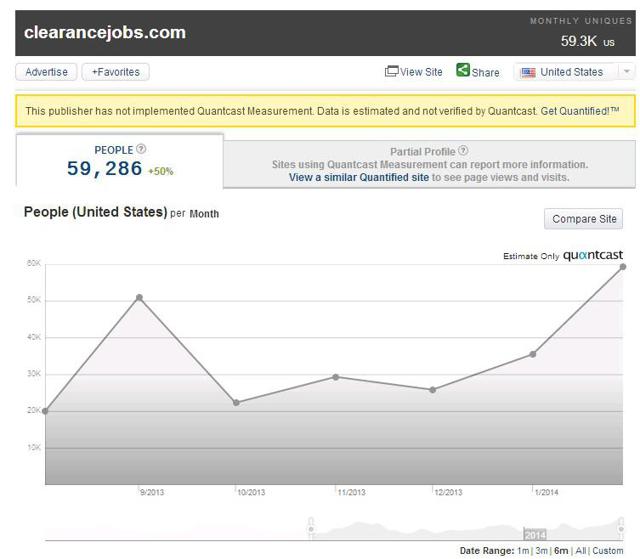 Clearancejobs.com almost tripled its number of average number of visitors and doubled the number of monthly uniques over the past six months. This website has performed a lot better since my last article.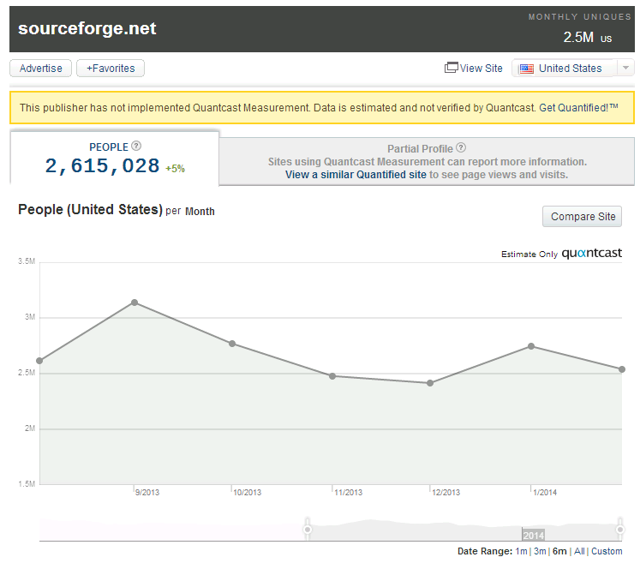 Sourceforge.net has approximately the same number of average monthly visitors as six months ago, but its monthly uniques are a little low right now. Perhaps this is seasonality or perhaps the appeal of the website to its target audience is on the decline.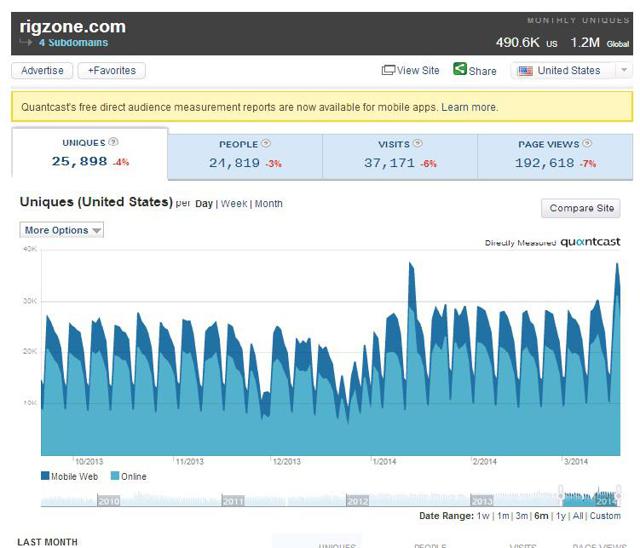 Rigzone.com appears to have grown very well. The number of uniques and number of visitors both almost doubled. Page views increased as well but not to the same extent.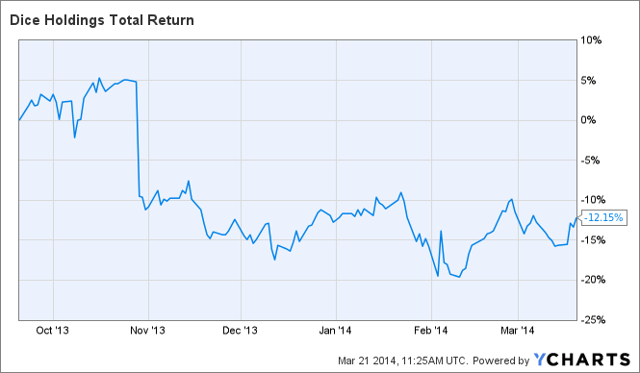 DHX Total Return Price data by YCharts
While traffic over the same past six months shows a more neutral picture, the stock price has declined over the past six months in absolute terms but especially when contrasted with the S&P 500's return. Web traffic is likely a great indicator of revenue development across the company's products.
FCF did go down 3% but the decline is nowhere near the gravity of the decline in the company's stock price.
This, in addition to the healthy traffic numbers and stock price development of other companies in the industry, leads me to believe there is an arbitrage opportunity - in the broader sense of the word - between these healthy traffic numbers and the serious stock price decline.
Insider buying
Insiders own a small portion of the company and they have been net buyers over the past year. I would like to see insiders like Melland and Durney with a bigger stake compared to their respective salaries. That would better align their interests with that of minority shareholders.
Risks
Given the company went into bankruptcy before, it's very important to examine the debt position. Since the last time I wrote about it, the company took on some additional debt. Although the company is currently still on solid ground with EBIT to interest expenses at 15 times, this is down from 73 times.
Probably the most important risk of an investment in Dice, is the fact that the company is a serial acquirer. An important component of the company's strategy is to expand the geographic markets and the sectors it serves and diversify the products and services it offers. At the same time racking up debt is a bad idea for a company that is both cyclical in nature and depends (at least in part) on other companies to provide its traffic.
For example when Google (NASDAQ:GOOG) or Microsoft (NASDAQ:MSFT) make significant changes to the algorithms of their search engines this can have an immediate impact on the company's cash flow.
Integration of acquisitions also poses a risk. Although integration of the type of business the company is looking for, is much easier to accomplish than for example integration of metalworking facilities, failure to manage and successfully integrate acquired businesses could hurt cash flow as well. Keeping an eye on debt levels is important in this case.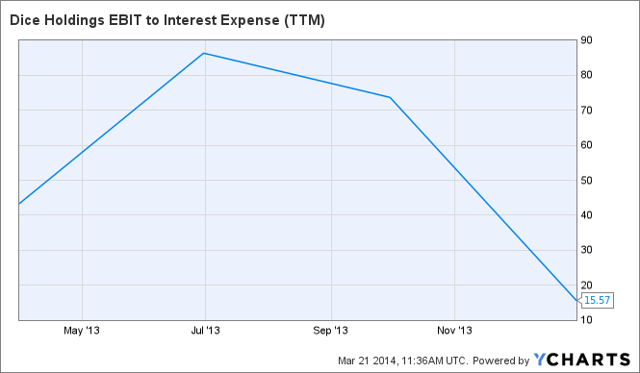 DHX EBIT to Interest Expense ((NYSE:TTM)) data by YCharts
Valuation Metrics
To save you some time looking these up I've included commonly used valuation metrics. The company is unattractive on some of these traditional metrics, like its P/E of 26. However, it does trade at a PEG of 0.9. In the next paragraph I'll examine valuation through a discounted cash flow calculation.
| | | | | |
| --- | --- | --- | --- | --- |
| Current Valuation DHX | DHX | Industry Avg | S&P 500 | DHX 5Y Avg* |
| Price/Earnings | 26.7 | 27.9 | 17.9 | 28.6 |
| Price/Book | 2.4 | 3.8 | 2.6 | 3.2 |
| Price/Sales | 2.0 | 0.9 | 1.7 | 4.0 |
| Price/Cash Flow | 8.8 | -63.7 | 10.9 | 9.5 |
| Dividend Yield % | - | 1.4 | 2.3 | - |
Data by Morningstar as of 03/20/2014, *Price/Cash Flow uses 3-year average.
Valuation
My preferred method to value a company is by discounted cash flow analysis. I try to use the same method across my articles to arrive at as objective a result as possible.
Regarding Dice, I recognize cash flow growth only 3 years into the future, as I haven't been able to identify any sustainable competitive advantage that would protect its cash flow for many years into the future.
Given Dice's history of earnings growth since its bankruptcy in 2005 it seems fair to assign it an expectation of being able to grow cash flow at ~15%. After examination of traffic across properties, I get no indication the company will not be able to realize these historic averages.
The calculation is based on the company's TTM free cash flow and discounted against the S&P 500's historic earnings. This leads me to believe a share of Dice has a net present value of $8.80, a 17% premium over today's stock price.
Valuation is at the heart of my argument. I'm not arguing Dice is a fabulous company that will take over the world or revolutionize hiring... Far from it. My argument is that you can get your hands on Dice's future cash flows at a very good price. If anything great happens, that's icing on the cake.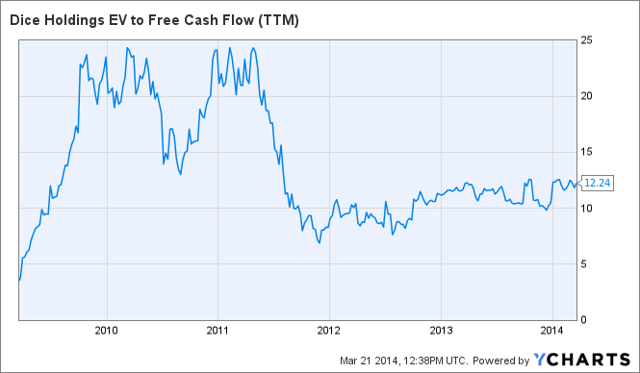 DHX EV to Free Cash Flow (TTM) data by YCharts
Conclusion
Over the past year Dice's share price has declined 27.82% and underperformed the S&P 500 and a bucket of industry stocks by over 50%.
The company continues with its strategy of acquiring niche job market websites to achieve economies of scale for its products and increase its competitiveness within the space.
Meanwhile traffic across the company's properties is fine. Ultimately traffic drives revenue.
The result is that you can obtain the company's future cash flows at a great price. A discounted cash flow model indicates that shares are 17% undervalued right now.
Disclosure: I have no positions in any stocks mentioned, and no plans to initiate any positions within the next 72 hours. I wrote this article myself, and it expresses my own opinions. I am not receiving compensation for it (other than from Seeking Alpha). I have no business relationship with any company whose stock is mentioned in this article.