The so-called stock market has been quite volatile over the last couple of months as the icy fingers of fear have tightened their grip. The insidious emotion of fear is one of the most powerful and dangerous that investors must from time to time face. When investors are selling stocks because they're frightened, principles based on sound fundamentals are temporarily cast aside.
When to be Greedy
Fear can and often does lead to panic, and in this state, rational thought cannot and does not exist. Ironically, this usually creates excellent investment opportunities that, unfortunately, many do not have the courage to exploit. To once again quote the venerable Warren Buffett "be greedy when others are fearful, and be fearful when others are greedy."
There is an obvious and important point here which unfortunately is often overlooked when emotions run high. When investors are facing either fear or greed, the capital markets can temporarily misprice stocks. In other words, during periods of great emotional stress a common stocks price can become significantly disconnected from its True Worth™ based on cash flows and other important fundamentals.
The truly astute investor does not merely go against the grain or the crowd, instead they base their investment decisions on rational calculations of intrinsic value. Therefore, they are capable of recognizing anomalies when they manifest. Armed with this knowledge they are empowered to not only make sound and intelligent decisions, but long-term profitable ones as well.
In addition to the volatile fear-driven market environment we are in, healthcare related stocks have also had to face the specter of healthcare reform. Nothing breeds fear more than uncertainty, therefore, many otherwise fundamentally sound healthcare companies have seen their stocks fall below established formulas for intrinsic value.
Ironically, prior to the "great recession" of 2008, many of these high-quality healthcare companies with solid financials were typically overvalued by the market. With stock values now trading at valuations low by historical standards, we believe that attractive opportunities can be found in this important economic sector. This article will review blue-chip stalwart healthcare companies that we believe the market is erroneously mispricing on the low side.
Demographic Opportunities
Demographic forces point to an expanding and growing need for healthcare, and therefore, an opportunity for healthcare businesses to grow with it. Many people see healthcare reform as a potential threat, at least to the profitability of that growth. Although there are healthcare companies that we believe are vulnerable to those threats, there are also segments of healthcare that will prosper regardless of reform.
In our view, there are two forms of future successful healthcare businesses. First, those companies that contribute to reducing the overall cost of healthcare, and second, innovative companies whose products or services supply and fill an important medical need. It is in no one's best interest, public or private, for either of these types of companies not to succeed. We feel the following four companies meet either or both of these factors.
For brevity sake, we will look at each of these four companies through the lens of our F.A.S.T. Graphs™ which plot and graph essential fundamentals at a glance. We will look at these companies starting in 1996 through current time. Therefore, we will be able to illustrate how each selection's stock values fared through both greedy and fearful investment climates.
During the irrationally exuberant period, which started in 1996 and culminated in calendar 2000, healthcare companies were the darlings of Wall Street because of this obvious demographic opportunity. Consequently, most quality healthcare stocks were trading at valuations that were not supported by fundamental values. In other words, their stocks were overpriced.
The "great recession" of 2008 brought the stock prices of these high-quality healthcare companies down to more realistic and justifiable valuations. By October of 2008 each of these companies had, for the first time in almost 15 years, actually become significantly undervalued. Then, throughout 2009 and through the first quarter of 2010, each saw their stock price recover back to near True Worth™ valuations.
Then, the second quarter of 2010 once again drove stock prices down to levels that we believe represent attractive undervaluation. Therefore, we believe this recent fear-driven bear market offers investors a second chance to invest in these high-quality companies at bargain basement valuations.
Selection Criteria
In order to make our list, these healthcare selections had to meet the following criteria in addition to the two prerequisites mentioned above: First of all, we screened for industry-leading candidates with a history of consistently growing earnings at a rate of 10% to 20% or better. Next, for safety considerations we only screened for companies that had a dividend yield of 1% or greater.
However, since these would be more aptly considered growth stocks than dividend stocks, each only had to pay a dividend since calendar 2001 but had to have consistently increased that dividend each year since 2001. We also sought companies with strong balance sheets that generated strong operating cash flows and with a debt level under 40%.
Finally, each candidate had to have a consensus forecast of future five-year earnings growth of 10% or better. The following four healthcare companies best exemplified our search.
Fundamentals at a Glance
Figure 1A plots our F.A.S.T. Graphs™ on Stryker Corp. (SYK) since calendar 1991. Stryker Corp. is a leading manufacturer and developer of orthopedic implants and medical surgical equipment. The orange line with white triangles plots earnings-per-share multiplied by Stryker Corporation's historical earnings growth rate of 19.6%. This orange line with white triangles represents Stryker Corporation's intrinsic value based on the peg ratio (price equal to growth) formula for valuing a company.
The black line on the graph represents monthly closing stock prices since 1996. Theoretically, the company's stock price is at value when it touches the orange line with white triangles. When prices are above this line, it's overvalued, and when the price is below this line, it's undervalued.
As Figure 1A depicts, starting with the beginning of the irrationally exuberant period in 1996, Stryker Corp.'s stock price was significantly overvalued until the fall of 2008. Then, as the correction process accelerated, Stryker Corp.'s stock price had become extremely undervalued by February of 2009. Since earnings remained stable, the stock price for Stryker Corp. embarked on an ascent back towards True Worth™ valuation.
Prior to calendar year 2009, Stryker Corp. had historically paid a dividend only during their March quarter. However, in December of 2009 Stryker Corp. instituted a regular quarterly dividend. The light blue shaded area on Figure 1 visually illustrates this change in Stryker Corp.'s dividend policy. Even though Stryker Corp. has paid a dividend each year during the time frame Figure 1 covers, we believe that calendar 2009 represents an inflection point for the company.
Beginning in calendar 2009, Stryker Corp. began evolving from more of a pure growth stock into becoming an attractive growth and income opportunity. Further evidence of this is the fact that Stryker's payout ratio has increased from single-digits to double-digit since calendar 2009. At least from a historical perspective based on Figure 1A, the recent correction in the stock market may represent a new opportunity for investors to participate in this high quality, well-positioned and, we believe, undervalued healthcare company.
Figure 1A SYK 15yr EPS Growth Correlated to Price (Click to enlarge)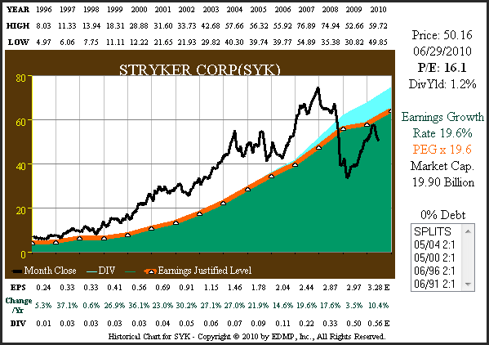 Figure 1B below calculates the performance associated with Figure 1A. Even though Stryker Corp., based on historical norms, appears currently undervalued, long-term shareholders of Stryker Corp. have been well-rewarded on a capital appreciation basis that is commensurate with its double-digit earnings growth. Even though Stryker's current dividend yield is slightly below average, its growth yield opportunity appears strong. The consensus from 28 analysts reporting to FirstCall expect Stryker's earnings to grow at 12.6% over the next five years.
Figure 1B SYK 15yr Dividend and Price Performance (Click to enlarge)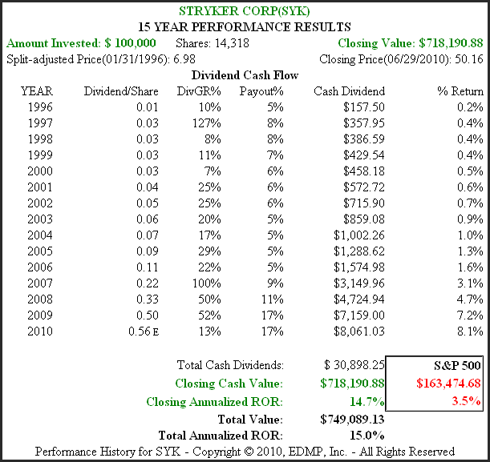 Figure 2A plots our F.A.S.T. Graphs™ on Medtronic, Inc. (MDT), the world's largest manufacturer of implantable medical devices, primarily in the areas of cardiac rhythm management, neurological, spinal and diabetes. As Figure 2A clearly depicts, the stock market has generally priced Medtronic's stock at a premium to its earnings growth rate since calendar 1996. It's interesting to note how strongly Medtronic, Inc.'s stock price advanced during the irrationally exuberant period ending in calendar 2000. Then, from this lofty valuation, Medtronic's stock price first went down, then mostly sideways for the better part of seven years into the fall of 2008.
Then the "great recession" brought Medtronic's stock price into fair value, and then below fair value for the first time in almost 13 years. Even though Medtronic's earnings grew at a consistent rate averaging over 14%, due to significant overvaluation, its stock price had nowhere to go except sideways and eventually down to fair value. In our opinion, this is clear evidence of how the stock market can misprice an equity, even for very long periods of time. However, inevitably fair value must and will manifest. This applies to both overvaluation and undervaluation.
At today's historically low valuation, Medtronic, Inc. can be purchased at a price earnings ratio under 12 with a current yield of 2.2%. Once again, as Figure 2A illustrates, the recent market correction has brought Medtronic's stock price down to an abnormally low valuation.
Figure 2A MDT 15yr EPS Growth Correlated to Price (Click to enlarge)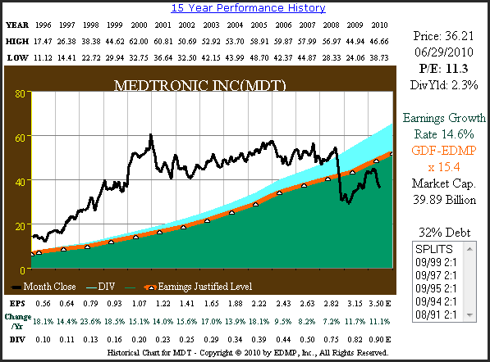 Figure 2B below calculates Medtronic, Inc.'s performance associated with Figure 2A. Medtronic, Inc. has a history of increasing its dividend consistent with the increase in earnings it achieves each year. However, Medtronic, Inc. is also evolving from a pure growth stock to more of a growth and income opportunity. From Figure 2B below, take special note of how the company's payout ratio starting in calendar 2008 has increased from the mid-teens to the mid-twenty's percent.
Figure 2B MDT 15yr Dividend and Price Performance (Click to enlarge)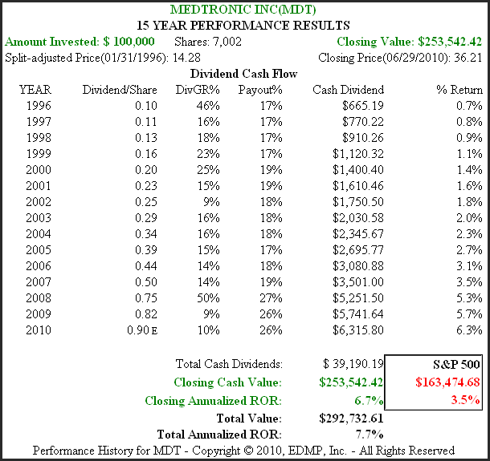 It's also noteworthy to recognize that even though Medtronic's stock price had been overvalued and range bound since calendar 1996, it still was able to outperform the S&P 500 by a considerable margin thanks to exceptional and consistent above-average earnings growth.
The consensus of 20 analysts reporting to FirstCall expect Medtronic's earnings to grow at 10% or better over the next five years. Therefore, logic would dictate that Medtronic represents an attractive growth opportunity with an increasing dividend income stream to sweeten the pot.
Conclusion Part 1
In Part 1 of this two-part series on undervalued healthcare stock investment opportunities with a dividend kicker, we covered two of ultimately four examples. In the next installment we will cover examples three and four. In addition to presenting four companies with impressive track records on both an operating basis and returns to shareholders, there are other important principles that this series is desirous of providing insights into.
Most important of all, is the notion that at any single point in time, stock prices may or may not reflect true value. When an investor truly understands this critical point, we believe, they are therefore no longer at the mercy of the stock market and its often irrational behavior. We contend that understanding valuation and its importance is crucial to long-term investor success. Risk and return are inextricably intertwined with valuation and operating performance, i.e. earnings growth.

Disclaimer: The opinions in this document are for informational and educational purposes only and should not be construed as a recommendation to buy or sell the stocks mentioned or to solicit transactions or clients. Past performance of the companies discussed may not continue and the companies may not achieve the earnings growth as predicted. The information in this document is believed to be accurate, but under no circumstances should a person act upon the information contained within. We do not recommend that anyone act upon any investment information without first consulting an investment advisor as to the suitability of such investments for his specific situation.
Disclosure: Long MDT, SYK at the time of writing.